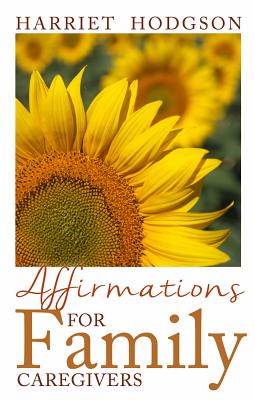 Affirmations for Family Caregivers (Paperback)
Words of Comfort, Energy, & Hope (The Family Caregivers Series)
Boutique of Quality Books, 9781608081462, 114pp.
Publication Date: October 1, 2015
* Individual store prices may vary.
Description
Caregiving can be difficult, even on its best days, and staying upbeat is one of the most loving things that a caregiver can do for the care receiver—the person they provide care for and love so much.

Reading affirmations is a quick and easy form of self-care that can help caregivers stay balanced and optimistic, which lends itself to a calm, healing environment.

This book of affirmations has been created specifically for caregivers and is grouped into chapters with titles that caregivers understand: caregiving tasks, safeguarding health, appreciating the day. . . which makes it easy to flip right to the section that offers the support that is needed at that moment.At the end of the book, author Harriet Hodgson provides guidance on how to write affirmations for those who want to go just a step farther.

This is Book 2 in the Family Caregiver series.
About the Author
Harriet Hodgson has cared for three generations of family membersher mother who developed dementia in her 80s and her twin grand-children who were teenagers when they lost both of their parents in accidents in 2007. Then, in 2013 Hodgson s husband s aorta dissected and he had three emergency operations. Surgeons managed to save his life, but he suffered a spinal stroke during the last operation, and his legs are paralyzed. Hodgson is now his caregiver and, when she needed a boost, she started writing affirmations. Once she started, Hodgson couldn t stop writing them and a few dozen grew into the hundreds in this collection. Hodgson is the author of 35 books and thousands of print/Internet articles. Hodgson has appeared on more than 185 radio/blog talk radio shows and dozens of television stations, including CNN. A popular speaker, she has given presentations at public health, Alzheimer s, and bereavement conferences. Her work is cited on Who s Who of American Women, World Who s Who of Women, Contemporary Authors, and other directories. Hodgson lives in Rochester, Minnesota with her husband John. For more information about this busy author, grandmother, and wife, please visit www.harriethodgson.com"
Praise For Affirmations for Family Caregivers: Words of Comfort, Energy, & Hope (The Family Caregivers Series)…
5 stars. "Highly recommended as a gift or for your own personal use. There are many positive thoughts and common sense ideas for those who are caregivers or may have to be one in the future." – Georgia Hamilton for NetGalley

"While my experience relates to a family member with a mental illness not a family member with a physical disability I found the advice of developing specific and appropriate affirmations to be very positive. The issues Harriet Hodgson raises about the health and well being of being a carergiver is spot on and her strategies of building strength both mentally and physically to make the most of what you have to deal with as a carer is inspiring. The book has lovely drawings and is well presented so that you can go to different sections without needing to read the whole book. Good to help writing ones own affirmations." – Sharon Jarvis for NetGalley