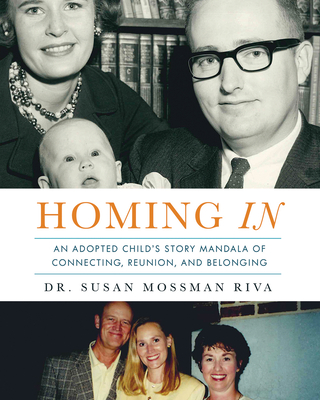 Homing In (Paperback)
A Story Mandala Connecting Adoption, Reunion, and Belonging
WriteLife Publishing, 9781608082278, 490pp.
Publication Date: March 1, 2020
* Individual store prices may vary.
Description
Dr. Susan Mossman Riva was adopted in Omaha, Nebraska in 1963. In 1995, she sought the help of the Nebraska Children's Home to find her birthmother, leading to the discovery of her birth family. Miraculously, her search and reunion coincided with her biological sister's search. The divine timing of their reunion happened months before their biological, maternal grandmother died of cancer.

Susan connects the phases of her life in a story mandala connecting adoption, reunion, and belonging. This is a miraculous story about reunion and divine timing.

Dr. Mossman's social science background provides an explanatory framework, sharing insights into transformational processes in relation to autoethnographic writing.
About the Author
Susan Mossman Riva graduated from the University of Colorado in Boulder in 1986 with a degree in International Relations. She later completed the European Master in Mediation in Valais, Switzerland and created a mediation service for political asylum seekers for the Valais Canton. In 2009, she received her doctorate in the Social Sciences at the University of Tilburg in the Netherlands. Her thesis was entitled "Conflict Narratives: Mediation Case Studies in an Intercultural Context. Her postdoctoral work has been in public health research focusing on mental health, immigrant health, and recently the Senior Living Lab. She teaches mediation at the University of Geneva's Valais Camus and medical anthropology at Creighton University. She lives in Valais, Switzerland with her husband and children.