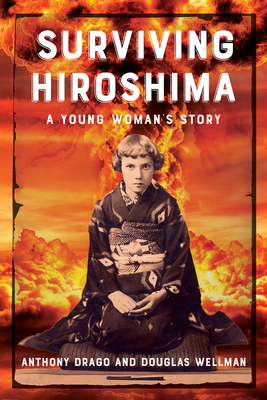 Surviving Hiroshima
A Young Woman's Story
Paperback

* Individual store prices may vary.
Description
On August 6, 1945, 22-year-old Kaleria Palchikoff was doing pre-breakfast chores when a blinding flash lit the sky over Hiroshima, Japan. A moment later, everything went black as the house collapsed on her and her family. Their world, and everyone else's, changed as the first atomic bomb was detonated over a city. From Russian nobility, the Palchikoff's barely escaped death at the hands of Bolshevik revolutionaries until her father, a White Russian officer, hijacked a ship to take them to safety in Hiroshima. Safety was short lived. Her father, a talented musician, established a new life for the family, but the outbreak of World War II created a cloud of suspicion that led to his imprisonment and years of deprivation for his family. After the bombing, trapped in the center of previously unimagined devastation, Kaleria summoned her strength to come to the aid of bomb victims, treating the never-before seen effects of radiation. Fluent in English, Kaleria was soon recruited to work with Gen. Douglas MacArthur's occupation forces in a number of secretarial positions until the family found a new life in the United States. Heavily based on quotes from Kaleria's memoirs written immediately after World War II, and transcripts of United States Army Air Force interviews with her.
Praise For Surviving Hiroshima: A Young Woman's Story …
"The co-authors seamlessly interweave an intimate and historically accurate account. Drago's family presents characters deserving of recognition for their determined attitudes in the face of drastic circumstances. Wellman's writing and war expertise illuminate forces the family is up against. Eyewitness statements paint the effects of the bomb in gruesome relief." —Mari Carlson, The US Review

"An absolutely fascinating and deftly crafted true life biography that reads with all the drama of a well penned novel, Surviving Hiroshima: A Young Woman's Story is a deftly crafted and riveting read from beginning to end." —Mary Cowper, Midwest Book Review
WriteLife Publishing, 9781608082360, 292pp.
Publication Date: September 1, 2020
About the Author
Anthony "Tony" Drago (Kaleria Palchikoff's son) is a former Public Safety Officer who spent his twenty-five year career serving the community of Sunnyvale, California as both a firefighter and police officer. Douglas Wellman was a television producer-director for 35 years, as well as the assistant dean of the University of Southern California School of Cinematic arts.