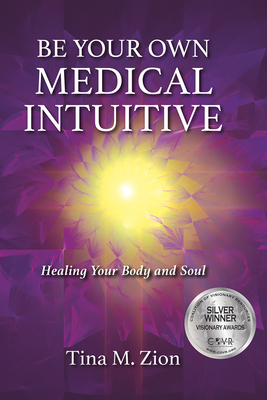 Be Your Own Medical Intuitive
Healing Your Body and Soul (Medical Intuition #3)
Paperback

* Individual store prices may vary.
Description
Find yourself in this book as it guides you forward into your own personal healing.

This book is your companion to first exponentially increase your intuition to the highest level. Then it guides you through exact healing methods that have improved people's lives for decades.

Medical intuition is not a gift that only a few people in the world have. You are already wired to be intuitive and so is everyone else. It is a learned skill and this book brings that skill into your life to learn, heal, and master your life in profound new levels.

If you are wondering if this book will change your life. . . Yes! You will understand yourself and everyone around you in new ways. You will be different. You will be more powerfully aware, and this will become your new normal.

This book is your healing companion. The story of your intuitive life is in your hands. The story of your healing is in your hands as well.
Praise For Be Your Own Medical Intuitive: Healing Your Body and Soul (Medical Intuition #3)…
On Become a Medical Intuitive: "Very positive and professional. Actionable exercises that are meant to boost your confidence and steadily build your skills. A foundational book meant to be read and re-read." —Linda Rae-Short

"I loved this course!! I was hooked after the first few pages. Great information presented in such a way that I was compelled to keep reading because I couldn't wait to see what was next. Tina is a gifted author with the ability to put you completely at ease with her genuine and heartfelt explanations of the material. You can feel how comfortable she is with this topic and it translates to the reader. This book helped me forget my anxiety and self-doubt, and really delve into learning this topic and absorbing the incredibly pertinent info that Tina presented." —Stephanie
 

On Advanced Medical Intuition: ". . . A must read for novice or advanced practitioners who are serious about sharpening their intuitive skills and getting to the heart of healing with clients." —Angela Kaufman, author of Queen Up! Reclaim Your Crown When Life Knocks You Down
 

"This book is riveting. Tina Zion's clear, concise, detailed approach combines inspiration, tools, and scientific explanations. She gives us blue prints and follows with specific tools for healing and transformation for both the client and yes, for us the practitioner. As a professional medium and teacher for over 48 years, I was inspired by Tina's spiritual clarity, down to earth common sense, and practical applications. Every once in a while a book comes along that has what it takes to change lives, this is one of those books." —Rev. Elaine D. Thomas, MS, Director of Fellowships of the Spirit's School of Spiritual Healing and Prophecy 

 

". . . As a physician and psychiatrist, I welcome Tina Zion's voice to our evolving knowledge of alternative medicine." —Dr. H. Pankowsky

 

". . . This step-by-step guide is comprehensive and informative and a fascinating read. It is more than just a book; this is a manual for anyone who would like to develop their intuitive abilities. I highly recommend this book . . . " —Dr. Penny Sartori, author of The Wisdom of Near-Death Experiences and co-author of The Transformative Power of Near-Death Experiences
 

Reiki and Your Intuition reviews: ". . . Even though [the author] is addressing students and practitioners of Reiki, there is valuable information for anyone wishing to enhance their intuitive skills. Her deep love and respect for Reiki will be instilled into any student or potential student. Written in a voice that is heartfelt and authentic, I wholeheartedly recommend this book." —Helen Pankowsky, M.D.
WriteLife Publishing, 9781608082599, 398pp.
Publication Date: October 1, 2021
About the Author
Tina Zion is a fourth-generation intuitive medium, educator, and is considered an expert in medical intuition. She is an award-winning author, specializing in medical intuition and teaching it internationally. Tina teaches her course Become a Medical Intuitive, in the United Kingdom, Europe, New Zealand, Australia, Canada, Mexico, and throughout the US.

Tina has worked in the mental health field as a registered nurse with a national board specialty certification in mental health nursing from the American Nurses Credentialing Association. She is a Gestalt trained mental health counselor, graduating from the Indianapolis Gestalt Institute in 1997. She received her certification in clinical hypnotherapy from the American Council of Hypnotist Examiners and specialized in past life regressions. Tina was also certified through the Michael Newton Institute. She received her first Reiki attunement from Diane Stein and went on to receive the Master-Teacher degree. She taught Reiki for over ten years.

As an internationally known author, Tina's two medical intuition books both won 1st place gold awards and her four books are selling in over forty countries. She is the author of Become a Medical Intuitive, Advanced Medical Intuition, The Reiki Teacher's Manual, Reiki and Your Intuition, and is a contributing author in Michael Newton's book, Memories of the Afterlife. Tina now focuses on teaching medical intuition all around the globe.

For more information, visit Tina's website at: www.tinazion.com