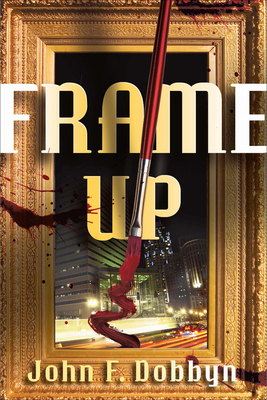 Frame-Up
A Knight and Devlin Thriller
Paperback

* Individual store prices may vary.
Other Editions of This Title:
Hardcover (3/8/2010)
Description
Gold-Medal Winner of the Foreword Book of the Year Award

Deadly, high-stakes art fraud case—Enter at your own risk!

After graduating from Harvard Law with his closest friend, John McKedrick, Michael Knight practices with the U.S. Attorney's office and with a prestigious trial firm in Boston. Then Michael and his mentor, the legendary trial attorney Lex Devlin, form Devlin & Knight to do criminal defense work, while John becomes sole associate of a notorious mob lawyer. Michael never lost hope that John McKedrick would escape to "cleaner pastures"—until John is murdered in a car bombing bearing the signature of his questionable clientele. How could two friends who were so close have taken such wildly divergent paths?

In the wake of McKedrick's murder, three men who took their own deviating paths will meet for the first time in forty years. Matt Ryan, a priest; Dominic Santangelo, a Mafia don; and Lex Devlin put the past aside to focus on a present concern—Dominic's son has been charged with John McKedrick's murder. At Lex's urging, Michael Knight reluctantly agrees to represent the alleged bomber. In building a defense, Michael is drawn into a high-stakes art fraud that leads him from the seediest parts of Boston to the sophisticated Amsterdam inner sanctum of international crime.

Perfect for fans of Dennis Lehane and John Grisham

While all of the novels in the Knight and Devlin Thriller Series stand on their own and can be read in any order, the publication sequence is:

Neon Dragon
Frame-Up
Black Diamond
Deadly Diamonds
Fatal Odds
High Stakes
Praise For Frame-Up: A Knight and Devlin Thriller…
"Frame-Up is the best kind of legal crime fiction, where the real stories come not from legal minutiae in the courtroom, but from human beings caught in the legal system's fuzzy moral contours." —Alafair Burke, New York Times best-selling author

"John F. Dobbyn's Frame-Up is a poignant tale of brotherhood, torn and mended, and a thrilling mix of foreign intrigue and mayhem. Don't miss it!" —Robin Hathaway, author of Sleight of Hand

"Some writers are notable for their storytelling flair, some for their ability to bring characters to life, some for the lyrical quality of their prose. In John F. Dobbyn all three talents combine." —Janet Hutchings, Editor-in-Chief, Ellery Queen's Mystery Magazine

"This book is definitely a page turner reminding me of John Grisham's legal thrillers and Robert Ludlum's international crime thrillers." —Review the Book

"Frame-Up brings a good plot, starts with violence, and has fast moving action throughout the length of the book." —Sacramento Book Review

"Frame-Up is a twisted tale of mafia gangsters and international intrigue providing an in-depth view of the criminal justice system." —The Big Thrill

"An electrifying thriller. A murder mystery with a plot that is well-arced, replete with credible misdirection." —Mysterious Reviews

"Dobbyn is a talented writer, and this novel boasts both subtle characterizations and a first-rate story." —Booklist

"Here is another fast-paced legal thriller from John Dobbyn, a former law professor, whose writing is decidedly nonacademic." —Lincoln Journal Star

Praise for the Knight and Devlin Thriller Series

"John F. Dobbyn's thriller [Fatal Odds] does everything right: a nail-biting plot to keep you turning pages, characters that shine brighter with every twist and turn, and a ripped-from-the-headlines authenticity that will leave you shocked. Here is a novel that expertly mixes thrills and smarts and will have you clamoring for more from this author." —James Rollins, New York Times best-selling author

"This rapid pace adventure [High Stakes] delivers equal quantities of action, history, secrets, and conspiracies. Definitely an entertaining romp." —Steve Berry, New York Times best-selling author

"From its characters who go straight to the heart, to its intriguing settings, to its plot with more jolting twists than a Boston Street, Black Diamond takes you on a non-stop ride that keeps you gripping the wheel." —Lisa Scottoline, New York Times best-selling author
Oceanview Publishing, 9781608090310, 288pp.
Publication Date: October 3, 2011
About the Author
Best-selling author John F. Dobbyn, a graduate of Harvard College, Boston College Law School, and Harvard Law School, is a former professor of law at Villanova Law School where he taught criminal, constitutional, and corporate law. Prior to his teaching career, Dobbyn practiced criminal and civil trial work. Frame-Up is the second novel in the award-winning Michael Knight and Lex Devlin Legal Thriller series, following Neon Dragon and followed by Black Diamond, Deadly Diamonds, Fatal Odds, and High Stakes. Dobbyn is a Boston native and now resides in Valley Forge, Pennsylvania, with his wife, Lois.