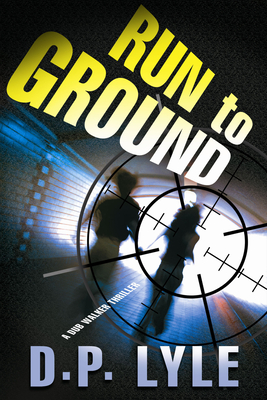 Run To Ground
A Novel
Hardcover

* Individual store prices may vary.
Description
Murderer Assassinated at Prison Gates: Justice Served?

What would you do if someone brutally murdered your only child, served only months in jail because of a technicality, and continually taunted, even threatened, you from behind bars?

Could you hide your growing rage from family and friends? Could you gun the killer down as he left prison? Could you change your ID and leave behind your entire life—family, friends, jobs, house—and just disappear? Could Tim and Martha Foster do this?

Forensic evidence and criminal behavior expert Dub Walker, along with best friend and homicide investigator T-Tommy Tortelli and ex-wife and TV reporter Claire McBride, employ all their skills to track down the Fosters.

But Dub quickly learns that the murder of Walter Whitiker is not as simple as it appears, and Tim and Martha are not the only ones who want Walt dead. Are they truly as clever as they seem, or did someone twist the evidence to keep the hot light of suspicion on the Fosters?

Perfect for fans of Jeffery Deaver
Praise For Run To Ground: A Novel…
"Murder is never as simple as the motive. There are too many loose ends, and when Dub Walker uses his expert knowledge of forensics and criminal behavior to solve the crime, you'd better be ready to Run to Ground. D. P. Lyle takes fear and revenge, adds a bucket of greed, and gives us a wild ride to the finish!" —David Morrell, New York Times best-selling author

"A first-rate thriller! Run to Ground delivers the goods: great characters, fine investigative details and the kind of nail-biting action that leaves you rapidly flipping the pages, breathless to discover what will happen next!" —Lisa Gardner, New York Times best-selling author

"Run to Ground boasts an intriguing premise, memorable and engaging characters, and the kind of technical gems that make Doug Lyle's non-fiction forensics books such essential reading. Crisp, page-turning prose, nicely witty banter, and some genuine surprises." ―Zoe Sharp, best-selling author

Praise for the Dub Walker Series

"A taut, hard-to-put-down, emotionally-satisfying thriller. Fans of James Lee Burke and Lee Child will be pleased with Lyle's Dub Walker. Really, a damn good read!" —Andrew Gross, New York Times best-selling author

"Doug Lyle writes what he knows—and what he knows is terrific. Dub Walker is a keeper." —Lee Child, New York Times best-selling author

"Cutting-edge forensics and a whip-cracking pace make [Stress Fracture] a one-sitting read. If you love CSI, this is the book for you." —Tess Gerritsen, New York Times best-selling author

"If this thriller [Hot Lights, Cold Steel] doesn't give you goosebumps and nightmares, check your pulse. Bone-chilling doesn't begin to describe the horrors within. Thank heaven for Dub Walker, a tireless investigator with an ear for music and a knack for looking deep into the criminal psyche." —T. Jefferson Parker, New York Times best-selling author

"D. P. Lyle's [Stress Fracture] is an intense, nail-biting adventure. The author's knowledgeable voice adds a fear factor that can't easily be found. A wonderful, thrilling read, an excellent work of fiction—and more!" —Heather Graham, New York Times best-selling author
Oceanview Publishing, 9781608090570, 310pp.
Publication Date: August 7, 2012
About the Author
D. P. Lyle is the award-winning author of 18 books of fiction and nonfiction. His thriller series have included the best-selling Jake Longly Thriller Series, the Cain/Harper Series, the Dub Walker Series, the Samantha Cody Series, and The Royal Pain Media Tie-In Series. Lyle is the author of Forensics for Dummies and Forensics and Fiction. He has been a consultant to numerous novelists and screenwriters of popular TV shows, served as co-host of Crime and Science Radio, and currently hosts the Criminal Mischief podcast series. He lives in Orange County, California.
or
Not Currently Available for Direct Purchase