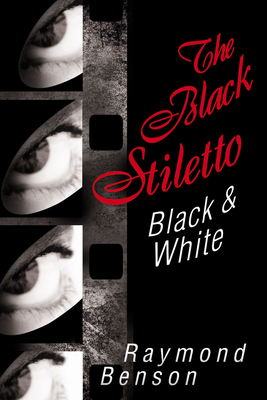 The Black Stiletto
Black & White: A Novel
Paperback

* Individual store prices may vary.
Other Editions of This Title:
Hardcover (9/5/2011)
Hardcover (1/7/2014)
Paperback (1/12/2016)
Paperback (9/15/2015)
Hardcover (11/4/2014)
Paperback (8/7/2012)
Hardcover (5/30/2012)
Description
New York Times and USA Today Best-Selling Author

The Stiletto Faces Racial Injustice—Up Front and Personal

It's 1959, and Judy Cooper, the Black Stiletto, sets out to confront a dangerous gangster known as the heroin king of Harlem when the teenage daughter of her beloved martial arts instructor ends up a prisoner in an uptown narcotics den.

And the Stiletto has troubles of her own—a shady filmmaker is threatening to reveal her identity to the world—a close friend of her landlord and substitute father may be in cahoots with the Harlem criminals—she's fighting for racial equality—and she has fallen in love again . . . this time with an FBI agent who has standing orders to arrest her.

Meantime, in the present, the Stiletto's son, Martin, faces his own blackmail crisis when he finds out that there is a second copy of an 8mm film he found in his mother's strongbox—showing the Black Stiletto unmasked in a film studio dressing room. As he tries to stop the filmmaker's son's extortion plot, he learns that his daughter, Gina, has been brutally assaulted in New York City.

The past and the present meet as two shattering climaxes converge.

Perfect for fans of vigilante justice

While all of the novels in the Black Stiletto Series stand on their own and can be read in any order, the publication sequence is:

The Black Stiletto
The Black Stiletto: Black & White
The Black Stiletto: Stars & Stripes
The Black Stiletto: Secrets & Lies
The Black Stiletto: Endings & Beginnings
Praise For The Black Stiletto: Black & White: A Novel…
"This second installment in the Black Stiletto series is just damn fun, effectively mixing the story of young, fearless Judy and the poignant struggle of Martin to protect his mother from an onslaught of publicity that she won't understand. Sheer Entertainment." —Booklist


"Benson has created one of the most original heroines I've read in a long time. Adventure and suspense made this book a rollicking good read. But the story is about much more than simply the evolution and escapades of The Black Stiletto. It's about relationships and just how well we know—or not—even the people we love most." —Sandra Brown, New York Times best-selling author


"Irresistible: Suppose you found out—just too late—that your mother had been a superhero crime fighter. What would you do? Sit back, take a deep breath, and let Raymond Benson tell you." —Lee Child, New York Times best-selling author


"A thriller that brilliantly succeeds at that most difficult of authorial endeavors: blending the past and the present into a single compelling story. Filled with cutting-edge suspense, wry humor and heart-wrenching warmth, not to mention great period detail, The Black Stiletto will grab you instantly and simply not let go until the final page—no, make that the final sentence." —Jeffery Deaver, New York Times best-selling author


"A terrifically fun thrill ride featuring an intrepid heroine you won't soon forget. I tore through it in one sitting!" —Tess Gerritsen, New York Times best-selling author


"It's action! It's adventure! It appeals to women—and to men! It's faster than a speeding bullet, and a truly terrific read." —Heather Graham, New York Times best-selling author


"Judy is a fantastic character, and Benson absolutely nails the way women write in their diaries. I think this sort of strong woman will be enormously appealing to female readers. The action is great, and Benson writes in a voice that's accessible and engaging." —Tasha Alexander, author of Dangerous to Know


"The Black Stiletto is a wonderfully stylish (and addictively page-turning) return to the days of yesteryear. Full of action, full of suspense, and brimming with originality, this sleek and charming adventure will win your heart." —Hank Phillippi Ryan, Agatha, Anthony, and Macavity Award-winning author
Oceanview Publishing, 9781608090839, 328pp.
Publication Date: May 30, 2013
About the Author
New York Times and USA Today best-selling author Raymond Benson is the award-winning author of almost 40 published titles. Benson is well known as the official James Bond 007 continuation author between 1996 and 2002. He is the author of the five novels that comprise The Black Stiletto Series—The Black Stiletto; The Black Stiletto: Black & White; The Black Stiletto: Stars & Stripes; The Black Stiletto: Secrets & Lies; and The Black Stiletto: Endings & Beginnings. Benson lives in the Chicago area.
or
Not Currently Available for Direct Purchase