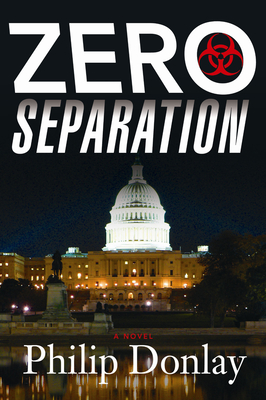 Zero Separation
A Novel (Donovan Nash Series #3)
Paperback

* Individual store prices may vary.
Other Editions of This Title:
Hardcover (3/5/2013)
MP3 CD (11/4/2014)
Compact Disc (4/1/2014)
MP3 CD (3/5/2013)
Compact Disc (3/5/2013)
MP3 CD (3/5/2013)
Compact Disc (3/5/2013)
Description
Best-Selling and Award-Winning Author

A gripping tale of terrorism, brutality, and personal conflict

Donovan Nash has a secret he'll do anything to keep. But he's the prime suspect after someone steals a fifty-million-dollar executive jet, and FBI agent Veronica Montero put him squarely in the crosshairs. As she digs, she discovers Nash's secret—a revelation that, if made public, would stun the world. Operating on her own agenda, Montero blackmails Nash into helping her hunt down a man she wants dead.

Powerless against the information Montero holds, Nash is forced into a situation far deadlier than either of them could ever have imagined. The man they are after isn't the criminal they expect, he's a terrorist with a plan to use the stolen jet to carry out an unthinkable and devastating act that could plunge America into the most heinous conflict since World War II.

When Nash and Montero are taken prisoner aboard the stolen jet, they will have only one opportunity to execute a daring midair attempt to stop the attack. Success could cost them their own lives—failure could cost millions of innocent lives.

Perfect for fans of David Baldacci and Daniel Silva

While all of the novels in the Donovan Nash Series stand on their own and can be read in any order, the publication sequence is:

Category Five
Code Black
Zero Separation
Deadly Echoes
Aftershock
Pegasus Down
Seconds to Midnight Speed the Dawn
Praise For Zero Separation: A Novel (Donovan Nash Series #3)…
"Zero Separation is the literary equivalent of a skydiving free fall. From the first page to last, the rush of adrenalin never lets up. Philip Donlay not only knows his territory—powerful aircraft and the men who fly them—he knows how to tell a gripper of a tale." —William Kent Krueger, New York Times best-selling author

"Zero Separation is a timely and terrifying roller-coaster ride depicting the realities of the post-9/11 world. Deftly plotted and expertly executed by a gifted writer who also happens to be a licensed pilot, Donlay's story opens with a bang and doesn't let go." —Sheldon Siegel, New York Times best-selling author

"Zero Separation is exactly what a thriller should be. Great characters, cool technical details, twists and turns, lies and deceits, and breakneck pacing from the first scene to the last." —D. P. Lyle, best-selling and award-winning author

"Donlay's third novel rivets the reader from the first page and doesn't let up until the shocking end . . . Fans of political thrillers and military fiction, especially those dealing with the aerospace industry, will devour this one." —Booklist

Praise for the Donovan Nash Series

"A heart-thumping ride that steams along, bringing our flawed world into pristine focus. Lots of mischief and mayhem, the characters fraught with danger, the plot hitting all the right notes." —Steve Berry, New York Times best-selling author

"A commanding thriller by a superb author." —Grant Blackwood, New York Times best-selling author

"Well researched and supremely entertaining, Philip Donlay has knocked this one out of the park!" —Ward Larsen, USA Today best-selling author
Oceanview Publishing, 9781608091119, 320pp.
Publication Date: April 1, 2014
About the Author
Best-selling author Philip Donlay has been a flight instructor, flown a private jet for a Saudi prince, and a corporate jet for a Fortune 500 company. His travels have taken him to over forty countries on five continents. He divides his time between Montana and the Pacific Northwest. Zero Separation is the third thriller in his Donovan Nash Series following Code Black and Category Five, and preceding Deadly Echoes, Aftershock, Pegasus Down, Seconds to Midnight, and Speed the Dawn.