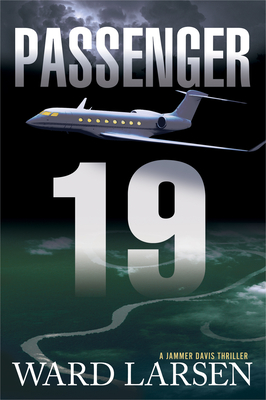 Passenger 19
A Jammer Davis Thriller (Jammer Davis Thrillers #3)
Hardcover

* Individual store prices may vary.
Other Editions of This Title:
Paperback (1/17/2017)
Description
USA Today Best-seller
Amazon Best-seller
Jammer Davis has spent most of his life investigating aircraft accidents. When a small regional jet disappears over the jungles of Colombia, it is a tragedy like dozens of others he has seen…but for one terrible detail—his young daughter, who was enroute to a semester abroad in South America, is listed on the passenger manifest. 
A distraught Davis rushes to Bogotá and bulls his way into the inquiry. When the wreckage is located, it becomes clear the crash was unsurvivable. As the investigation gains momentum, the facts go astray. Two pilots had been shot before the crash, along with one passenger. The possibility of a hijacking looms large as the search begins to focus on two passengers who boarded the plane, yet their remains cannot be found. 
Davis uncovers an even more sinister plot behind the entire disaster—one that goes to the highest levels of the United States government. But how could it possibly involve his daughter?
Praise For Passenger 19: A Jammer Davis Thriller (Jammer Davis Thrillers #3)…
"The stakes are personal for Jammer Davis in Larsen's exciting third thriller featuring the airplane crash investigator (after 2011's Fly by Night). Larry Green, head of the National Transportation Safety Board's Office of Aviation Safety, calls on Davis when an ARJ-35 passenger plane goes down in southern Colombia. Three crew members and 21 passengers were aboard, including Davis's 19-year-old daughter, Jennifer. Davis flies the same day to Bogotá. At the jungle crash site, two are missing among the dead—Jennifer and another young woman, Kristin Stewart, who happens to resemble Jennifer. Other anomalies, such as bullet wounds in the back of the pilot's and copilot's heads, suggest a hijacking. When both Colombian and U.S. officials prove uncooperative, a frustrated Davis takes matters into his own hands. Aided by a drone and some hastily recruited allies, Davis goes on the offensive in some nice action scenes that are followed by some satisfying payback." — Publishers Weekly
"In Passenger 19, readers catch up with Jammer Davis, former Air Force fighter pilot and now investigator for the NTSB (National Transportation Safety Board). Jammer is faced with a tough assignment; he is asked to investigate the disappearance of a passenger plane over the jungles of Colombia, and is told that his daughter was on board. When he arrives on scene, the authorities have not yet found the plane, but find it soon after. All the passengers except two are accounted for: Jammer's daughter, Jen, and her seatmate are the 'missing.'

Jammer sets off in high gear as he rushes to find his daughter and also solve the mystery as to why the plane crashed. The man is determined and will stop at nothing to get his daughter back among the living. Davis starts his investigation immediately and finds that the two pilots and one passenger had been shot before the crash, which means murder led to the destruction of the plane and its victims. Davis also uncovers a more ominous plot behind the disappearance of the two that lead straight to the U.S. Government. As he makes his way plowing through anything or anyone who attempts to slow him down, Jammer continues to fight.

A great read with so much non-stop action that it seems like only minutes have gone by from beginning to end, yet the author adds details in about how to investigate a crash while also perfectly describing the jungle of Columbia, which wouldn't be much of a vacation spot. The problems put in front of Jammer that try to slow down his investigation, coming from the South Americans as well as the U.S., are intelligent. This book is highly recommended for suspense/thriller readers who want authentic characters and a plot so well-written that they immediately want to read it all over again." — Suspense Magazine
"Jammer Davis has worked on several investigations for the National Transportation Safety Board, but this one is much more personal: a small aircraft with his daughter on board—on her way to a semester abroad—has crashed in Colombia. Quickly dispatched to the site, Davis is shocked to find no evidence in the wreckage of the bodies that should have been in two empty seats. The pilots, it turns out, were shot to death, and the empty seats appear to have belonged to a woman and the Secret Service agent guarding her. What happened to them? Why was the Secret Service even there, and could his daughter possibly have been involved? The more he investigates, the more he encounters pushback. Larsen has written other suspenseful aviation thrillers (Fly by Night, 2011), and fans of airborne crime fiction, if they don't know his work already, should start reading him now." — Booklist
"This new Jammer Davis (Fly By Wire; Fly By Night) technothriller finds the aircraft accident investigator heading to Colombia when his daughter's flight disappears over remote jungles. The found wreckage reveals that two passengers may not have died with the rest, as their remains are missing. In Davis's quest to find his daughter, he discovers revolutionaries, murder, and more sinister doings. VERDICT: Danger and suspense await readers in this action-packed tale, which revolves around revenge that gets out of hand. Some of the technological details may overwhelm general thriller readers, but fans of Larsen's previous books won't be disappointed and aviation buffs will revel in the details revealed by a former airline captain" — Library Journal
"A Jammer Davis Thriller is an exciting novel of suspense featuring Jammer Davis, whose career involves the investigation of aircraft accidents. His job becomes personal when a small regional jet vanishes in the Columbian jungle; one of the passengers was his young daughter. The grim wreckage site dashes any hope of finding survivors. But two pilots and a passenger were shot before the crash; was the flight hijacked? And why can't the remains of two passengers who boarded the plane be found? The threads of a sinister conspiracy corrupting the United States government entangle this tense mystery, highly recommended especially for connoisseurs of the genre." — Midwest Book Review
"Suspense writer Ward Larsen continues to be on a roll with Passenger 19, his latest Jammer Davis aviation thriller. This time around, the action hits close to home when the air crash investigator's daughter, Jennifer, is a passenger on an airliner that goes down in the Amazon jungle. Heartbroken to learn that there were no survivors, Jammer travels to the scene of the crash. But after searching through the rubble, he cannot find his daughter's body. He does, however, find the passport of passenger No. 19, a mysterious young woman who resembles Jen, and who was seated next to her when the crash occurred. Who was Kristin Marie Stewart, and why was her body also missing from the wreckage? Why have people at the highest levels of the US government suddenly involved themselves in the search for Kristin Marie? Author Larsen has always delivered first-class thrillers, but he outdoes himself here with an emotional payoff that is every bit as breathtaking as the action. Since part of Passenger 19 is told from Jen's point of view, we learn that in this case, the apple certainly didn't fall far from the tree. Jen Davis is every bit as courageous as her father. Readers seeking a thriller with heart won't do better than Passenger 19. It hits all the right notes and gives us a heroine as well as a hero." — Mystery Scene Magazine
Oceanview Publishing, 9781608091676, 368pp.
Publication Date: January 5, 2016
About the Author
As a fighter pilot in the US Air Force, award-winning novelist Ward Larsen flew over twenty combat missions in Desert Storm. He has also been a federal law enforcement officer and an aircraft accident investigator. Presently captain for a major airline, he resides with his family in Florida. He is also the author of The Perfect Assassin and Stealing Trinity.
or
Not Currently Available for Direct Purchase