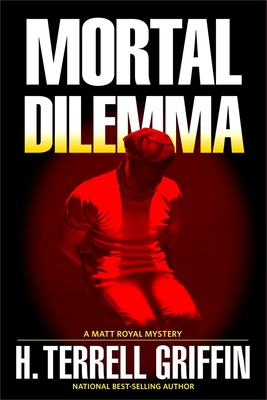 Mortal Dilemma
A Matt Royal Mystery (Matt Royal Series #10)
Hardcover

* Individual store prices may vary.
Other Editions of This Title:
Paperback (4/18/2017)
Description
Finalist 2016 RONE Award
Jock Algren arrives on Longboat Key in a state of depression and hopelessness. His most recent mission for his secretive U.S. government intelligence agency has been disastrous and his friends Matt Royal and J. D. Duncan aren't sure they'll be able to pull him out of his despair—then the bad guys show up and danger erupts on all fronts.
Longboat Key Detective J. D. Duncan is investigating a cold case when the brother of the victim shows up on the island and complicates the investigation. A grizzled sailor—described by Matt as "the meanest man I'd ever known"—brings his boat into a local marina and bodies begin to accumulate. A Middle East jihadist intent on revenge locks on to Jock's clandestine past, bringing a deadly chase to the last outpost in the continental U.S.—Key West. Three prongs of evil descend, clashing violently. How could all this malice be interconnected?
Praise For Mortal Dilemma: A Matt Royal Mystery (Matt Royal Series #10)…
"The action is fast paced, the characters dynamic, and the Key West, FL, setting adds a colorful backdrop to this edge-of-your-seat story. Highly recommended for thriller fans who enjoy the works of David Baldacci." — Library Journal (Starred Review)
"Prepare yourself for a thrilling read." — BookLoons
"Matt Royal prevails and stomps a few metaphoric roaches into oblivion. And 'It just don't get no better than this.'" — Bookreporter
"Bitter Legacy is another solid cruise in the sun with H. Terrell Griffin. This story takes you in and holds you to the very last page. I enjoyed the ride!" — Michael Connelly, New York Times best-selling author ofThe Burning Room
"Witty, smart, and highly entertaining. [Found] is an intriguing mix of hopes and fears that combine into a pulse-pounding treat." — Steve Berry, New York Times best-selling author of The Patriot Threat
"Terry Griffin's latest entry [Collateral Damage] in the Matt Royal set-in-Florida mysteries is a perfect blend of old south, beach bum, funky character-driven stories, the kind that made J. D. MacDonald famous, only Griffin's tale tops the best with its unexpected blend of international intrigue." — David Hagberg, New York Times best-selling author of Retribution
"Take a tough female cop, a witty and charming retired lawyer, toss in a host of quirky Floridians, and, oh yeah, a murder that on the surface makes no sense, and you have Terry Griffin's Found. Tightly written and sprinkled with humor, this fun and fast-paced read should not be missed." — D. P. Lyle, Macavity Award-winning and Edgar- and Agatha-nominated author of the Dub Walker Thriller Series
"Found is an entertaining mystery with an intriguing plot, a vividly rendered southwest Florida location, and believable, likable characters, reminiscent of John D. MacDonald's Travis McGee novels, with a dash of Lee Child's Jack Reacher thrown in for good measure." — Booklist
"J.D. and Matt make a formidable pair of reluctant killers as they take on terrorists seeking revenge on Jock. The unwieldy plot careens to a bloody climax." — Publishers Weekly

"H. Terrell Griffin's Mortal Dilemma brings Matt Royal back to the printed page. Maybe you're like me and don't like him gone for any length of time. Prepare yourself for a thrilling read.
While Matt is playing host to his psychologically damaged school friend, Jock Algren, the love of his life, Longboat Key Detective J. D. Duncan, is being run off the road and shot at. Fortunately, her aim is better than her assailant's. Jock feels he can no longer carry out his assignments for a United States government intelligence agency. But repercussions from his job are not finished with him. Both Matt and J.D. find themselves targets of Jock's extermination orders. I felt as if there was not a page going by without a near catastrophe involving J.D and Matt. Jock's targets want Jock to suffer as they did when he was forced to kill their loved ones. Revenge is the key here. I cannot begin to outline the story line for Mortal Dilemma. Too complicated but also easy to follow. My main concern throughout the whole book was the safety of the main characters. They sure do live dangerous and interesting lives, to say the least.  Mortal Dilemma. Don't miss it. A real treat from an author who knows what he's doing, and does it well." — BookLoons
"Fatal Decree is a great investigative thriller with action that never stops. Every time one thing is solved, a new 'clue' arrives that completely transforms the face of the original case. Written by a superb writer who is the mind behind Wyatt's Revenge, H. Terrell Griffin has once again hit it out of the park!" — Suspense Magazine
Oceanview Publishing, 9781608091744, 416pp.
Publication Date: April 5, 2016
About the Author
H. Terrell Griffin is the award winning author of ten Matt Royal mysteries set on Florida's Suncoast. Prior to succumbing to his lifelong yen to write, he earned degrees in history and law from Mercer University and was a board certified civil trial lawyer based in Orlando for thirty-eight years. In his youth, Terry served three years in the U.S. Army, much of it as a medic in an Armored Cavalry regiment on the East German border.
or
Not Currently Available for Direct Purchase