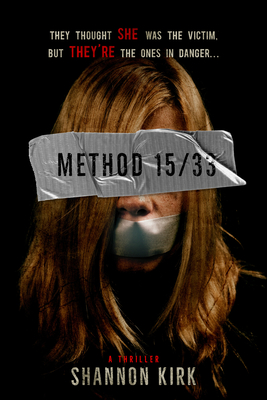 Method 15/33
Paperback

* Individual store prices may vary.
Other Editions of This Title:
Hardcover (5/5/2015)
Description
2015 National Indie Excellence Award Winner for Best Suspense Novel
2015 School Library Journal Best Adult Books for Teens (1 of only 17 Novels Selected)
2016 IBPA Benjamin Franklin Awards Gold Winner Mystery/Suspense
Imagine a helpless, pregnant 16-year-old who's just been yanked from the serenity of her home and shoved into a dirty van. Kidnapped…Alone…Terrified.
Now forget her…
Picture instead a pregnant, 16-year-old, manipulative prodigy. She is shoved into a dirty van and, from the first moment of her kidnapping, feels a calm desire for two things: to save her unborn son and to exact merciless revenge.
She is methodical—calculating— scientific in her plotting. A clinical sociopath? Leaving nothing to chance, secure in her timing and practice, she waits—for the perfect moment to strike. Method 15/33 is what happens when the victim is just as cold as the captors.
The agents trying to find a kidnapped girl have their own frustrations and desires wrapped into this chilling drama.  In the twists of intersecting stories, one is left to ponder. Who is the victim? Who is the aggressor?  
Praise For Method 15/33…
"She is taken in a flash, thrown into the back of a van, tied up, and blindfolded. She is 16, pregnant, and in trouble. The room she is taken to is three floors up—a farmhouse, perhaps? The man who kidnapped her comes in at precisely the same time three times a day to give her food. A doctor comes to check on the health of her baby, and once, a couple comes to be assured that their new baby—her baby—will be blue-eyed and healthy. She waits. She collects "assets," such as the handle from the bathroom bucket, a towel, or a blanket. She practices her escape and plans her revenge. Kirk's brilliantly executed novel alternates between the kidnapped girl and Special Agent Roger Liu—the detective assigned to find her. He and his partner slowly and methodically collect clues as they make their way to the remote hideaway. Meanwhile, the kidnapped girl is stuck in the room awaiting her certain death at the hands of the brutal man and his partners. But her brilliance is exceeded only by her ability to plan, calculate, observe, and wait. The abductors never have a chance as she orchestrates a conclusion that will leave readers satisfied and possibly unsettled. Readers wait with her as she ponders the right moment to make a move even as they suspect that it might not work. 
VERDICT Give this to teens who read Stephen King and other psychological thrillers, especially those with a penchant for dark and violent suspense." — Connie Williams, Petaluma High School, CA - School Library Journal
Oceanview Publishing, 9781608091867, 258pp.
Publication Date: June 14, 2016
About the Author
Shannon Kirk is a practicing attorney and a law professor. She attended West Virginia Wesleyan and St. John's Universities, is a graduate of Suffolk Law School, and was a trial lawyer in Chicago prior to moving to Massachusetts.  She has been honored three times by the Faulkner Society in the William Faulkner-William Wisdom Creative Writing Competition.  She lives in Massachusetts with her husband, a physicist, and their son.  Method 15/33 was Kirk's debut novel.  Foreign rights have now been sold in 20 countries.
or
Not Currently Available for Direct Purchase