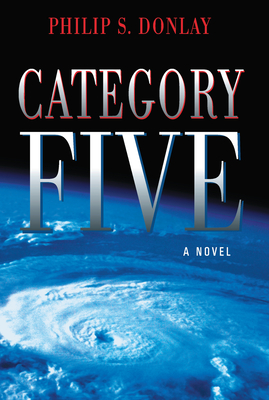 Category Five
A Novel (Donovan Nash Series #1)
Paperback

* Individual store prices may vary.
Other Editions of This Title:
Mass Market Paperback (9/1/2005)
Description
Best-Selling and Award-Winning Author

When the only option is to maneuver a crippled plane into the calm eye of a category five hurricane

In the Atlantic Ocean, Hurricane Helena is gathering strength, becoming the most powerful storm in recorded history. As Helena bears down on Bermuda, Donovan Nash, along with other members of the scientific research organization Eco-Watch, are called to fly in and extract key government people who have been studying Helena.

For Donovan, the routine mission turns deadly when an attempt is made on the life of the lead scientist. A woman from the past, Dr. Lauren McKenna, is suddenly thrust back into his life. With 300 mph winds and waves over 90 feet, Helena marches relentlessly for the vulnerable east coast of the United States.

In a bold attempt to diffuse the power of the hurricane, Eco-Watch is called upon to conduct a final flight above the massive fury, where the jet suffers a catastrophic engine failure. Now the only option is to maneuver the crippled airplane into the calm of Helena's eye.

Perfect for fans of Vince Flynn and Daniel Silva

While all of the novels in the Donovan Nash Series stand on their own and can be read in any order, the publication sequence is:

Category Five
Code Black
Zero Separation
Deadly Echoes
Aftershock
Pegasus Down
Seconds to Midnight
Speed the Dawn
Praise For Category Five: A Novel (Donovan Nash Series #1)…
Praise for the Donovan Nash Series

"Authors like Philip Donlay, who write the pure thrillers, have capabilities and strength I can only envy." —William Kent Krueger, New York Times best-selling author

"Category Five is a first-rate thriller filled with believable characters and lots of inside information!" —Vince Flynn, New York Times best-selling author

"A heart-thumping ride that steams along, bringing our flawed world into pristine focus. Lots of mischief and mayhem, the characters fraught with danger, the plot hitting all the right notes." —Steve Berry, New York Times best-selling author

"A commanding thriller by a superb author." —Grant Blackwood, New York Times best-selling author

"Well researched and supremely entertaining, Philip Donlay has knocked this one out of the park!" —Ward Larsen, USA Today best-selling author

"A timely and terrifying roller-coaster ride depicting the realities of the post-9/11 world. Deftly plotted and expertly executed by a gifted writer who also happens to be a licensed pilot." —Sheldon Siegel, New York Times best-selling author

"Great characters, cool technical details, twists and turns, lies and deceits, and breakneck pacing from the first scene to the last." —D. P. Lyle, best-selling and award-winning author

"A Donlay thriller is as sleek and fast as a Gulfstream. Buckle up." —Brian Freeman, best-selling author
Oceanview Publishing, 9781608091935, 320pp.
Publication Date: November 10, 2015
About the Author
Best-selling author Philip Donlay has been a flight instructor, flown a private jet for a Saudi prince, and a corporate jet for a Fortune 500 company. His travels have taken him to over forty countries on five continents. He divides his time between Montana and the Pacific Northwest. Category Five is the first thriller in his Donovan Nash Series and is followed by Code Black, Zero Separation, Deadly Echoes, Aftershock, Pegasus Down, Seconds to Midnight, and Speed the Dawn.