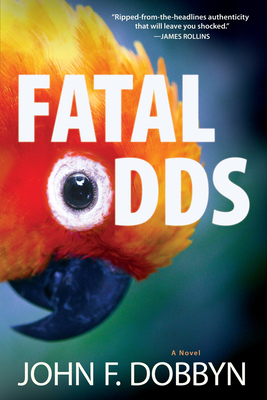 Fatal Odds
A Novel (Knight and Devlin Thriller #5)
Hardcover

* Individual store prices may vary.
Other Editions of This Title:
Paperback (9/17/2019)
Description
Danger escalates as Michael Knight and Lex Devlin enter into the defense of a Puerto Rican jockey charged with felony murder as a result of a fixed race at Boston's Suffolk Downs.
As their investigation exposes the jockey's role, they become embroiled in a conflict between two Puerto Rican crime gangs. One of these gangs is aligned for the first time with Boston's Italian Mafia in tapping into almost limitless profits from the illicit trade of exotic and endangered species of wild animals captured in the Amazon rainforest of Brazil and smuggled through the shoreline of the Florida Keys.
Working to free their client and to prevent the brutal abuse of these vulnerable animals, Michael and Lex find themselves squarely in the crossfire of rival organized crime gangs from the barrio of Jamaica Plain, Boston, to the gang-dominated streets of Mayaguez, Puerto Rico.  
Praise For Fatal Odds: A Novel (Knight and Devlin Thriller #5)…
"John F. Dobbyn's thriller Fatal Odds does everything right: a nail-biting plot to keep you turning pages, characters that shine brighter with every twist and turn, and a ripped-from-the-headlines authenticity that will leave you shocked. Here is a novel that expertly mixes thrills and smarts and will have you clamoring for more from this author. I know I want more." — James Rollins, New York Times best-selling author of The Bone Labyrinth
"Boston attorneys Michael Knight and Lex Devlin are back with a case that starts local and goes global. Once again, John F. Dobbyn has crafted a first-rate legal thriller that's both topical and timeless." — Linda Landrigan, Editor, Alfred Hitchcock's Mystery Magazine
"Fatal Oddsis a terrific read with a fast-paced plot and well-drawn characters that stay with you long after you close the book." — Lisa Scottoline, New York Times best-selling author of Most Wanted
"Nicely plotted, with a pair of genuinely likable protagonists and some well -designed supporting characters (Dobbyn writes about gangs without resorting to stereotypes). A worthy entry in a solid legal-thriller series. " — Booklist
"Series characters Michael Knight and Lex Devlin debuted in Ellery Queen's Mystery Magazine. Among the broad array of fictional lawyer-sleuths, these two stand out for the passion they bring to their cases and for the warmth of the relationship between the younger attorney, Knight, and his mentor, Devlin. Add a gripping plot, and you've got the formula for a Dobbyn thriller." — Janet Hutchings, Editor-in-Chief of Ellery Queen Mystery Magazine
"In part one of Dobbyn's exciting fifth novel starring Boston lawyer Michael Knight (after 2013's Deadly Diamonds), jockey Victor Mendosa is accused of murder after his older brother, Roberto, also a jockey, dies in a fixed horse race at Suffolk Downs. Knight, the Mendosas' cousin, is determined to represent Victor, whose past association with a Puerto Rican gang soon leads the attorney to meetings with underworld types and threats against his life. Eventually, Knight follows Victor to Puerto Rico. Part two shifts to the Amazon rainforest, where Ancarit and his grandfather Ancuro are forced to capture rare primates and birds by intruders into their world. A Puerto Rican gangster delivers a tutorial on international animal smuggling that closely resembles the author's note at book's end. An additional plot thread involves drug smuggling. Dobbyn packs these pages with numerous criminal organizations, each more scary than the next, and plenty of action, which builds to a highly complex sting operation engineered by Knight." — Publishers Weekly
"Fatal Odds by John F. Dobbyn, which combines the reality of smuggling wild and endangered animals into the United States along with horse races being fixed, is an exciting thriller that will keep you reading far into the night. Don't miss this one." — BookLoons
"What a sting! What a climax! Fatal Odds has it all. It is an exciting read. I loved it!" — Fresh Fiction
Oceanview Publishing, 9781608091997, 352pp.
Publication Date: August 2, 2016
About the Author
John F. Dobbyn is a professor of law at Villanova Law School. He is a frequent contributor to Ellery Queen's Mystery Magazine and Alfred Hitchcock's Mystery Magazine, and he is the author of five legal thrillers featuring Michael Knight and Lex Devlin.
Dobbyn is a Boston native and now resides in Valley Forge, Pennsylvania, with his wife Lois.