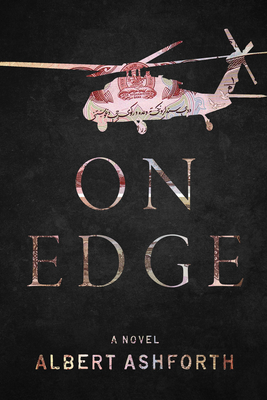 On Edge
A Novel
Hardcover

* Individual store prices may vary.
Description
The United States draws down in Afghanistan amidst tension between the legitimate government and the Taliban

When a former Army buddy is murdered by an Afghan military colleague, U.S. Army Special Investigator Alex Klear is called back into action in Afghanistan to investigate what is thought to be a classic "green-on-blue" killing. Alex finds Kabul in a state of chaos, partly under government control, partly controlled by the Taliban.

From the beginning, he suspects that the Army has identified the wrong man as the killer, and that an innocent Afghan soldier has become the victim of a complex frame-up. His suspicions are solidified when he discovers that his friend had been investigating a massive fraud at Kabul Bank. As Alex is drawn into the epicenter of the biggest bank fraud in history, he finds his efforts systematically thwarted by both the American and the Afghanistan governments.

In the lawless streets of Kabul and into the far outreaches of Afghanistan, Alex relentlessly hunts his friend's killer―and uncovers the truth. In real-life, an incident kept mostly out of the media―a monumental embarrassment to both countries.
Praise For On Edge: A Novel…
"I love On Edge by Albert Ashforth! Exciting and authentic, it's a riveting thriller in which billions of U.S. dollars are at stake. Intelligence officer Alex Klear returns in the second of this fascinating series to investigate what appears to be the simple murder of an old friend in Kabul, Afghanistan. Rich with insider details known only to those who've lived the life, On Edge is beautifully written and will make you hunger for the next book. Ashforth is a true master of suspense." — Gayle Lynds, New York Times best-selling author of The Assassin

"No question: On Edgeis the real deal from a writer who knows the territory, has faced the fear and seen the action. This isn't just a gripping story. It's the inside story, thrilling and compelling. Having just finished the book, I feel I've been there and I want more." — Peter Lovesey, award-winning author of Another One Goes Tonight

"On Edge is a brilliant, unfiltered portrayal of what Afghanistan has become. Ashforth's military background shines through on every page. Fans of Vince Flynn and David Baldacci will find a new favorite." — Ward Larsen, USA Today bestselling author of Assassin's Silence

"Albert Ashworth's On Edge features an appealing and familiar hero in Alex Klear, and should prove exciting to those drawn to adventure stories with some elements of mystery." — Foreword Reviews

"Fans of both military and mystery fiction will relish Ashforth's impressive sequel to 2012's The Rendition. In early 2013, Alex Klear, a retired U.S. Army intelligence officer, once again gives in to a demand to perform one more job for his country, this time in Afghanistan, where an old friend of his, Col. Peter Hansen, was the victim of an apparent "green-on-blue" killing (an Afghan soldier murdering an American soldier). In Kabul, Alex unearths evidence suggesting that the soldier accused of the crime was set up, and he concludes that the murder is connected to Pete's investigation of the collapse of the Kabul Bank, which went bankrupt in 2010. Meanwhile, with the date of U.S. withdrawal approaching, officials seem content to let circumstantial evidence close the case and ignore the conspiracy. Alex, stalwart and principled, pursues it to the shocking end. Ashforth, an Army veteran and former military contractor, skillfully conveys an insider's familiarity with the Afghan people and terrain, but he should abandon the "just one more mission" conceit and put Alex officially back into uniform for his next outing. " — Publishers Weekly
Oceanview Publishing, 9781608092000, 400pp.
Publication Date: September 6, 2016
About the Author
After serving with the U.S. Army overseas, Albert Ashforth earned a B.A. from Brooklyn College and a M.A. and a Ph.D. from New York University. He worked for two New York newspapers before returning to Europe as an instructor for the University of Maryland's Overseas Program. He also served at the German Military Academy training NATO officers and as an instructor at the 10th Group Special Forces headquarters in Bad Tolz.  As a military contractor, he has done tours in Bosnia, Macedonia, Germany, Kosovo, and Afghanistan. He is the author of three novels and numerous articles and short stories. His novel The Rendition won the Military Writers of America Bronze Medal. Ashforth is on the faculty at the State University of New York and lives in New York City.
or
Not Currently Available for Direct Purchase