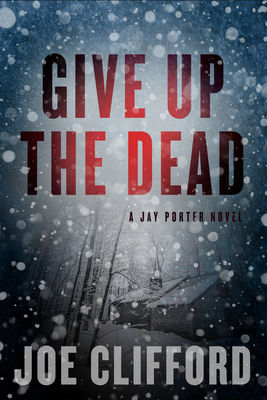 Give Up the Dead
A Jay Porter Novel
Hardcover

* Individual store prices may vary.
Other Editions of This Title:
Paperback (8/21/2018)
Description
Anthony Award Nominee for Best Novel in a Series

A brother's love knows no bounds—even in death

Three years have passed since estate-clearing handyman Jay Porter almost lost his life following a devastating accident on the thin ice of Echo Lake. His investigative work uncovering a kids-for-cash scandal may have made his hometown of Ashton, New Hampshire, a safer place, but nothing comes without a price. The traumatic, uncredited events cost Jay his wife and his son, and left him with a permanent leg injury.

Jay is just putting his life back together when a mysterious stranger stops by with an offer too good to be true: a large sum of cash in exchange for finding a missing teenage boy who may have been abducted by a radical recovery group in the northern New Hampshire wilds.

Skeptical of gift horses and weary of reenlisting in the local drug war, Jay passes on the offer. The next day his boss is found beaten and left for dead, painting Jay the main suspect. As clues begin to tie the two cases together, Jay finds himself back on the job—and back in the line of fire.

Perfect for fans of Dennis Lehane's Mystic River

While all of the novels in the Jay Porter Series stand on their own and can be read in any order, the publication sequence is:

Lamentation
December Boys
Give Up the Dead
Broken Ground
Rag and Bone
Praise For Give Up the Dead: A Jay Porter Novel…
"Joe Clifford writes the kind of books that I love to read, mysteries that not only make you think, but make you feel. He is a master at creating characters that bind to your DNA and stay with you long after the last page is turned." —Allen Eskens,
USA Today
best-selling author
"Joe Clifford is an underground star. Give Up the Dead should finally expose his star to the light. Jay Porter is a hard-bitten and hard-boiled loner who manages to make you root for him and all the world's underdogs." — Reed Farrel Coleman, New York Times best-selling author
"Noir fiction has fresh blood in Joe Clifford. The three-dimensional characters in Give Up the Dead take readers by the hand and throat and don't let go until the final shocking pages." —Eileen Cook, best-selling author
"There is something incredibly fascinating about an unconventional hero whose life is on the verge of unraveling at any moment. Joe Clifford's propulsive third installment starring Jay Porter, a flawed but surprisingly thoughtful and self-aware protagonist, kept me turning the pages long into the night." —Jennifer Hillier, author of Wonderland
"In my humble opinion, Joe Clifford is the best storyteller working today. His third installment of the Jay Porter series ratchets up the heat on Jay and the reader and what follows is a fast-paced ride . . . and intricately plotted story line." —Pam Stack, Authors on the Air
Praise for the Jay Porter Series

"The writing snaps. The story crackles. The characters are achingly real." —Meg Gardiner, Edgar Award-winning and best-selling author
"Gritty and gripping, with prose that cuts to the bone. Joe Clifford has crafted a modern noir that pulls no punches." —Riley Sager, New York Times best-selling author
"The depth of the characters. The vividness of the New Hampshire winter setting. The importance of the novel's theme. Joe Clifford's a crime writer to pay attention to." —David Morrell, New York Times best-selling author​​​​​​
Oceanview Publishing, 9781608092048, 320pp.
Publication Date: June 6, 2017
About the Author
Award-winning author Joe Clifford has been a homeless junkie living on the street—until he turned his life around. Now, he uses the backdrop of his experience with addiction to shine a light on the misunderstood and marginalized. No one can write with the authority of Joe Clifford when describing the reality of alcohol and drug abuse. Give up the Dead is the third novel in his award-winning Jay Porter Series following Lamentation and December Boys and is followed by Broken Ground and Rag and Bone. Joe lives in the San Francisco Bay Area with his wife, Justine, and two sons.
or
Not Currently Available for Direct Purchase