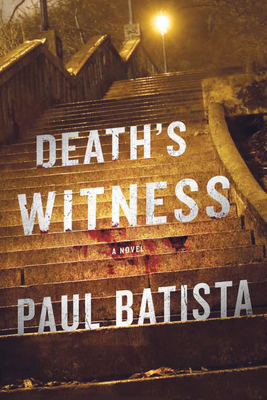 Death's Witness
A Novel
Paperback

* Individual store prices may vary.
Other Editions of This Title:
Compact Disc (5/2/2019)
MP3 CD (5/17/2016)
Description
USA Today Best-Selling Author

Prominent defense attorney murdered in Central Park—random act or a conspiracy?

When Tom Perini, a legendary Heisman Trophy winner turned criminal lawyer, is found brutally murdered in Central Park, his widow Julie Perini suspects a wider conspiracy. Not only was her husband part of the defense team for a Congressman on trial for bribery, but her intuition also tells her that the FBI is not too eager to find the killer.

Relying on her skills as a journalist, Julie begins her own investigation and soon discovers her late husband's secret underworld associations; ties that now threaten her and her toddler's lives. Fighting grief and a sense of betrayal, Julie is pulled into an inescapable labyrinth of organized crime dealings, political corruption, brutal power grabs and murder.

Desperate, Julie turns to Vincent Sorrentino, Tom's defense partner, for help, and the two discover a shocking and terrifying truth that threatens to paralyze them. But it may also hold the key—the only key—to saving the lives of Julie and her daughter.

Perfect for fans of John Grisham's legal thrillers

While Death's Witness is a standalone novel, here is the publication order of Paul Batista's legal thrillers:

Death's Witness
Extraordinary Rendition
The Borzoi Killings (Raquel Rematti Legal Thriller Series #1)
Manhattan Lockdown
The Warriors (Raquel Rematti Legal Thriller Series #2)
Accusation (Raquel Rematti Legal Thriller Series #3) — coming in March 2022
Praise For Death's Witness: A Novel…
"The verdict on Batista's debut legal thriller: guilty of delivering not only sharp courtroom drama but steamy romantic escapism as well." —Publishers Weekly


"Only a veteran trial lawyer could write a thriller like this! The plot twists and turns are incredible! It made me want to leap from the anchor chair into the courtroom and try the case myself!" —Nancy Grace, anchor on CNN and Court TV


"Grabs a reader by the throat from page one and won't let go . . . Batista's New York will now take its place alongside Raymond Chandler's Los Angeles as an iconographic image of urban power and fragility." —Susan Jacoby, best-selling author


"One of America's leading trial lawyers, Paul Batista, has written a gripping thriller. A great read!" —Fred Graham, anchor on Court TV and former CBS News correspondent


"A spectacular new edition to the legal thriller genre. Fast, smart and exciting, with richly drawn characters and a racehorse pace." —Jack Ford, anchor on Good Morning America


"True crime, passion, suspense, fueled by richly crafted characters . . ." —Rikki Klieman, former Court TV anchor and author


Praise for Paul Batista

"Batista knows his way around Manhattan and it shows in this battle of wills, where the tension and turmoil add up to high-stakes suspense, the pages hot enough to singe your fingers." —Steve Berry, New York Times best-selling author


"From its literally explosive first pages through its literally explosive last pages, Manhattan Lockdown brings us into a battle for the streets of Manhattan as the city's most treasured icons are blown apart by terrorists." —Lis Wiehl, New York Times best-selling author


"Paul Batista's provocative tale of a game-changing terrorist attack in New York City is both a superb procedural thriller and stark morality tale that asks how far are we willing to go to stay safe." —Jon Land, USA Today best-selling author


"Police Commissioner Carbone bursts onto the scene as the most frightening and unforgettable character in modern suspense/thrillers." —Suspense Magazine


"Manhattan Lockdown may well be this summer's thriller. Its fast-moving plot not only provides entertainment, but will make you think, 'Could this really happen?'" —San Francisco Book Review


"Slide over John Grisham and Scott Turow and make room on your narrow bench for Paul Batista to join you as a fellow top legal thriller author." —Killer Nashville
Oceanview Publishing, 9781608092086, 378pp.
Publication Date: January 26, 2016
About the Author
USA Today best-selling author Paul Batista is also a criminal defense lawyer, a TV personality, and the author of Civil RICO Practice Manual, the leading book on the federal racketeering statute. Death's Witness is his debut thriller novel and precedes Extraordinary Rendition, The Borzoi Killings, Manhattan Lockdown, The Warriors, and Accusation. Batista is a veteran of the United States Army and lives in Sag Harbor and New York City, NY.
or
Not Currently Available for Direct Purchase