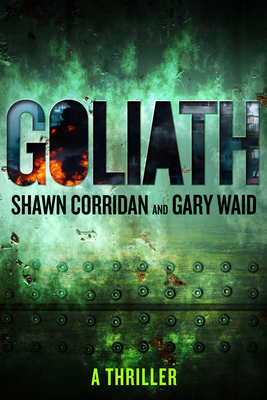 Goliath
A Thriller
Hardcover

* Individual store prices may vary.
Other Editions of This Title:
Paperback (10/17/2017)
Description
In the Bering Sea, Bennkah, the largest oil tanker ever built, newly commissioned in Vladivostock, Russia, is on a secret mission. On this maiden voyage, Captain Borodin is at the helm. He is the only one aboard aware of the mission.
Soon an engineer discovers a defect—seemingly minor, but one with disastrous potential. Despite his attempts to correct the problem, a fire erupts, contained at first, then rapidly spreads out of control, consuming the behemoth ship.
A Mayday call alerts Sonny Wade some two hundred miles from the burning ship. This could be the lifeline that Sonny and his rag-tag crew need to save their failing salvage business. But Dan Sharp, Sonny's nemesis and former employer—the owner of the largest salvage business in northern Alaska—also hears the call. A brutal race is on to claim the burning ship before it sinks or runs aground, contaminating the entire north Pacific Rim—and not only with oil.
Praise For Goliath: A Thriller…
"From the opening scene, it's clear you're in the hands of authors who call the ocean, and seafaring ships, home. Characters are well-defined, descriptions are vivid, and the story feels genuine. Goliath is a terrific opening act for Corridan's and Waid's crew, with undoubtedly many exciting adventures to come." — Alan Jacobson, USA Today best-selling author of The Lost Code

"In Goliath, Shawn Corridan and Gary Waid have created a nuanced thriller, layered in ways rarely seen in a debut novel. The authors combine technical knowledge with steadily increasing tension, adding unexpected twists until the reader is left holding his breath in white-knuckled suspense. Highly recommended!" — Allan Leverone, New York Times best-selling author of The Hitler Deception

"An ingenious idea. The biggest tanker the world has ever seen, gorged with toxic crude oil, is aground off Alaska. What to do? The pace is fast, the technology accurate and not too much. A good read." — Frederick Forsyth, New York Times best-selling author of The Outsider: My Life in Intrigue

"An exciting addition to the world of action and adventure, with all the twists and turns you'd expect from grand masters like Clive Cussler and James Rollins! Hold onto the railing or you're liable to be tossed overboard, because this is one wild ride!" — Brett Battles, best-selling author of the Jonathan Quinn thrillers.

"A down on his luck owner of a failing marine salvage business is presented with the opportunity of a lifetime: lay claim to the world's largest, and now heavily damaged, oil tanker and reap a fortune. The race is on and the action is fast and furious with unexpected twists throughout, including the true mission of the tanker. The authors seafaring knowledge lends a good deal of nautical vérité to the story and, combined with good character development and pacing, make for an exciting tale. Goliath is a thriller that even a landlubber will appreciate — so climb aboard!" — Thomas Waite, bestselling author of the celebrate Lana Elkins Thriller series.

"The story takes us to a world that most of us don't know with an extraordinary sense of place.  The plot and characters are compelling which is the watchword of modern fiction. Corridan and Waid take us to the sea and a giant ship--compel us to know it, dazzling us with a pulse-pounding story and characters that will not let us go." — David Dun, USA Today best-selling author of Unacceptable Risk

"The Russian-built Bennkah (Russian for Goliath), the world's largest commercial tanker, is filled with five million barrels of crude and a far more dangerous secret cargo. Early in Corridan and Waid's riveting first novel, the supertanker catches fire in the southern Bering Sea near the Aleutians, and there's nothing anyone can do to stop it. The giant ship runs aground on an island, where the flaming hulk becomes officially salvage, leading to a race to claim her between good-guy Capt. Sonny Wade aboard the beat-up Skeleton, based in Dutch Harbor, and the greedy, unprincipled Dan Sharpe, owner of the ultramodern salvager Sharpe-Shooter in Anchorage. Sonny wins the race to the stricken ship, but soon finds a tsunami of troubles as he battles the still-burning fires, a threatening oil leak, his own rambunctious crew, a secret saboteur, and the unpredictable, vicious weather. Dan's arrival adds to his woes. Fans of nautical adventures will be enthralled—and pleased to know that Corridan and Waid are teeing up another outing for Sonny and his motley crew." — Publishers Weekly (starred review)

"Authors Corridan and Waid deliver an intriguing thriller for those who enjoy sea adventures. Captain Sonny Wade and his crew are on the verge of having to close their salvage business due to lack of funds. Then they receive word that the largest oil tanker ever designed, the Bennkah, has caught fire in the Bering Sea and is on the verge of sinking. Wade immediately recognizes an opportunity to resurrect his business, save lives, and help prevent an environmental disaster, but first he must beat a rival salvage company to the site of the accident. The premise is reminiscent, of course, of many Clive Cussler novels, but Waid and Corridan clearly know their nautical stuff and, when focused on the immense task of a rescue, the novel delivers the goods. Narrative momentum, however, is lost by the various romantic subplots, which seem forced and often silly. Still, this is a viable option for adventure fans who need to be on the water at regular intervals." — Booklist

"A deftly written and riveting read from beginning to end, "Goliath" is an exceptionally entertaining thriller that is very highly recommended" — Midwest Book Review

"With Goliath, Corridan and Waid have woven a gripping novel in the style of Michael Crichton and the duo of Douglas Preston and Lincoln Child" — San Francisco Book Review
Oceanview Publishing, 9781608092154, 320pp.
Publication Date: November 1, 2016
About the Author
Shawn Corridan grew up in the shadow of Florida's Cape Kennedy, his father a NASA engineer. A high school football star as well as a surfer, he attended the University of Hawaii where he could be both. After graduation, he traveled the globe, sailed the Caribbean, was rescued by the Coast Guard twice, wrote market research reports for Wall Street, and worked in pharmaceutical sales. Shawn coauthored Goliath with his friend Gary Waid. Corridan lives in Merritt Island, Florida, with his wife Julie.

Born a Navy brat in San Diego, Gary Waid has done almost everything there is to do in the water, from fishing to operating tugboats to repairing yachts. He has also been a roofer, a carpenter, a musician, a tractor-trailer driver, a writer for magazines—as well as a guest in the federal prison system. When he reunited with his friend Shawn Corridan, they coauthored Goliath. Waid lives in Florida on a sailboat with his wife Patty and their two dogs.