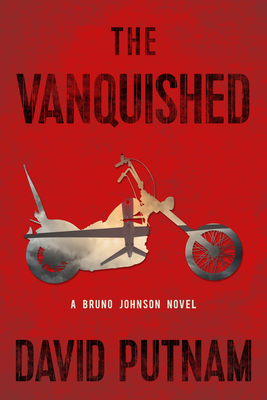 The Vanquished
A Bruno Johnson Novel (Bruno Johnson Series #4)
Hardcover

* Individual store prices may vary.
Other Editions of This Title:
Paperback (1/16/2018)
Description
Best-selling author of the Bruno Johnson Crime Series

"Bruno Johnson believes so passionately in justice that he'll lie, cheat, and steal to achieve it—and he'll pulverize anybody who gets in his way" —Booklist

Former cop and ex-con Bruno Johnson and his wife Marie, living in their safe haven in Costa Rica with the children they illegally rescued from certain death, find a message from their outlaw motorcycle gang enemies—written on the back of one of their beloved children.

The motorcycle gang, Sons of Satan, out for revenge, will stop at nothing to lure the now furious Bruno back into their web. Bruno and Marie, forced to return to Southern California, battle additional demons in the form of an ex-spouse's entanglements.

The FBI, watching the Sons of Satan, recognizes Bruno's unique skills and ties. They recruit him to recover a stolen military drone armed with Hellfire missiles, while Bruno struggles to keep pregnant Marie out of the crossfire. Ultimately, Bruno's inability to ignore a woman in peril yields unspeakable consequences.

Perfect for fans of David Baldacci and Robert Crais

While all of the novels in the Bruno Johnson Crime Series stand on their own and can be read in any order, the publication sequence is:

The Disposables
The Replacements
The Squandered
The Vanquished
The Innocents
The Reckless
The Heartless
The Ruthless (coming February 2021)
The Sinister (coming February 2022)
Praise For The Vanquished: A Bruno Johnson Novel (Bruno Johnson Series #4)…
"Bad Boy Bruno Johnson comes out of hiding to battle a vicious biker gang that threatens his family. Bring an oxygen tank with you when you read
The Vanquished
because you'll be holding your breath the whole time." —Matt Coyle, best-selling and Anthony and Shamus Award-winning author of the Rick Cahill PI Crime Series
"
The Vanquished
takes you onto the mean streets so you feel like you're there with Bruno, fighting and grieving alongside him. The most real cop book I've read in ages." —Marc Cameron,
New York Times
best-selling author
Praise for the Bruno Johnson Crime Series
"I really loved
The Disposables
. It's raw, powerful, and eloquent. It's a gritty street poem recited by a voice unalterably committed to redemption and doing the right thing in a wrong world. I'll be first in line for the next one from David Putnam." —Michael Connelly,
New York Times
best-selling author
"Dark, disturbing, and all too believable, this is the tale of one man's quest for atonement in a world where innocence is a liability." —T. Jefferson Parker,
New York Times
best-selling author
"Reading a novel by David Putnam is almost as good as riding shotgun in a patrol car. He writes what he knows and what he knows is that justice on the mean streets isn't always black and white." —Robin Burcell, New York Times best-selling author
"Putnam is a master of the gritty realism of law and order at street level. I guarantee that The Ruthless will grab you by the throat, shove you against the wall, and won't release you until the final, satisfying page." —William Kent Krueger, New York Times best-selling author
"Terrific—a smart, well-written, relentless account of a battle against evil, fought by a protagonist who has a real man's flaws, but also shows us the kind of heroism that's real." —Thomas Perry, New York Times best-selling author
"David Putnam knows the mean streets and the characters who inhabit them better than anyone writing crime fiction." —Alan Russell, New York Times best-selling author
"David Putnam provides an insider's knowledge of the Los Angeles Sheriff's Department. His characters and settings are rich and authentic, and his dialogue is spot on accurate." —Robert Dugoni, New York Times best-selling author​​​​
Oceanview Publishing, 9781608092161, 320pp.
Publication Date: February 7, 2017
About the Author
During his career in law enforcement, best-selling author David Putnam has done it all: worked in narcotics, violent crimes, criminal intelligence, hostage rescue, SWAT, and internal affairs, to name just a few. He is the recipient of many awards and commendations for heroism. The Vanquished is the fourth novel in the best-selling Bruno Johnson Crime Series, following The Disposables, The Replacements, and The Squandered. Putnam lives in the Los Angeles area with his wife, Mary.
or
Not Currently Available for Direct Purchase