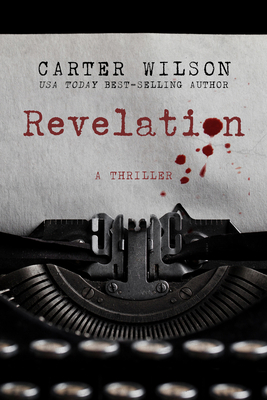 Revelation
A Thriller
Hardcover

* Individual store prices may vary.
Other Editions of This Title:
Paperback (12/19/2017)
Description
USA Today Best-selling Author

Winner of Foreword Book of the Year Award

Winner of the Colorado Book Award

Winner of the International Book Award

Campus project—Innocent start—Murderous end

When Harden Campbell wakes cold and beaten in a dirt-floor cell, he finds only three other things in the room with him: the mutilated body of his good friend, an ancient typewriter, and a stack of blank paper, the top sheet of which has a single, typed sentence.

Tell me a story.

He knows the message is from Coyote, his brilliant, megalomaniacal roommate whose lust for power and reverence has recently revealed him for the true psychopath he is. Now, as the founder of a new religion with disturbing roots—Revelation—Coyote's most evil side has emerged.

From the moment Harden sees that stack of paper, he knows his one chance of escape is through his own words, and only his ability to successfully recount the dark story of what happened over the past year at Wyland University will determine whether he lives to see the woman he loves once again—or is silenced forever.

This will be the most difficult story Harden has ever written, and each word must be chosen with the utmost care. Because Coyote will be reading each and every one of them.

Perfect for fans of Stephen King
Praise For Revelation: A Thriller…
* "Harden Campbell, the hero of Wilson's enthralling thriller, awakens in pitch darkness lying on a dirt floor, unaware of how he got there. Feeling his way around, he bumps into a dead body. Then a light suddenly goes on, and he sees that he's in a locked room with the body of Derek, a friend with whom he recently celebrated his 21st birthday. Derek's throat is cut. Harden also sees a table with a typewriter; on top of a stack of paper is a sheet with the message: "Tell me a story." Wilson infuses his terrifying plot with intricate twists and turns, all totally credible." —Publishers Weekly (Starred Review)

"This is a sledgehammer of a novel, slamming away at the foundations of modern cult religions until nothing is left but rubble to be carted away." —Booklist

"Revelation is an exquisite story of psychological control and suspense that is both thought-provoking and visceral in its impact, and it will keep you awake far into the night." —The Oklahoman

Praise for Carter Wilson

* "Wilson's [The Comfort of Black] third novel takes off at breakneck speed and doesn't stop until its jolting conclusion. Gritty, unflinching, and sometimes violent, this thriller is reminiscent of Gillian Flynn's Gone Girl and the television series The Equalizer. Adrenaline junkies and fans of darker crime fiction will take to this book, which is compelling and exciting enough to be read in one sitting." —Library Journal (Starred Review)

"From the very first shocking, irreverent and chilling line you know The Comfort of Black is anything but your average thriller. It's an exemplary thriller. A knock-your-socks-off- thriller." —M.J. Rose, New York Times best-selling author

"Wilson is right up there—if not beyond—James Patterson and Stephen King. The Comfort of Black is edgy, completely absorbing, and a definite must read by all." —The U.S. Review of Books

* "Carter is extremely good at creating a series of shattering, Philip K. Dickian revelations that would rock anyone's personal security." —Publishers Weekly (Starred Review)
Oceanview Publishing, 9781608092185, 384pp.
Publication Date: December 13, 2016
About the Author
Carter Wilson is the USA Today and #1 Denver Post best-selling author of psychological thrillers. A four-time winner of the Colorado Book Award, he has received numerous awards for his novels and multiple starred reviews in Publishers Weekly and Library Journal. Revelation is his fourth novel, following The Comfort of Black, The Boy in the Woods, and Final Crossing. Carter lives in Colorado with his two children.
or
Not Currently Available for Direct Purchase