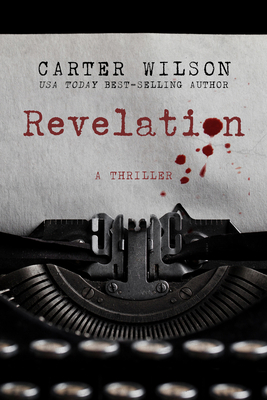 Revelation
A Thriller
Hardcover

* Individual store prices may vary.
Other Editions of This Title:
Paperback (12/19/2017)
Description
When Harden Campbell wakes cold and beaten in a dirt-floor cell, he finds only three other things in the room with him: the mutilated body of his good friend, an ancient typewriter, and a stack of blank paper, the top sheet of which has a single, typed sentence.
Tell me a story.
He knows the message is from Coyote, his brilliant, megalomaniacal roommate whose lust for power and reverence has recently revealed him for the true sociopath he is. Now, as the founder of a new religion with disturbing roots—Revelation—Coyote's most evil side has emerged. From the moment Harden sees that stack of paper, he knows his one chance of escape is through his own words, and only his ability to successfully recount the dark story of what happened over the past year at Wyland University will determine whether he lives to see the woman he loves once again—or is silenced forever.
This will be the most difficult story Harden has ever written, and each word must be chosen with the utmost care. Because Coyote will be reading each and every one of them.
Praise For Revelation: A Thriller…
"An enthralling thriller ... Wilson infuses his terrifying plot with intricate twists and turns, all totally credible." — Publishers Weekly (Starred Review)
"This is a sledgehammer of a novel, slamming away at the foundations of modern cult religions until nothing is left but rubble to be carted away. It's a powerful story ... An intense experience for those who can take it." — Booklist
"Revelation will test your talent at turning pages quickly. As you go, you will be reading a story about a story that holds the key to one man's salvation and accounts for another man's warped and violent attempts to establish new truths based on the power of storytelling. Revelation is a cautionary tale about the intensity and demands of religion, except 'cautionary' and 'tale' both sound much too tame. Follow Harden Campbell on this harrowing journey and watch your knuckles whiten as you try and hold on." — Mark Stevens, Denver Post best-selling author and Colorado Book Award winner
"Revelation isn't a book you should begin at night if you plan on sleeping." — The Big Thrill
"Suspenseful words will keep the reader turning page after page, long after the light by his/her bed should have been extinguished. Carter Wilson's third novel, The Comfort of Black, won four literary awards." — BookLoons
"Revelation is one book that will have your pulse racing." — Suspense Magazine
"This novel grabs the reader by the throat, becoming tighter and tighter as the story progresses making breathing difficult and fast page-turning a must. There are twists and turns galore, and the grip doesn't lighten up until the very end. Wow, Mr. Wilson." — InD'Tale
"Carter Wilson's Revelation is a thriller with a capital T." — The Oklahoman
"a dark and brooding thriller." — The Denver Post
"[Revelation] offers fascinating insight into leader-follower dynamics, showing us how easily faith and trust can be misplaced by us and abused by those we allow to be in charge." — Quiet Fury Books
Oceanview Publishing, 9781608092185, 384pp.
Publication Date: December 13, 2016
About the Author
USA Today best-selling and award-winning author Carter Wilson was born in New Mexico and grew up in Los Angeles before attending Cornell University. As a consultant and frequent lecturer, has journeyed the globe both for work and pleasure, and as a volunteer for Habitat for Humanity. Revelation is Wilson's fourth novel. He lives in Colorado with his two children.
or
Not Currently Available for Direct Purchase