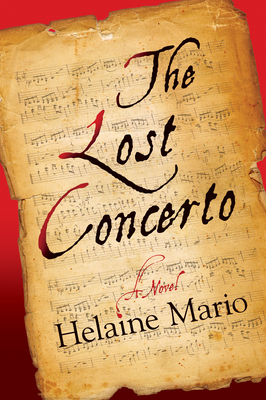 The Lost Concerto
Paperback

* Individual store prices may vary.
Other Editions of This Title:
Hardcover (7/1/2015)
Description
Benjamin Franklin Award Silver Medal Winner

Finalist - National Indie Excellence Award

Finalist - International Book Award

Loss, Vengeance, Courage and Love

A woman and her young son flee to a convent on a remote island off the Breton coast of France. Generations of seafarers have named the place Ile de la Brume, or Fog Island. In a chapel high on a cliff, a tragic death occurs, and a terrified child vanishes into the mist.

The child's godmother, Maggie O'Shea, haunted by the violent deaths of her husband and best friend, has withdrawn from her life as a classical pianist. But then a recording of unforgettable music and a grainy photograph surface, connecting her missing godson to a long-lost first love.

The photograph will draw Maggie inexorably into a collision course with criminal forces, decades-old secrets, stolen art and musical artifacts, and deadly terrorists. Her search will take her to the Festival de Musique, Aix-en-Provence, France, where she discovers answers to her husband's death, an unexpected love—and a musical masterpiece lost for centuries.

A compelling blend of suspense, mystery, political intrigue, and romance, The Lost Concerto explores universal themes of loss, vengeance, courage, and love.

Perfect for fans of Sandra Brown and Iris Johansen

While the novels in the Maggie O'Shea Mystery Series stand on their own and can be read in any order, the publication sequence is:

The Lost Concerto
Dark Rhapsody
Shadow Music
Praise For The Lost Concerto…
"Music is not just backdrop here but also a character that permeates Maggie's life . . . bolstered by the transformative power of classical music, Maggie finds what has been lost, including herself. Brava!" —Library Journal (Starred Review)

"Skeletons bang on closet doors, longing to be set free and free they are in this terrific mix of mystery and mayhem. Every page is fraught with danger and surprise." —Steve Berry, New York Times best-selling author

"If you love classical music, a challenging thriller, a twisting mystery, and complex characters, The Lost Concerto is for you. Lushly layered, full of evocative prose and surprises, and wonderfully told, this one's a must-read." —J.T. Ellison, New York Times best-selling author

"Richly atmospheric, excellent can't-put-it-down pacing, enticing and compelling characters. Really terrific storytelling. A perfect package—a stunning debut!" —M.J. Rose, New York Times best-selling author

"Gripping, intense, and lyrical, [Shadow Music] is a heartbreaking journey wrapped in a page-turning mystery. Ruthless greed, devastating courage, long-lost secrets—and a riveting ending that's a crescendo of emotional realization, deep understanding, and haunting inspiration." —Hank Phillippi Ryan, USA Today best-selling author

"Simmering just below the dark and turbulent surface of The Lost Concerto is a sense of secret joy that makes it a thriller like no other." —Laura Benedict, Edgar and Thriller Award-nominated author

"With a musician's attention to the emotions that help us create a picture of our world, Helaine Mario weaves imagery with a thrilling plot." —Foreword Reviews

"Maggie becomes ensnared in a perilous game of cat and mouse . . . fans of romantic thrillers will be enthralled." —Publishers Weekly

Praise for the Maggie O'Shea Mystery Series

"Mario has once again hit all the right notes with Shadow Music, drawing the reader into a landscape of art and music . . . using a tuning fork of spine-tingling suspense." —Sandra Brown, New York Times best-selling author

"Mario writes with the soul of a poet, painting her characters and scenes with deft touches of insight and wit. Her heroine, Maggie O'Shea, will burrow into your heart. Dark Rhapsody is that rare novel—a story that's a page-turner and a deeply felt character study." —Gayle Lynds, New York Times best-selling author
Oceanview Publishing, 9781608092215, 448pp.
Publication Date: August 16, 2016
About the Author
Best-selling author Helaine Mario grew up in New York City and is a graduate of Boston University. A passionate advocate for women's and children's issues, she has served on many nonprofit boards while residing in Washington, D.C. The Lost Concerto is the first novel in her first Maggie O'Shea Mystery Series, following her debut novel, Firebird. The Lost Concerto won the Benjamin Franklin Award Silver Medal and is followed by Dark Rhapsody and Shadow Music, the third and the fourth in the Maggie O'Shea Mystery Series. Helaine and her husband, Ron, live in Arlington, VA. Net royalties from Helaine's books go to local reading and family programs.