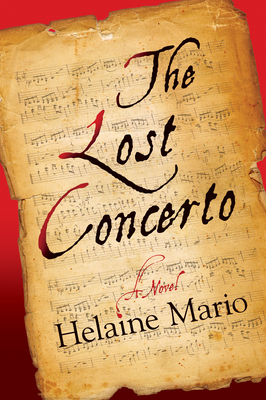 The Lost Concerto
Paperback

* Individual store prices may vary.
Other Editions of This Title:
Hardcover (7/1/2015)
Description
SILVER WINNER: 2016 IBPA Benjamin Franklin Awards
FINALIST: 2016 National Indie Excellence Awards
FINALIST: 2016 International Book Award  – Mystery/Suspense Category 
A woman and her young son flee to a convent on a remote island off the Breton coast of France.  Generations of seafarers have named the place Ile de la Brume, or Fog Island. In a chapel high on a cliff, a tragic death occurs and a terrified child vanishes into the mist.
The child's godmother, Maggie O'Shea, haunted by the violent deaths of her husband and best friend, has withdrawn from her life as a classical pianist. But then a recording of unforgettable music and a grainy photograph surface, connecting her missing godson to a long-lost first love. 
The photograph will draw Maggie inexorably into a collision course with criminal forces, decades-long secrets, stolen art and musical artifacts, and deadly terrorists. Her search will take her to the Festival de Musique, Aix-en-Provence, France, where she discovers answers to her husband's death, an unexpected love—and a musical masterpiece lost for decades.
A compelling blend of suspense, mystery, political intrigue, and romance, The Lost Concerto explores universal themes of loss, vengeance, courage, and love.
Praise For The Lost Concerto…
"At the start of this suspenseful, heartrending novel from Mario (Firebird), Sofia Orsini and her young son, Thomas, are in flight from Sofia's husband, Victor, the target of U.S. Justice Department special agent Simon Sugarman, who suspects Victor of funding an impending terrorist attack on American soil. Sofia and Thomas take refuge in a church on an island off Brittany, where a killer strikes Sofia down. Thomas disappears. Ten months later in Boston, Simon uses some devious arguments to persuade recently widowed music shop owner and concert pianist Maggie O'Shea, Sofia's closest friend and Thomas's godmother, to help him locate Victor and the missing boy. Maggie becomes ensnared in a perilous game of cat and mouse that moves between France and America and brings her into contact with murderers, terrorists, and CIA agents. Musical artifacts and stolen art also figure in the action, which builds to a highly satisfying resolution...fans of romantic thrillers will be enthralled." (July) — Publishers Weekly
As tension mounts, it is so easy to put yourself in Maggie's shoes. The Lost Concerto by Helaine Mario races to a conclusion that kept me almost breathless. Maggie's determination and courage drives this work to an ending I did not expect But one that was the right one. Don't miss The Lost Concerto." — Bookloons.com
"An island off the coast of France. the perfect place for a young mother and her son to hide – until there is a murder and the little boy disappears. Maggie O'Shea is horrified to hear of the disappearance of her godson. She is still trying to get over the deaths of her husband and best friend. An old photo that puts Maggie in mind of both the lost boy and her first love sets Maggie on a trail that will take her to a French music festival where she will encounter international terrorist plots, recall a lost love and finally understand her husband's death." Five Stars — Books For Avid Readers
"Ostensibly the story of a search, this book is much more, as we learn about the world of classical music, lost art seized by the Nazi's in World War II and unending international intrigue. Maggie's deceased husband, numerous CIA agents and counter agents, as well as the missing father of her now adult son all play interesting parts in the story.
 With a full cast of characters, this novel is evocative of its many locales, fast-paced and full of excitement that never stops. Helaine Mario is a talented writer who spins a compelling tale that is hard to put down, especially for lovers of intrigue told with a cosmopolitan and historical flair. There are terrorists, doubles crosses, CIA agents, blackmail and danger galore as Maggie tries to make sense of what has happened and is happening.  I found this book very difficult to stop reading, to the detriment of my much needed sleep!
 When the novel ends in a crescendo of excitement, we can only hope that Maggie O'Shea will have further adventures and we will have another opportunity to experience the world of international intrigue through her prism of music, extraordinary intelligence and compassion." — Rants, Raves, & Reviews
"The Lost Concerto is a unique mystery intricately entering the world of professional musicians while still maintaining the passion for the music, her loyalty to her godson and friend, and the story. Each page masterfully unfolds to reveal a small piece of this intricately woven puzzle into an outstanding novel with realistic characters who are driven to their limits in achieving what they believe is right." — Midwest Book Review
Oceanview Publishing, 9781608092215, 448pp.
Publication Date: August 16, 2016
About the Author
Helaine Mario grew up in the New York City area and is a graduate of Boston University. She has served on many nonprofit boards both while residing in the DC area. A passionate advocate for women's and children's issues, she is the founder and president of The SunDial Foundation, which contributes to over 30 DC area nonprofits. Helaine and her husband Ron now live in Arlington, Virginia, and Sarasota, Florida. The Lost Concerto, her second novel, was inspired by her son Sean, a classical pianist.