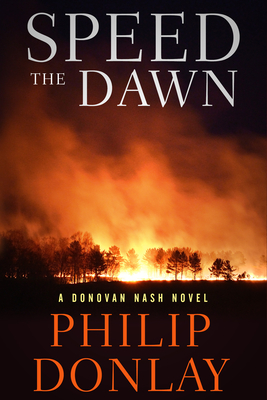 Speed the Dawn (A Donovan Nash Thriller #8) (Hardcover)
Oceanview Publishing, 9781608092307, 336pp.
Publication Date: March 6, 2018
Other Editions of This Title:
Paperback (4/21/2020)
* Individual store prices may vary.
Description
In the style of Clive Cussler, best-selling author Philip Donlay climbs to a new height of terror in his 8th Donovan Nash thriller.
Hundreds of white-hot meteor fragments plunge toward Earth near Monterey Bay, California. Huge fires ignite the tinder-dry landscape and, as the sun sets, the power grid collapses and the fires grow, illuminating a nightmare created in hell itself. Donovan Nash realizes he is trapped.
Injured and growing desperate, his options dwindling, Donovan fights to keep himself and a small band of survivors alive until dawn, when they can make one last attempt to escape the inferno.
Meanwhile, Donovan's wife, Dr. Lauren McKenna, working with the Pentagon as well as the Forest Service, envisions a bold approach to stop the fire from spreading all the way to the Bay Area and the seven million residents living there. She's terrified that, if not executed perfectly, her plan could cause the death of thousands of people—including Donovan.
About the Author
As a young man, Philip Donlay's life was shaped by two distinct events. At the age of seventeen, he earned his pilot's license, and at eighteen was published in a national aviation magazine. The combination of these two passions: flying and writing, has led to successful careers as both a professional pilot and best-selling novelist.
Donlay has been a flight instructor, flown a private jet for a Saudi prince, and for twenty-eight years flew a corporate jet for a Fortune 500 company. His travels have taken him to over forty countries on five continents. He divides his time between Montana and the Pacific Northwest. Speed the Dawn is his eighth thriller in the best-selling Donovan Nash series.
Praise For Speed the Dawn (A Donovan Nash Thriller #8)…
"This is a story so energetic and realistically portrayed that smoke seems to drift from the book's pages. With whirlwind, high-tension action, Speed the Dawn is a quintessential disaster novel and a high-concept thriller."
—Foreword Reviews
"This action-packed narrative will keep the reader on the edge of their seat, turning page after page. This novel … is constantly in motion, and thriller fans will be delighted."
—InD'Tale Magazine
"Powerful, unrelenting action drives Donlay's eighth adventure novel … few thriller fans will be able to resist the breakneck pace."
—Publishers Weekly
"Nonstop action with a scientific base from the reliably readable Donlay."
—Booklist
"If you want to experience terror, this is where to get it. Donlay is a fantastic writer … so emotional and vibrant with his words. [Donovan Nash] is one character who continues to get better and better as time moves forward."
—Suspense Magazine
"Fast paced, spellbinding, and packed with exhilarating thrills and chills, Speed the Dawn is a well-written and electrifying novel."
—New York Journal of Books
Praise for the Donovan Nash series:
"Authors like Philip Donlay, who write the pure thrillers, have capabilities and strength I can only envy. Great pacing and twists. Bravo!"
—William Kent Krueger, Edgar Award-winning and New York Times best-selling author
"[Deadly Echoes] is a heart-thumping ride that steams along, bringing our flawed world into pristine focus. Lots of mischief and mayhem, the characters fraught with danger, the plot hitting all the right notes."
—Steve Berry, New York Times best-selling author
"Donovan Nash is back—and is he ever. In Aftershock … tense action, crisp dialog, and cool high-tech toys drive the story. Oh, and there's even an erupting volcano. A great read."
—D. P. Lyle, award-winning author
"Fans of Michael Crichton will not want to miss Deadly Echoes. Well researched and supremely entertaining, Philip Donlay has knocked this one out of the park!"
—Ward Larsen, USA Today best-selling author
"Philip Donlay's new thriller, Zero Separation, is a timely and terrifying roller-coaster ride depicting the realities of the post-9/11 world."
—Sheldon Siegel, New York Times best-selling author
"In [Aftershock], Donlay checks all the boxes of the genre: strong male lead (with an unlimited bank account, no less), capable friends with appropriate skills, and a lightning-fast pace."
—Publishers Weekly
"Suspense in this well-written and thrilling novel will keep you on tenterhooks for the duration of the read."
—Bookloons
"Donavan is always resilient and resourceful … surrounded by a collection of supporting characters who always add a fascinating twist to the storyline."
—Fresh Fiction
- -