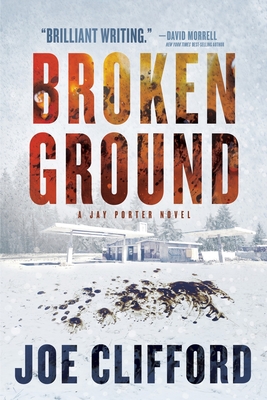 Broken Ground (The Jay Porter Series )
Hardcover

* Individual store prices may vary.
Other Editions of This Title:
Paperback (5/14/2019)
Description
Jay Porter Takes on the Brutality of Small-town Political Power and Insatiable Greed

At an AA meeting, handyman and part-time investigator Jay Porter meets a recovering addict who needs his help. In the midst of another grueling northern New Hampshire winter, Amy Lupus' younger sister, Emily, has gone missing from the Coos County Center, the newly opened rehab run by Jay's old nemeses, Adam and Michael Lombardi.

As Jay begins looking into Emily's disappearance, he finds that all who knew Emily swear that she's never used drugs. She's a straight shooter and an intern at a newspaper investigating the Center and the horrendous secret hidden in it—or beneath it.

When Jay learns of a "missing" hard drive, he is flung back to five years ago when his own junkie brother, Chris, found a hard drive belonging to Lombardi Construction. For years Jay assumed that the much-sought-after hard drive contained incriminating photos of Adam and Michael's father, which contributed to Chris' death. But now he believes the hard drive harbored a secret far more sinister, which the missing Lupus sister may have unwittingly discovered.

The deeper Jay digs, the more poisoned the ground gets, and the two cases become one, yielding a toxic truth with local fallout—and far-reaching ramifications.

Perfect for Fans of Dennis Lehane

While all of the novels in the Jay Porter Series stand on their own and can be read in any order, the publication sequence is:

Lamentation
December Boys
Give Up the Dead
Broken Ground
Rag and Bone
Praise For Broken Ground (The Jay Porter Series )…
"An estate recycler picks up the fragments of his life by helping others to pick up theirs. What a brilliant noir concept. And
Broken Ground
, the newest addition to the terrific Jay Porter series, has brilliant writing to match . . . The depth of the characters. The vividness of the New Hampshire winter setting. The importance of the novel's theme. Joe Clifford's a crime writer to pay attention to." —David Morrell,
New York Times
best-selling author
"Joe Clifford's latest in the Jay Porter series is a tense, emotional tour de force ferried along on a mystery that's both timely and chilling. Don't miss this!" —Jamie Mason, author of Three Graves Full
"Clifford's edgy prose and masterful pacing, combined with flawed and profoundly human Jay Porter at the helm, make Broken Ground irresistible." —Wendy Walker, author of Emma in the Night
"Joe Clifford writes with empathy, wisdom, and wicked wit about characters at the edge of society, sobriety, and their own tenuous sanity. Broken Ground is a feast, and Jay Porter is a unique noir hero who shines brightly in a dark world." —Nick Petrie, author of Light It Up
Praise for the Jay Porter Series

"The writing snaps. The story crackles. The characters are achingly real." —Meg Gardiner, Edgar Award-winning and best-selling author
"Gritty and gripping, with prose that cuts to the bone. Joe Clifford has crafted a modern noir that pulls no punches." —Riley Sager, New York Times best-selling author
"Joe Clifford writes the kind of books that I love to read, mysteries that not only make you think, but make you feel. He is a master at creating characters that bind to your DNA and stay with you long after the last page is turned." —Allen Eskens, USA Today best-selling author​​
Oceanview Publishing, 9781608092437, 1pp.
Publication Date: June 5, 2018
About the Author
Award-winning author Joe Clifford has been a homeless junkie living on the street—until he turned his life around. Now, he uses the backdrop of his experience with addiction to shine a light on the misunderstood and marginalized. No one can write with the authority of Joe Clifford when describing the reality of alcohol and drug abuse. Broken Ground is the fourth novel in his award-winning Jay Porter Series, following Lamentation, December Boys, and Give Up the Dead, and followed by Rag and Bone. Joe lives in the San Francisco Bay Area with his wife, Justine, and two sons.
or
Not Currently Available for Direct Purchase