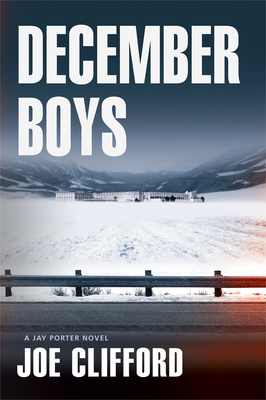 December Boys
A Jay Porter Novel (Jay Porter Series #2)
Paperback

* Individual store prices may vary.
Other Editions of This Title:
Hardcover (6/7/2016)
Description
Prison-for-profit scheme thrusts insurance investigator into his disturbing past—and extreme danger

Jay Porter, the newest employee at NorthEastern Insurance in New Hampshire, is investigating a motor vehicle accident claim when he learns the teenager behind the wheel was arrested for minor drug possession and sentenced to a hardcore behavioral modification center.

At the county courthouse, Jay meets Nicki, a young college intern, who tips him off to a possible scandal—first-time juvenile offenders being shipped to private institutions for political kickbacks. He learns that long-time family nemeses, Adam and Michael Lombardi, may have a stake in the scheme.

Is Jay's mission to help these kids a legitimate crusade? Or is his thirst for revenge driven by the guilt he feels over his own junkie brother's death? These questions conspire to tear apart tranquility and drive a wedge between Jay and his wife Jenny.

With help from new friend Nicki, and a couple of old friends, Jay finds himself thrust back into a past he had hoped to leave behind, putting everything—and everyone he loves—at risk in pursuit of the truth.

Perfect for fans of noir fiction

While all of the novels in the Jay Porter Series stand on their own and can be read in any order, the publication sequence is:

Lamentation
December Boys
Give Up the Dead
Broken Ground
Rag and Bone
Praise For December Boys: A Jay Porter Novel (Jay Porter Series #2)…
"December Boys is a riveting, muscular, powerfully written novel that reminds me of the early works of Russell Banks. Jay Porter is a richly detailed character whose tenacity, haunted past, dead end job, and difficult marriage give him a dimensionality and authenticity that is quite rare in contemporary crime fiction." — James W. Hall, Edgar and Shamus Award-winning author

"December Boys is more than great noir, or great crime fiction—it's great fiction, period. Spare and gritty, Joe Clifford's depiction of America's seedy underbelly combines razor-sharp dialogue with a compelling story and nakedly honest characters." —Allan Leverone, New York Times best-selling author

"Jay Porter is a character who will break your heart, and Joe Clifford a writer capable of doing the same. Along the way, he'll also thrill you, make you angry, and cause you to cheer. No mean trio to pull off." —Jenny Milchman, USA Today best-selling and Mary Higgins Clark Award-winning author

"Taut, breathless, stark and powerful, December Boys yanks you along like a raft on a whitewater river, buffeting your senses and emotions and putting you inside the head of Jay Porter, a man tortured by both past and present, seemingly bent on self-destruction but somehow still trying to find a way to hold onto the good things in his life and to find a peace he can handle." —Sara J. Henry, award-winning author

Praise for the Jay Porter Series

"The writing snaps. The story crackles. The characters are achingly real." —Meg Gardiner, Edgar Award-winning and best-selling author

"The depth of the characters. The vividness of the New Hampshire winter setting. The importance of the novel's theme. Joe Clifford's a crime writer to pay attention to." —David Morrell, New York Times best-selling author

"Gritty and gripping, with prose that cuts to the bone. Joe Clifford has crafted a modern noir that pulls no punches." —Riley Sager, New York Times best-selling author

"Joe Clifford writes the kind of books that I love to read, mysteries that not only make you think, but make you feel. He is a master at creating characters that bind to your DNA and stay with you long after the last page is turned." —Allen Eskens, USA Today best-selling author​​​​
Oceanview Publishing, 9781608092499, 288pp.
Publication Date: May 16, 2017
About the Author
Award-winning author Joe Clifford has been a homeless junkie living on the street—until he turned his life around. Now, he uses the backdrop of his experience with addiction to shine a light on the misunderstood and marginalized. No one can write with the authority of Joe Clifford when describing the reality of alcohol and drug abuse. December Boys follows Lamentation in his award-winning Jay Porter Series and is followed by Give Up the Dead, Broken Ground, and Rag and Bone. Joe lives in the San Francisco Bay Area with his wife, Justine, and two sons.
or
Not Currently Available for Direct Purchase