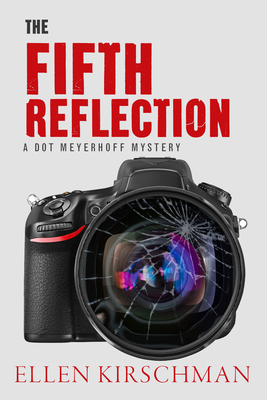 The Fifth Reflection (The Dot Meyerhoff Series #3) (Hardcover)
Oceanview Publishing, 9781608092505, 272pp.
Publication Date: July 11, 2017
* Individual store prices may vary.
Description
A missing child. An eccentric mother. An obsessed and troubled investigator. A police psychologist trying to help them all—at her own peril.
"I've been thinking of Grafton while writing about Ellen Kirschman, a mystery writer whose work is just as fresh and relevant for her time." —Pat Holt, former book editor and critic for the San Francisco Chronicle, host of Radio BookMobile
"Great mystery, interesting characters and dynamics…. a difficult subject sensitively handled."—Colman Keane, Col's Criminal Library
"A deftly crafted and riveting read from beginning to end, The Fifth Reflection clearly reveals author Ellen Kirschman's genuine flair for originality and mastery of the genre."—MidWest Book Review
Police psychologist Dr. Dot Meyerhoff is pulled into the vortex of a terrible crime involving an eccentric photographer whose images of children make her a prime suspect in the disappearance of her own daughter. The principal investigator in the case is a young officer whose dedication to work and obsession with finding the missing child is tearing his own family apart. Trapped between her allegiance to the investigator, her complicated connections to the photographer, and her unstable relationship with the police chief, Dot must find a way to help everyone involved. As Dot's psychological expertise and determination contribute to solving the mystery, her involvement with the missing child's extended, dysfunctional family brings her face-to-face with painful psychological issues of her own. The Fifth Reflection delivers an up-close look at the psychological strain of police work, the complexities of being married to a cop, and the deadliness of jealousy.
About the Author
Ellen Kirschman, Ph.D. has been a police psychologist for thirty years. She is the recipient of the California Psychological Association's award for distinguished contribution to psychology as well as the American Psychological Association's award for outstanding contribution to the practice of police and public safety psychology.
Ellen is the author of the award-winning I Love a Cop: What Police Families Need to Know, I Love a Fire Fighter: What the Family Needs to Know, and lead author of Counseling Cops: What Clinicians Need to Know. Her works of fiction feature amateur sleuth Dr. Dot Meyerhoff, a police psychologist who should be counseling cops, not solving crimes. The Fifth Reflection is the third in this acclaimed series, following Burying Ben and The Right Wrong Thing. Ellen and her husband live in Redwood City, California.
Praise For The Fifth Reflection (The Dot Meyerhoff Series #3)…
"The Fifth Reflection is a shocking police procedural told through the eyes of police psychologist Dot Meyerhoff. Dot's smart, tough, and dogged. Just the person I'd want on my side when seeking justice." —Matt Coyle, Anthony Award-winning author of Dark Fissures
"Blunt insights about the blind spots, tension and frustration in the lives of cops emerge in the The Fifth Reflection as both wit and wisdom while a task force investigates crimes against children. The writing is honest, the characters feel real, and the science is subtly planted. Readers will learn without trying as they enjoy a tense, well-paced tale about human flaws, needs, and motivations." —Katherine Ramsland, best-selling author of Confession of a Serial Killer: The Untold Story of Dennis Rader, the BTK Killer
"A bang-up good mystery with fully-developed characters and an engaging plot." —Terry Shames, Macavity award-winning author of the Samuel Craddock series
"Psychological thriller writing at its finest. Highly recommended." —D.P. Lyle, award-winning author of Deep Six
"The Fifth Reflection delivers a chilling, up-close look at the psychological strain of investigating Internet crimes against children…A deftly crafted and riveting read from beginning to end, The Fifth Reflection clearly reveals author Ellen Kirschman's genuine flair for originality and mastery of the genre." —Midwest Book Review
When Chrissy's body is found, the pressure increases on everyone. Using her skills as a psychologist and then as amateur sleuth, Dot unmasks a surprising but unlikely team of bad guys." —Publishers Weekly
"I found The Fifth Reflection to be very interesting as well as a heart-wrenching mystery." —BookLoons
"The Fifth Reflection is a mystery that will wrench the heart of any parent or grandparent." —InD'Tale Magazine
- -