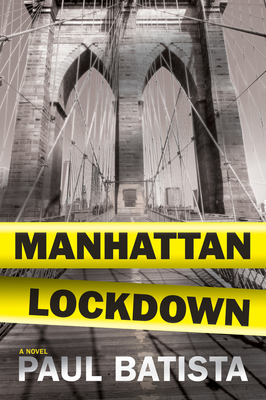 Manhattan Lockdown (Paperback)
Oceanview Publishing, 9781608092635, 1pp.
Publication Date: July 18, 2017
Other Editions of This Title:
Hardcover (7/19/2016)
Paperback (3/7/2016)
* Individual store prices may vary.
Description
USA Today best-selling author
Terrorists' bombs explode in the Metropolitan Museum of Art. Manhattan in lockdown.
A birthday party on a beautiful summer Sunday afternoon on the roof garden of the Metropolitan Museum of Art; the guest of honor, Roland Fortune, mayor of New York City. Suddenly multiple explosions rock the entire building. This is not an accident, not a gas leak, but a heinous act of terrorism. Among the injured is the mayor himself, and although he survives, the woman he loves does not. And the terrorism does not stop there. As the city's other iconic sites are targeted, the mayor throws Manhattan into lockdown.
In the chaos that ensues, law enforcement groups converge on New York City. The FBI, Homeland Security, the armed forces, even the chairman of the Joint Chiefs of Staff and the President, come to the aid of the New York City Police Department.
Amidst this massive joint effort, only New York City Police Commissioner Gina Carbone is closing in on the terrorists. Her tactics are well outside legal bounds, her cell operating in total secrecy, Carbone takes vigilantism to a new level. Will her illicit actions succeed—or plunge the city into further catastrophe?
About the Author
Paul Batista, novelist and television personality, is one of the most widely known trial lawyers in the country. As a trial attorney, he specializes in federal criminal litigation. As a media figure, he is known for his regular appearances as guest legal commentator on a variety of television networks including Court TV, CNN, HLN, and WNBC. He's also appeared in the HBO movie, You Don't Know Jack, starring Al Pacino.
A prolific writer, Batista authored the leading treatise on the primary federal anti-racketeering statute, Civil RICO Practice Manual, which is now in its third edition (Wiley & Sons, 1987; Wolters Kluwer, 2008). He has written articles for The New York Times, The Wall Street Journal, and The National Law Journal.
Batista's debut novel, Death's Witness, was awarded a Silver Medal by the Independent Book Publishers Association (IBPA). Batista is a graduate of Bowdoin College, where he was elected to Phi Beta Kappa, and Cornell Law School. He's proud to have served in the United States Army. Paul Batista lives in New York City and Sag Harbor, New York.