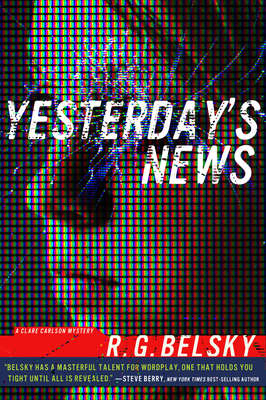 Yesterday's News (Clare Carlson Mystery #1)
Paperback

* Individual store prices may vary.
Description
"Tell me what happened to my daughter?" For fifteen years this anguished plea has haunted reporter Clare Carlson

When eleven-year-old Lucy Devlin disappeared on her way to school more than a decade ago, it became one of the most famous missing child cases in history.

The story turned reporter Clare Carlson into a media superstar overnight. Clare broke exclusive after exclusive. She had unprecedented access to the Devlin family as she wrote about the heartbreaking search for their young daughter. She later won a Pulitzer Prize for her extraordinary coverage of the case.

Now Clare once again plunges back into this sensational story. With new evidence, new victims, and new suspects—too many suspects. Everyone from members of a motorcycle gang to a prominent politician running for a US Senate seat seem to have secrets they're hiding about what really might have happened to Lucy Devlin.

But Clare has her own secrets. And in order to untangle the truth about Lucy Devlin, she must finally confront her own torturous past.

Perfect for fans of Robert Crais and Harlan Coben

While all of the novels in the Clare Carlson Mystery Series stand on their own and can be read in any order, the publication sequence is:

Yesterday's News
Below the Fold
The Last Scoop
Beyond the Headlines
It's News to Me (coming in 2022)
Praise For Yesterday's News (Clare Carlson Mystery #1)…
"Belsky's Yesterday's News elicits all parents' deepest fear—the disappearance of a child. But this intelligent, gripping novel is about so much more: ambition, secrets, and, most shocking of all, truth." —Reed Farrel Coleman, New York Times best-selling author

"What a terrific book! A complex and compelling nonstop cat-and-mouse chase—and you're never quite sure which one's the mouse. Even the savviest of readers will be gasping in awe at Belsky's impressive story-telling skills." —Hank Phillippi Ryan, Agatha, Anthony, and Mary Higgins Clark Award-winning author

"Belsky's behind-the-headlines thriller Yesterday's News is about truth, lies—and how much of each we're willing to live with." —Lori Rader-Day, Mary Higgins Clark Award-winning author

"Taut, fast-paced and compelling characters make Yesterday's News a page-turner." —Mary Burton, New York Times best-selling author

Praise for The Clare Carlson Mystery Series

"Below the Fold takes readers on a whiplash ride through a New York murder case. The television news investigation provides a fascinating lens for the story. Heroine Clare Carlson is formidable, human, and thoroughly authentic. R. G. Belsky knows his stuff." —Meg Gardiner, Edgar Award-winning author

"In today's world of fake news and alternate facts, R. G. Belsky reminds us why we need reporters like Clare Carlson more than ever before. She is what we want all our journalists to be—honest, objective, and relentless in her pursuit of the truth." —Lee Goldberg, New York Times best-selling author

"Below the Fold is a terrific mystery, written with a veteran journalist's eye. The pacing and plotting are everything you want, but it's R. G. Belsky's insider knowledge that adds a wonderful layer to this story of media and murder." —Michael Koryta, New York Times best-selling author

"The Last Scoop is another surefire success for author R. G. Belsky as well as for Oceanview Publishing which has been putting out one top-notch page-turner after another." —New York Journal of Books

"Belsky (The Last Scoop) is rubbing elbows with Michael Connelly, Daniel Silva, Louise Penny, and C.J. Box, James Lee Burke, John Grisham, Ken Bruen, Robert Crais and Greg Iles. That is high praise for Belsky. If you're a fan of murder mysteries, then start this book which you won't put down until the story is over." —Men Reading Books

"Belsky's experience as a journalist provides fascinating insights and a sense of authenticity. Readers will look forward to seeing more of doggedly determined Clare." —Publishers Weekly
Oceanview Publishing, 9781608092819, 352pp.
Publication Date: May 1, 2018
About the Author
R. G. Belsky is an author of crime fiction and a journalist in New York City. He has been a top editor at the New York Post, NY Daily News, Star Magazine, and NBC News. Yesterday's News is the first in his award-winning Clare Carlson Mystery Series, followed by Below the Fold, The Last Scoop, and Beyond the Headlines. Belsky resides in New York City.