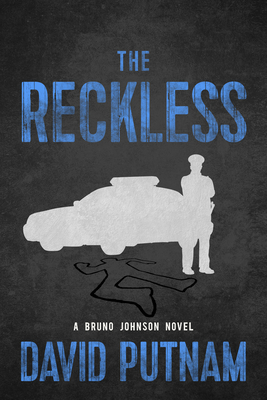 The Reckless (A Bruno Johnson Thriller #6) (Hardcover)
Oceanview Publishing, 9781608092888, 320pp.
Publication Date: February 5, 2019
* Individual store prices may vary.
Description
Perfect for fans of Robert Crais and John Sandford
Bruno Johnson, a young and inexperienced LA County Deputy Sheriff, is trying to balance his life as the single father of a four-year-old daughter and his responsibilities as a cop in the Violent Crimes Unit. When he and his impetuous partner Ned Kiefer are put on loan to the FBI to help out with a "special problem," Bruno finds himself in a real bind.
The FBI hands Bruno and Ned a case that the Bureau prefers not to touch—a group of teenage criminals that are being run by a nefarious criminal known as the Darkman. Bruno discovers the identity of the Darkman and is stunned to realize that he is the perpetrator from a lingering unsolved case—a triple homicide that continues to haunt Bruno.
The problem is how to stop the juvenile criminals without killing kids, and at the same time, avoid being killed by the kids—or by the Darkman—and keep his reckless partner Ned under control.
About the Author
Best-selling author David Putnam comes from a family of law enforcement and always wanted to be a cop. During his career, he did it all: worked in narcotics, served on FBI-sponsored violent crimes teams, and was cross-sworn as a US Marshall, pursuing murder suspects and bank robbers in Arizona, Nevada, and California. Putnam did two tours on the San Bernardino County Sheriff's SWAT team. He also has experience in criminal intelligence and internal affairs and has supervised corrections, patrol, and a detective bureau. In Hawaii, Putnam was a member of the real-life Hawaii Five O, serving as Special Agent for the Attorney General investigating smuggling and white-collar crimes. The Reckless is the sixth in the Bruno Johnson series and the second of the "young" Bruno prequels. Putnam lives in Los Angeles with his wife, Mary.
Praise For The Reckless (A Bruno Johnson Thriller #6)…
"This is police procedural that dazzles with authenticity, sharply-drawn characters, crackling dialogue, and insider details that only a real cop could bring to the page. Putnam can stand shoulder-to-shoulder with Joseph Wambaugh and Michael Connelly."
—Lee Goldberg, New York Times best-selling author
"David Putnam scores again with The Reckless, his new prequel thriller featuring major crimes detective Bruno Johnson. Starting fast and keeping the accelerator floored, Putnam deftly keeps readers—and Bruno—on the edge with clever twists and intense action scenes. Loaded with insider details on police procedure and tactics, The Reckless will make crime-fiction fans eager to read more of Bruno's past adventures."
—Glen Hamilton, Anthony and Edgar Award-winning author
"Reading a novel by David Putnam is almost as good as riding shotgun in a patrol car. He writes what he knows and what he knows is that justice on the mean streets isn't always black and white. Gritty and dark, The Reckless is a realistic and highly entertaining police procedural."
—Robin Burcell, New York Times best-selling author
"The procedural generates considerable heat, told in Putnam's effectively plainspoken style—Wambaugh without grace notes ... it boils with a yearning for vengeance."
—Booklist
"As the pace picks up, the plot takes some startling twists. Putnam, a retired cop, uses his long experience in law enforcement to good effect ..."
—Publishers Weekly
"Writing still another deftly crafted thriller, David Putnam's The Reckless continues to showcase an enormously talented and original novelist.
"—Midwest Book Review
Praise for the Bruno Johnson series:
"The Innocents is a terrific read reminiscent of the best of Joseph Wambaugh. David Putnam provides an insider's knowledge of the Los Angeles Sheriff's Department. His characters and settings are rich and authentic, and his dialogue is spot on accurate. A great novel for lovers of the mystery genre that blurs the line between good and evil and will keep you guessing until the final pages."
—Robert Dugoni, New York Times best-selling author
"The Vanquished takes you onto the mean streets so you feel like you're there with Bruno, fighting and grieving alongside him … authentic storytelling from someone who's been there and done that."
—Marc Cameron, New York Times best-selling author
"I really loved The Disposables. It's raw, powerful, and eloquent. It's a gritty street poem recited by a voice unalterably committed to redemption and doing the right thing in a wrong world. I'll be first in line for the next one from David Putnam."
—Michael Connelly, New York Times best-selling author
"[The Disposables] is dark, disturbing, and all too believable, this is the tale of one man's quest for atonement in a world where innocence is a liability."
—T. Jefferson Parker, New York Times best-selling author
"Putnam puts his years of law enforcement experience to good use in The Squandered, a shocking and intense tale of brotherly love and redemption realized in the midst of moral decay. It's a raw and gritty story I couldn't put down."
—C. J. Box, New York Times best-selling author
- -