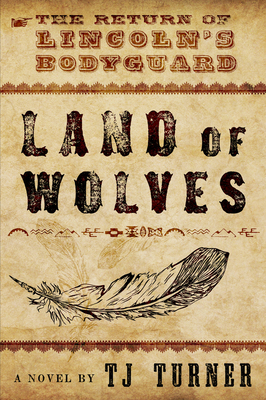 Land of Wolves
The Return of Lincoln's Bodyguard
Paperback

* Individual store prices may vary.
Other Editions of This Title:
Hardcover (5/2/2017)
Description
Multiple-Award-Winning Author of Historical Fiction

Vigilante Justice from the hills of western Tennessee to the streets of New York City to the plains of the Lakota Sioux

Land of Wolves finds Joseph Foster with Molly as they settle into a newfound life in the hills of Tennessee. But Abraham Lincoln's former bodyguard, the man who saved the President's life, cannot escape the Consortium as they come roaring back, killing his mother, abducting his daughter—all to coerce his Congressional testimony on their behalf.

Instead, Joseph and Molly strike the Consortium in their own safe haven of New York City. In a Bonnie and Clyde-like twist, they rob from the Consortium to draw out their leader—General Dorsey. But the hidden plan reveals more than they counted on, exposing the true intention to steal the Black Hills and the gold underneath from the Lakota Sioux. Land of Wolves traverses the American landscape, where only a full reconciliation with Joseph's native heritage and a cast of characters ripped from history—including Lincoln—can bring true peace and stop General Dorsey and the evil Industrial Consortium.

America marches west, hand-in-hand, with corrupt politics—perfect for fans of American history

While the novels in the Lincoln's Bodyguard Series stand on their own and can be read in any order, the publication sequence is:

Lincoln's Bodyguard
Land of Wolves
Angel in the Fog
Praise For Land of Wolves: The Return of Lincoln's Bodyguard…
"A wonderfully imagined world of 'what might have been, if only if.' The chemistry between the characters sparkles, the treachery comes from all directions, and the story moves with a wry, appealing voice. It's one delicious tale." —Steve Berry, New York Times best-selling author

"Turner's second alternative history featuring Joseph Foster (after 2015's Lincoln's Bodyguard) provides an imaginative answer to the question he poses in an author's note: "What would America have looked like if our greatest president had lived?" —Publishers Weekly

" . . . the story is almost cinematic in its construction and execution. Terrific fun and perfect reading for fans of alternate-history adventures." —Booklist

Praise for the Lincoln's Bodyguard Series

"[Angel in the Fog is] superb historical fiction with a wonderful and inspiring main character in Molly Ferguson. Very highly recommended." —Lee Child, New York Times best-selling author

"Riveting with action and period detail, Lincoln's Bodyguard by TJ Turner captured me on the first page. From President Abraham Lincoln to security specialist Allan Pinkerton, history comes to fire-breathing life in this tale of treachery and honor, politics and war." —Gayle Lynds, New York Times best-selling author

"TJ Turner's Lincoln's Bodyguard is a rip-snorting thrill ride through an alternate history. Turner makes the 1870s come alive with intricate detail, jarring action, and whip-lashing plot twists." —Matt Coyle, best-selling and Anthony, Shamus, Macavity, and Lefty Award-winning author

"War, politics, love, and betrayal combine in a riveting tale that upends history and imagines the America that might have been. Just when you settle into the new post-Civil War order in Lincoln's Bodyguard, TJ Turner delivers plot twists that make the story unstoppable, culminating in an ending no one will see coming." —Bob Mayer, New York Times best-selling author

"In this deft and brilliant reimagining of history, TJ Turner mines the best of old-school detective fiction to bring a wild new version of Lincoln, the Civil War and its aftermath to life." —Joe Clifford, award-winning author of the Jay Porter Series

"This novel [Lincoln's Bodyguard] provides a new take on a fascinating question: what would America have been like if Lincoln had lived? TJ Turner provides an intriguing answer—one that reaffirms something I firmly believe—history matters." —Steve Berry, New York Times best-selling author

"Suspenseful and rich with historical detail, Angel in the Fog by TJ Turner brings the Civil War to fire-breathing life. A young prostitute's discovery of a conspiracy to murder president-elect Abraham Lincoln sets her on a daring path to help the Pinkerton agency save the president's life, and soon she becomes one of America's first female private detectives." —Gayle Lynds, New York Times best-selling author
Oceanview Publishing, 9781608092956, 304pp.
Publication Date: May 22, 2018
About the Author
TJ Turner is an award-winning novelist, a historian, a research scientist, and a federal agent. He has a PhD in Mechanical Engineering and Material Science from Cornell University. As a reserve military officer, he served three tours in Afghanistan and was twice awarded the Bronze Star Medal (2013 and 2017). Lincoln's Bodyguard, Turner's debut novel and its sequel, Land of Wolves, won the Darrell Award for Best Mid-South Novel, the International Book Award for Historical Fiction, the Best Book Award for Historical Fiction, the Military Writers of America Gold and Silver Medals, and the National Indie Excellence Award for Historical Fiction. His third novel, Angel in the Fog, a prequel, won the National Indie Excellence Award for Historical Fiction. Turner lives in central Ohio, with his wife, Nancy, and three children.
or
Not Currently Available for Direct Purchase