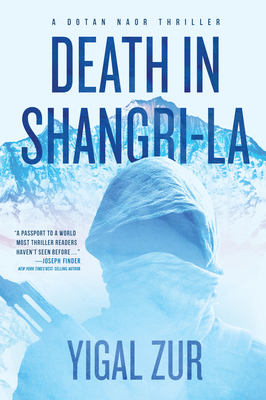 Death in Shangri-La (A Dotan Naor Thriller)
Hardcover

* Individual store prices may vary.
Other Editions of This Title:
Paperback (8/13/2019)
Description
Perfect for fans of Nelson DeMille and Daniel Silva
Ex-Israeli operative turned private investigator, Dotan Naor—to settle a bet—agrees to locate the missing son of former acquaintance, now ruthless Israeli arms merchant, Willy Mizrachi. Willy, who does not hesitate to sell killing machines to the most heinous players in the world, is desperate to find his only son, Itiel, who has headed to an ashram in the Himalayas. The Himalayas are also host to groups of young Israelis who have completed their mandatory military service—a sort of rite of passage. Now, those innocent kids are being hunted down by violent terrorists. India and the disputed Kashmir region between India and Pakistan is familiar territory to Dotan, as he searches for Itiel and for the source of these heinous attacks on Israeli youth. Unwilling to leave this quest in the hands of Dotan, Willy also travels to India, where he is murdered in Delhi, triggering international repercussions capable of ripping the world apart at one of its most dangerous flashpoints. Nothing is as it seems in this region of the world. Betrayal reigns everywhere. But love, in its purest form, does manage to shine through in this story of brutal international corruption.
Praise For Death in Shangri-La (A Dotan Naor Thriller)…
"Dotan Naor is a character Steve McQueen would have fought to play: tough but insightful, ruthless but spiritually striving. Death in Shangri-La is a passport to a world most thriller readers haven't seen before, and it's a fascinating trip." — Joseph Finder, New York Times best-selling author
"Death in Shangri-La is a gripping read, part hard-boiled detective mystery and part contemporary thriller. Yigal Zur ventures down exotic lanes few have seen, but in the end, readers will swear they've been there. Richly satisfying." — Ward Larsen, USA Today best-selling author
"Death in Shangri-la is an action-packed thriller whose complex characters grab hold of the reader hurtling them toward a fast, furious, and pulse-pounding finale." — John Lansing, best-selling author of the Jack Bertolino series
"This one is a tug of war, with a tempest of emotion, set in some of the world's most exotic locales. It's raw and authentic, with finely faceted characters and a plot that never strikes a fake note. Unbeatable entertainment." — Steve Berry, New York Times best-selling author
"The characters are complex, and the plot is fast paced, but the author also uses the exotic locale to good advantage, with image-rich language sure to be savored by readers who enjoy setting as much as story. Real-life flavor with appeal for fans of Daniel Silva." — Booklist
"On its surface, Death in Shangri-La is a whodunit, a detective tale of a man who goes to India in search of his best friend's killer. But at its core lies a story about love, spiritual angst, and the search for inner enlightenment and understanding—with a surprising and deeply satisfying ending. Yigal Zur is a talent, and Dotan Naor is a character who deserves to return in future adventures." — Alan Jacobson, USA Today best-selling author
"At its core, this is a powerfully told detective story set in one of the most beautiful and deadly places on earth. Yigal Zur's new Dotan Naor series is off to a strong start with this intense, politically conscious thriller." — Foreword Reviews
Oceanview Publishing, 9781608092994, 1pp.
Publication Date: August 7, 2018
About the Author
Yigal Zur is an Israeli writer, journalist, television host, and tour guide. He served in the military, spending time on the front lines in the Golan Heights during the 1973 Yom Kippur War. He is the only Israeli journalist ever to be embedded with the US Army in action during Desert Storm. Zur attended L'Ecole Internationale de Theatre Jacques Lecoq, Paris, and Beit Zvi School of Performing Arts, and he is a graduate of Tel Aviv University. He lives in Jaffa, Israel, and travels extensively. He is the author of several travel books and novels. Passport to Deat is the second of the Dotan Naor books to be translated from the Hebrew by Sara Kitai.
or
Not Currently Available for Direct Purchase