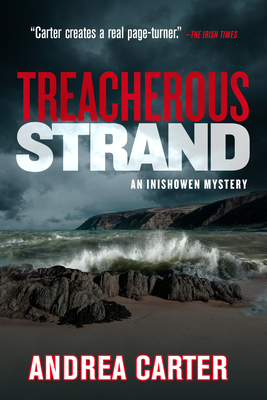 Treacherous Strand (An Inishowen Mystery #2) (Hardcover)
Oceanview Publishing, 9781608093045, 368pp.
Publication Date: September 3, 2019
Other Editions of This Title:
Paperback (10/27/2020)
* Individual store prices may vary.
Description
Perfect for mystery readers who enjoy character driven mysteries, with a strong female protagonist and a powerful sense of place. A woman's body washes up on a remote beach on the Inishowen Peninsula. Partially clothed, with a strange tattoo on her thigh, she is identified as Marguerite Etienne, a French woman who has been living in the area. Solicitor Ben (Benedicta) O'Keeffe is consumed by guilt: for the second time in her life Ben has failed someone who needed her, with tragic consequences. When local sergeant Tom Molloy dismisses Marguerite's death as the suicide of a disturbed and lonely woman, Ben cannot let it lie. Ben uncovers Marguerite's strange past as a member of a French doomsday cult, which she escaped twenty years previously, but not without leaving her baby daughter behind. Disturbed by what appears to be chilling local indifference to Marguerite's death, Ben pieces together the last few weeks of the French woman's life in Inishowen. What she discovers causes her to question the fragile nature of her own position in the area, and she finds herself crossing boundaries—both personal and professional—to unearth local secrets long buried. Treacherous Strand is the second in a series of mysteries set in the fictional town of Glendara on the Inishowen Peninsula in County Donegal with amateur sleuth, solicitor Ben O'Keeffe. These atmospheric and immersive mysteries are being adapted as a television series to be filmed in Inishowen.
About the Author
Andrea Carter grew up in the midlands of Ireland, studied law at Trinity College Dublin, and worked as a solicitor on the Inishowen Peninsula, County Donegal where she ran the most northerly solicitor's practice in the country. Following that, she moved to Dublin to practice as a barrister before turning to write crime novels. She holds an MFA in Creative Writing from University College Dublin. Her first book, Death at Whitewater Church, was one of the winners of the Irish Writers Centre Novel Fair and she has been the recipient of two Arts Council of Ireland Literature Bursary Awards and a Dublin City Council Bursary. Treacherous Strand is the second in the Inishowen Mystery Series, about to be adapted for television. She lives in Dublin with her husband, documentary maker Geoff Power.
Praise For Treacherous Strand (An Inishowen Mystery #2)…
"This second in Carter's Inishowen series (after Death in Whitewater Church) is hugely entertaining and satisfying, full of Irish legal tidbits and solidly drawn characters in a deliciously remote and picturesque locale. Ben is an intelligent and feisty woman you'd want in your corner. Highly recommended." — Library Journal (*starred review)
"Treacherous Strand by Andrea Carter is ... unreservedly recommended for community library Contemporary Mystery/Suspense collections ... [and] dedicated mystery buffs." — Midwest Book Review
"Treacherous Strand is atmospheric, intelligent and utterly gripping - a real treat for fans of Irish crime fiction." — Catherine Ryan Howard, USA Today best-selling author of The Liar's Girl