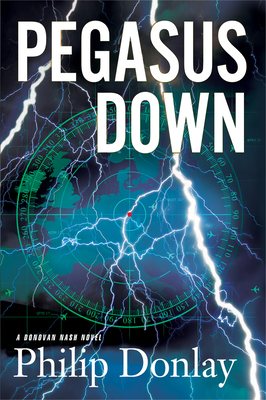 Pegasus Down
A Donovan Nash Thriller (Donovan Nash Thrillers #6)
Paperback

* Individual store prices may vary.
Other Editions of This Title:
Hardcover (3/1/2016)
Description
Best-Selling and Award-Winning Author

A story of love, loyalty, and how far Donovan Nash will go to rescue Lauren . . . and save hundreds of thousands of lives

A CIA-operated jet on a clandestine mission disappears in Eastern Europe. No mayday, no wreckage, and no known survivors. No way to know if the top-secret extraction of a key American scientist from Slovakia, or his liberator, Dr. Lauren McKenna, code name Pegasus, are dead or alive.

Donovan Nash's precarious world is rocked when word reaches him that his wife, Lauren, is missing in Eastern Europe. Using his millions, and fueled by the fear of losing his wife, Donovan and company cut a swath through Austria and Hungary.

Desperate, Donovan leverages his lifelong secret to enlist an unlikely ally―one of his oldest friends―who may very well want him dead. As Donovan closes in on the truth, another, and more deadly, reality is revealed. A ruthless terrorist group has acquired a stealth aircraft with the ability to deliver a nuclear device. They are poised to strike―but where?

What started as a rescue turns into a full-throttle aerial chase. Will Donavan be able to rescue his wife, as well as prevent a nuclear catastrophe?

Perfect for fans of Daniel Silva and David Baldacci

While all of the novels in the Donovan Nash Series stand on their own and can be read in any order, the publication sequence is:

Category Five
Code Black
Zero Separation
Deadly Echoes
Aftershock
Pegasus Down
Seconds to Midnight
Speed the Dawn
Praise For Pegasus Down: A Donovan Nash Thriller (Donovan Nash Thrillers #6)…
"Donlay checks all the boxes of the genre: strong male lead—with an unlimited bank account, no less, capable friends with appropriate skills, and a lightning-fast pace." —
Publishers Weekly
"Sharp dialogue and capable protagonists make for a compelling espionage novel." —Foreword Reviews
"Chock full of nonstop action guaranteed to keep you at the edge of your seat." —Manhattan Book Review
Praise for the Donovan Nash Series

"A heart-thumping ride that steams along, bringing our flawed world into pristine focus. Lots of mischief and mayhem, the characters fraught with danger, the plot hitting all the right notes." —Steve Berry, New York Times best-selling author
"Authors like Philip Donlay, who write the pure thrillers, have capabilities and strength I can only envy." —William Kent Krueger, New York Times best-selling author
"A commanding thriller by a superb author." —Grant Blackwood, New York Times best-selling author
"Well researched and supremely entertaining, Philip Donlay has knocked this one out of the park!" —Ward Larsen, USA Today best-selling author
"A Donlay thriller is as sleek and fast as a Gulfstream. Buckle up." —Brian Freeman, best-selling author​​​​​​
Oceanview Publishing, 9781608093090, 320pp.
Publication Date: October 9, 2018
About the Author
Best-selling author Philip Donlay has been a flight instructor, flown a private jet for a Saudi prince, and a corporate jet for a Fortune 500 company. His travels have taken him to over forty countries on five continents. He divides his time between Montana and the Pacific Northwest. Pegasus Down is his sixth thriller in the Donovan Nash Series following Category Five, Code Black, Zero Separation, Deadly Echoes, Aftershock, and preceding Seconds to Midnight and Speed the Dawn.