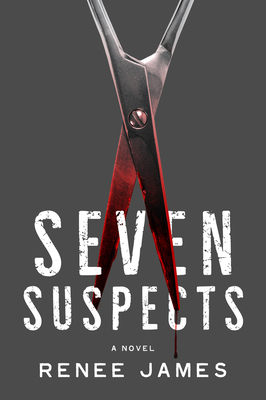 Seven Suspects (The Bobbi Logan Series #3) (Paperback)
Oceanview Publishing, 9781608093113, 320pp.
Publication Date: November 20, 2018
Other Editions of This Title:
Hardcover (10/3/2017)
* Individual store prices may vary.
Description
"You've most likely never met a narrator like Bobbi. Tough, tender, funny, full of heart?and a transgender woman."?Jodi Picoult
Bobbi Logan is a successful businesswoman and a celebrated hairdresser. She is a witty, articulate woman who has survived rape, gender transition, a murder investigation, and countless acts of bullying and bigotry to get where she is—and she's made enemies along the way. Now one of them is stalking her. With each passing day, the threats become more brazen, more violent, and more personal. No one knows who here stalker is or why he's after her, but he's getting closer every day.
Bobbi is intimidated but she has vowed to never be the victim again. She accumulates a list of six suspects, and with courage and persistence, she hunts them down, one by one—stalking her possible stalkers. But as she confronts those men who may want to do her harm, the number seven keeps haunting her—there must be a seventh suspect.
And when she finds him, Bobbi's world implodes.
Praise For Seven Suspects (The Bobbi Logan Series #3)…
"If you love Bobbi Logan—and I do—Seven Suspects is a hard read at times. Our girl is in peril and James pulls no punches. But I still couldn't put it down: Bobbi on a quest, with nothing but her courage, her one-liners, and a can of mace to protect her, is irresistible. This is a book with a heart as big as Bobbi's own, more twists than her fanciest up-do and a love letter to Chicago thrown in for kicks. Read it!"
—Catriona McPherson, Lefty Award winner and Agatha Award nominee
"Renee James's Bobbi Logan is a unique voice in mystery, at once feisty, strong, sexy but vulnerable—in other words, feminine. Seven Suspects is a taut story that takes Bobbi deep into an earned paranoia that someone is watching her every move. They are, and in the end, Bobbi will have to transform into another better version of herself to fight for her life."
—Lori Rader-Day, Mary Higgins Clark Award- and Anthony Award-winning author
"Meet Renee James' Bobbi Logan, a fierce, funny, and fearless transgender woman taking on Chicago and a mysterious stalker that is closing in on her. But that stalker has no idea what's in store, because Logan doesn't run from anything—and she turns tables and begins to hunt the stalker, resulting in an explosive, hair-raising ending. Fans of The Girl with the Dragon Tattoo series will love Seven Suspects. It catches you from the first page, with a unique voice and twisting mystery written with frank and sometimes brutal honesty. James is a compelling and elegant writer, and a must read for any mystery fan."
—Jamie Freveletti, internationally best-selling and award-winning author of Dead Asleep
"… readers are sure to cheer for the brave, resolute Bobbi … a novel with a great protagonist."
—Publishers Weekly
"Bobbi is an appealing character: funny, profane, and angry … The Chicago setting and supporting characters are well drawn, while the glimpse into trans life is revelatory."
—Library Journal
"Bobbi's honed investigative skills will impress hardboiled detective fans."
—L. Dean Murphy, Bookreporter
"In no other work of fiction can readers hear the real voice of a trans woman who still struggles with her identity … Seven Suspects [is] a truly enjoyable read. The book is funny, frightening, mysterious, and familiar all at the same time. There is a voice and a perspective that seeps into every corner of the book."
—Windy City Times
"The ending and the denouement leave the reader surprised, satisfied, and prepared to follow Bobbi's character into the next installment in the series."
—Killer Nashville
"Humor, suspense, being made aware of how good friends are such a valuable commodity, a touch of romance, and a good look at the world at large makes this an enjoyable read."
—BookLoons
"The crime fiction world needs a character like Bobbi Logan and Renee James is the perfect author to bring her to life."
—Bolo Books
Praise for The Bobbi Logan series:
"You've most likely never met a narrator like Bobbi. Tough, tender, funny, full of heart?and a transgender woman?she is navigating not just a new life, but also an unsolved murder that a detective is trying to pin on her. Renee James takes the reader on a whirlwind of a ride, while subtly revealing the honest heartbreaks and successes of the trans community. A welcome, diverse addition to the writing world!"
?Jodi Picoult, New York Times best-selling author
"The comprehensiveness with which Renee James draws you into the world of her characters would be enough reason to read this satisfying novel, but the straightforward elegance and grace of her writing is the real reward."
?S. J. Rozan, award-winning author
"A Kind of Justice crackles with energy right from the beginning. Not only does Renee James eloquently impart empathy for what it's like to be transgender in an uncaring and judgmental world, but she does so while telling an engaging and compelling story populated with richly nuanced characters. Yes, it's a story about justice. But it's deeper than that. It's as deep and complex as family, friendship, love and?perhaps most importantly?change."
?John DeDakis, mystery-suspense author, writing coach, and former Senior Copy Editor, CNN's "The Situation Room with Wolf Blitzer"
"Renee James writes with an acute and deeply sympathetic understanding of the human condition. In her work, readers also find suspenseful, engaging thrillers?writing that both accelerates the heartbeat and maps the heart's mysteries."
?Christine Sneed, award-winning author
"In addition to being a well-written mystery with great character development and a surprise ending, A Kind of Justice focuses on one of the most talked about topics of the day: the transgender community. How can it not be a hit?"
?Windy City Reviews
- -