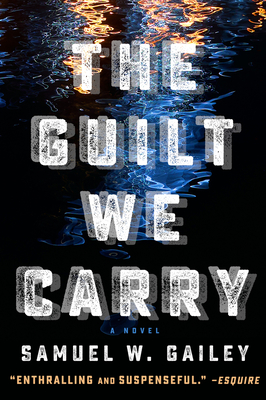 The Guilt We Carry (Hardcover)
Oceanview Publishing, 9781608093205, 336pp.
Publication Date: January 8, 2019
Other Editions of This Title:
Paperback (6/16/2020)
* Individual store prices may vary.
Description
Perfect for readers of The Girl on the Train and Winter's Bone, Publishers Weekly praises The Guilt We Carry as "a gripping tale of redemption" and New York Journal of Books declares it "the Breaking Bad of the book world."
Since the tragic accident that brutally ended her childhood, Alice O'Farrell has been haunted by her past. Unable to bear the guilt of negligence that led to the death of her younger brother, fifteen-year-old Alice runs away from home. She lives on the streets, makes one bad decision after another, and drowns her guilt in alcohol. But, everything changes when she stumbles upon a startling scene: a dead drug dealer and a duffel bag full of ninety-one thousand dollars in cash. Recognizing this as an opportunity for a fresh start, Alice takes the money and runs. However, she soon finds herself fleeing from more than her own past—the dead dealer's drug supplier wants his money back and will destroy her to get it. A merciless manhunt ensues, headed by Sinclair—a formidable opponent—relentless, shrewd, and brutal. As blood is spilled all around her, Alice is eventually faced with her day of reckoning. In the end, The Guilt We Carry is a story about redemption and forgiveness, but at what cost?
About the Author
Samuel W. Gailey was raised in a small town in northeast Pennsylvania (population 379) and now resides on a remote island in the Pacific Northwest. The Guilt We Carry is his second novel, following the critically acclaimed Deep Winter. Gailey's novels are intriguing studies of human nature and portray how the simplest act of fate can alter and shatter lives. Before writing novels, he worked in film production and eventually became a screenwriter, writing and developing shows for Showtime and Fox. He lives with his wife, author Ayn Gailey, and daughter on Orcas Island where he is a founding member of the Orcas Island Literary Festival, the Telluride of book festivals.
Praise For The Guilt We Carry…
"This book is an RCR and a BBE—a Roller Coaster Ride and a Best Book Ever. Relish in the reading of it, take your time even through the breathless parts, and enjoy every word. It's the Breaking Bad of the book world. A delish read with surprises to the very last page."
—
New York Journal of Books
"Fans of country noir will be right at home as Gailey builds the grit-soaked suspense."
—
Booklist
"[A] gripping tale of redemption … Gailey does a superior job of making his flawed lead sympathetic."
—
Publishers Weekly
"The main character from The Guilt We Carry, Alice O'Farrell, kept me up until five a.m. She is tragic, flawed, beaten down, but tough enough and resilient enough to survive. Gailey has delivered one of my favorite characters in recent memory. A non-stop burner of a novel."
—
Willy Vlautin
, award-winning author of
Don't Skip Out on Me
"The Guilt We Carry is heartbreaking, hopeful and touching ... Gailey lyrically weaves a story of loss and guilt into one of redemption. Never has misery been so elegantly written."
—
Matt Coyle
, author of The Rick Cahill Series
"An extraordinary thriller, The Guilt We Carry is driven by a plot that is both economic and subtly complicated. Samuel W. Gailey propels his characters into one another with a tough empathy. The result is a tense, scintillating read that is also human and ultimately satisfying as the book hurtles toward its unexpected but well-earned conclusion."
—
Bruce Holbert
author of
Whiskey
Praise for Samuel W. Gailey:
"Deep Winter is a fast-paced thriller tense enough to give you paper cuts from turning the pages so quickly."
—
Joe R. Lansdale
"Set in rural Pennsylvania, Samuel W. Gailey's Deep Winter is a beautiful and brutal debut ... watch as Gailey hits the switch and everything in this world spins dangerously out of hand. A wonderful fast-paced read."
—
Urban Waite
, award-winning author
"Enthralling and suspenseful, like a Michael Connelly novel, but more elegantly written."
—
Esquire
"Beautifully written but deeply disturbing."
—
The New York Times Book Review
"[Deep Winter] is a harsh, brutal novel, as bleak as its wintertime setting. It's also so brilliantly done, so artfully underwritten with not a word wasted, that readers may hate themselves for letting this grim narrative trap them in its coils."
—
Booklist
"Gailey writes visually, rendering the characters and action both vivid and alive."
—
Kirkus Reviews
- -