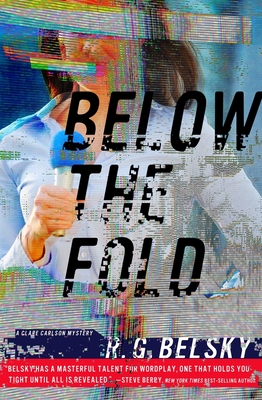 Below the Fold (Clare Carlson Mystery #2) (Paperback)
Oceanview Publishing, 9781608093243, 320pp.
Publication Date: May 7, 2019
* Individual store prices may vary.
Description
When the murder of a "nobody" triggers an avalanche.
Every human life is supposed to be important. Everyone should matter. But that's not the case in the cutthroat TV news-rating world where Clare Carlson works. Sex, money, and power sell. Only murder victims of the right social strata are considered worth covering. Not the murder of a "nobody."
So, when the battered body of a homeless woman named Dora Gayle is found on the streets of New York City, her murder barely gets a mention in the media. But Clare—a TV news director who still has a reporter's instincts—decides to dig deeper into the seemingly meaningless death. She uncovers mysterious links between Gayle and a number of wealthy and influential figures. There is a prominent female defense attorney; a scandal-ridden ex-congressman; a decorated NYPD detective; and—most shocking of all—a wealthy media mogul who owns the TV station where Clare works. Soon there are more murders, more victims, more questions. As the bodies pile up, Clare realizes that her job, her career, and maybe even her life are at stake as she chases after her biggest story ever.
About the Author
R. G. Belsky is an author of crime fiction and a journalist in New York City. He has a degree in journalism from Ohio University and has had an illustrious career in both print and television news. He is the former Vice President at NBC Local Digital News, Managing Editor of the NY Daily News, News Editor of Star magazine, and Metropolitan Editor of the New York Post. Most recently, he was a Managing Editor of NBC News. Belsky's crime novels reflect his extensive media background in newspapers, magazines, and TV/digital news. Below the Fold is his second novel in the Clare Carlson series, following the acclaimed Yesterday's News. Belsky resides in New York City.
Praise For Below the Fold (Clare Carlson Mystery #2)…
"Below the Fold is a gripping and intelligent thriller that rips open the dark underbelly of TV news, written by a former television and print journalist himself. Fast-moving and full of colorful, down-and-dirty characters, this terrific novel is the second in a series starring the compelling and engaging TV journalist Clare Carlson. I highly recommend it." — Douglas Preston, New York Times best-selling author
"Below the Fold is what journalism is all about . . . crackling with the kind of authenticity only an experienced reporter could capture." — Lee Goldberg, New York Times best-selling author
"Below the Fold is a terrific mystery, written with a veteran journalist's eye. The pacing and plotting are everything you want, but it's R. G. Belsky's insider knowledge that adds a wonderful layer to this story of media and murder." — Michael Koryta, New York Times best-selling author
"Below the Fold takes readers on a whiplash ride through a New York murder case. The television news investigation provides a fascinating lens for the story. Heroine Clare Carlson is formidable, human, and thoroughly authentic. R.G. Belsky knows his stuff." — Meg Gardiner, author of Into the Black Nowhere
"Belsky's background as a reporter shines through, but he's also earned his place as a writer of memorable characters and intricate plots. Even the murdered woman, who kick-starts the several mysteries in this book, and who is mainly depicted in others' distant memories, is well fleshed out. The banter among reporters, cops, and those they investigate rings true, too, and keeps the pages turning. Readers who enjoy police procedurals but who are looking for something a little different are an ideal audience for this thriller." — Booklist
"Author Belsky brings years of experience in the print, digital, and TV news business to his books, giving readers a realistic view of life behind the printing presses and the TV screens. The result is an engrossing, mind boggling mystery." — New York Journal of Books