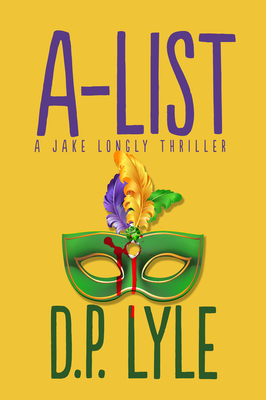 A-List (The Jake Longly Series )
Paperback

* Individual store prices may vary.
Other Editions of This Title:
Hardcover (12/12/2017)
Description
Nothing is easy in The Big Easy

PI Jake Longly and Nicole Jamison head to New Orleans at the behest of Nicole's uncle, movie producer Charles Balfour, when his megastar, A-list actor Kirk Ford, awakens in his hotel bed with the body of Kristi Guidry, a local college coed.

Ford, in the Big Easy for a location shoot, remembers little of the evening and nothing of the murder. And, to make matters worse, Kristi is the niece of a local mafioso-type who will do whatever is necessary to avenge her death. Balfour is losing money every day the filming is stalled—he needs his actor cleared, and quickly.

Surrounded by glitzy Hollywood stars and intimidated by seedy underworld characters, Jake and Nicole encounter nothing but obstacles. Something isn't right. The facts don't fit. Who would want Kristi dead? Why frame Kirk for the murder? Everyone has an opinion, including Kristi's friends and ex-boyfriend, the local homicide detectives, and a fortune-teller.

The clock is ticking as Jake and Nicole struggle to decipher who's lying, who's telling the truth, and exactly who schemed to murder Kristi Guidry.

Perfect for fans of Carl Hiaasen and Janet Evanovich

While all of the novels in the Jake Longly Thriller Series stand on their own and can be read in any order, the publication sequence is:

Deep Six
A-List
Sunshine State
Rigged
The OC
Praise For A-List (The Jake Longly Series )…
Praise for the Jake Longly Thriller Series

"D. P. Lyle hits it over the fence with A-List. This mystery, featuring former Major League pitcher and reluctant PI Jake Longly, is fast-paced, slick, and funny. Bad times in the Big Easy mean a great time for readers. Head to New Orleans with Jake and enjoy the trip." —Meg Gardiner, Edgar Award-winning author

"We all know Lyle's erudition and expertise—but who knew he was this funny?" —Lee Child, New York Times best-selling author

"Corruption, vendettas, cartel killers, oh my! Deep Six puts the fun back into late-night reading with this fast-paced romp through murder and mayhem. Prepare to flip the pages." —Lisa Gardner, New York Times best-selling author

"Snappy dialogue, fun characters, smart writing, a juicy mystery—all had me flipping pages until I reached the end. Jake and Nicole remind me of my favorite mystery duo, Nick and Nora Charles, with a modern twist. The Jake Longly series never fails to entertain." —Allison Brennan, New York Times best-selling author

"Former baseball player turned P.I. Jake Longly is back on the trail in A-List. A rollicking thrill ride through the mean streets and tasty restaurants of New Orleans. Murder, mobbed-up bad guys, Hollywood heartthrobs, and laughs! What more could you want?" —Matt Coyle, Anthony and Shamus Award-winning author

"The release of a new D. P. Lyle book is a highlight of any year, and Sunshine State is his best yet! This is one of those rare novels where everything in your life stops until you read through to the end. Jake Longly rocks!" —John Gilstrap, New York Times best-selling author

"D. P. Lyle returns in superb form in Deep Six. Smart, wickedly funny, expertly constructed and deftly executed, Lyle is at the top of his game as he takes his readers on a romp on the Gulf Coast that goes down as smoothly as a cold beer on a hot day at a bar next to the beach." —Sheldon Siegel, New York Times best-selling author

"With an ingenious plot, lots of laughs, plenty of romance, and a hot, Florida locale, Sunshine State is the definition of the perfect beach read." —Lee Goldberg, New York Times best-selling author

"Sunshine State sizzles with just the right mix of action and mystery, a rollicking roller-coaster ride on a track lined with thrills and spills." —Jon Land, USA Today best-selling author

"Jake Longly is a character who would be right at home in the pages of novels by Carl Hiaasen, Elmore Leonard, or Tim Dorsey, but he's also a true original—smart, funny and self-aware—someone you'd love to grab a beer with, assuming he doesn't get killed first." —Tim Maleeny, best-selling author
Oceanview Publishing, 9781608093335, 320pp.
Publication Date: February 19, 2019
About the Author
D. P. Lyle is the award-winning author of both fiction and nonfiction books. A-List is the second in his best-selling Jake Longly Thriller Series, following Deep Six and followed by Sunshine State, Rigged, and The OC. Earlier books in the series were finalists for the Shamus Award, Foreword INDIES Book of the Year Award, the USA Best Book Award, and were included on Suspense Magazine Best Books list. Lyle has authored 18 books, been a consultant to numerous novelists and screenwriters of popular TV shows, served as co-host of Crime and Science Radio, and currently hosts the Criminal Mischief podcast series. He lives in Orange County, California.
or
Not Currently Available for Direct Purchase