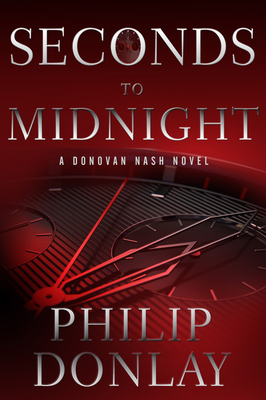 Seconds to Midnight (Donovan Nash Thriller #7)
Paperback

* Individual store prices may vary.
Other Editions of This Title:
Hardcover (3/7/2017)
Description
Best-Selling and Award-Winning Author

Donovan Nash's good deed leads to terror with horrifying repercussions

While on a routine Eco-Watch flight above northern Canada to study one of the most powerful solar flares in history, Donovan Nash and Michael Ross narrowly miss colliding with another aircraft―a Boeing 737 that's not supposed to be there. With the mysterious 737 trailing smoke, Donovan and Michael watch as the stricken aircraft makes an emergency landing on a frozen lake.

As the Boeing breaks through the ice and begins to sink, a figure escapes into the frigid water and manages to climb up onto the ice. Donovan reaches the lone survivor and discovers it's a young woman. Just before she blacks out, she whispers a dire warning, "Don't let them know I'm alive―they'll kill everyone."

Seconds to Midnight plunges Donovan Nash and the Eco-Watch team into a fight for their lives. While Donovan searches for answers at the bottom of a frozen lake in Canada, his wife, Lauren, runs from operatives embedded in the top levels of the Russian Government.

With communication in the Northern Hemisphere crippled by the massive solar storm, Donovan, Michael, and Lauren battle for each second—as the clock ticks toward a possible Armageddon.

Perfect for fans of David Baldacci and Vince Flynn

While all of the novels in the Donovan Nash Series stand on their own and can be read in any order, the publication sequence is:

Category Five
Code Black
Zero Separation
Deadly Echoes
Aftershock
Pegasus Down
Seconds to Midnight
Speed the Dawn
Praise For Seconds to Midnight (Donovan Nash Thriller #7)…
"A fast, splashy adventure with tons of gadgets, fake IDs, and last-minute, life-saving bolts through the doors of the American embassy." —
Booklist
"This is a book meant for hard-core adrenaline junkies, and as such, delivers high-octane action from the first page to the last. Tighten your seat belt!" —Mystery Scene Magazine
"Like his previous thrillers, Donlay's
Seconds to Midnight
is impossible to put down. The action starts from the first page and doesn't let go until the very end." —
Manhattan Book Review
"Some of the best reading ever created!" —Suspense Magazine
Praise for the Donovan Nash Series

"A heart-thumping ride that steams along, bringing our flawed world into pristine focus. Lots of mischief and mayhem, the characters fraught with danger, the plot hitting all the right notes." —Steve Berry, New York Times best-selling author
"A commanding thriller by a superb author." —Grant Blackwood, New York Times best-selling author
"Authors like Philip Donlay, who write the pure thrillers, have capabilities and strength I can only envy." —William Kent Krueger,
New York Times
best-selling author
"Well researched and supremely entertaining, Philip Donlay has knocked this one out of the park!" —Ward Larsen,
USA Today
best-selling author​​​​​
Oceanview Publishing, 9781608093342, 340pp.
Publication Date: March 19, 2019
About the Author
Best-selling author Philip Donlay has been a flight instructor, flown a private jet for a Saudi prince, and a corporate jet for a Fortune 500 company. His travels have taken him to over forty countries on five continents. He divides his time between Montana and the Pacific Northwest. Seconds to Midnight is his seventh thriller in the Donovan Nash Series following Category Five, Code Black, Zero Separation, Deadly Echoes, Aftershock, Pegasus Down and preceding Speed the Dawn.