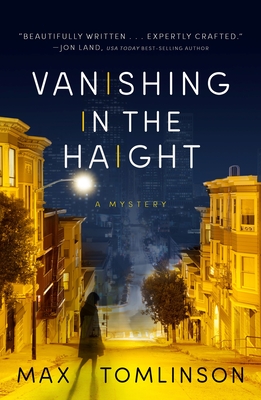 Vanishing in the Haight (A Colleen Hayes Mystery #1)
Hardcover

* Individual store prices may vary.
Other Editions of This Title:
Paperback (9/1/2020)
Description
USA Today best-selling author
An ex-con traces a victim's clues to set a cold case ablaze
 Between fending off a lecherous parole officer and trying to get by in 1978 San Francisco, private investigator Colleen Hayes struggles to put her life back together so she can reconnect with her runaway teenage daughter. Then her life changes dramatically. She accepts a case from wealthy, retired industrialist Edward Copeland. The old man is desperate to solve the brutal murder of his daughter, a murder that took place in Golden Gate Park eleven years earlier—during the Summer of Love. The case has since gone cold, her murderer never found. Now, in his final days, Copeland hires Colleen to find his daughter's killer in hopes he might die in peace. Colleen understands what it means to take a life—she spent a decade in prison for killing her ex. Battling her own demons, she immerses herself in San Francisco's underbelly, where police corruption is rampant. Her investigation turns deadly as she pries for information, yet there is little to go on. However, a song on the radio makes her wonder—did the murdered girl leave any clues that others may have missed?
 Perfect for fans of Elmore Leonard and Gillian Flynn
Praise For Vanishing in the Haight (A Colleen Hayes Mystery #1)…
"As beautifully written as it is expertly crafted, Vanishing in the Haight features characters drawn with the touch of a master artist and a story that sizzles even as it scintillates." —Jon Land, USA Today best-selling author

"Atmospheric and tense, this one sizzles with twists that entertain and magnetize, whetting the appetite for more." —Steve Berry, New York Times best-selling author

 "With a strong, intelligent female sleuth, a colorful location, a tantalizing puzzle, and an abundance of San Francisco lore, this will please a wide variety of mystery readers." —Booklist (Starred Review)

"I've just three words to say about Vanishing in the Haight by Max Tomlinson—Wow. Just. Wow. Tomlinson's taut, spare, evocative writing style is an absolute beauty. You couldn't ask for a better guide through the dark, shadowy flashback haze of '70s San Francisco." —Tracy Clark, author of Broken Places

"Max Tomlinson serves up the perfect mystery in this edgy new detective series set in '70s San Francisco. Colleen Hayes, an ex-con in search of her missing teenage daughter, finally lands her first big case. There's just one problem: she must find a killer who's been lurking since the Summer of Love. Not to be missed." —James N. Frey, author of How to Write a Damn Good Thriller

"[In Vanishing in the Haight,] Tomlinson's confidence in his characters will have readers ready for his follow-up." —Kirkus Reviews

"Max Tomlinson delivers a gritty, gripping story set in a fascinating time. Colleen Hayes is a deeply sympathetic sleuth, all too human. I can't wait for her next adventure." —Evan Marshall, author of City in Shadow

"[In Tie Die, Tomlinson] deepens the character of his multi-layered lead, Colleen Hayes, an unlicensed PI and ex-con who's still on parole. Readers will want to learn more about this surprising and pragmatic woman." —Publishers Weekly (Starred Review)
Oceanview Publishing, 9781608093410, 400pp.
Publication Date: August 20, 2019
About the Author
USA Today best-selling author Max Tomlinson was born in San Francisco. With the Bay Area's rich literary history and a public transport system teeming with characters suitable for crime novels, the stage was set for Max to become a mystery writer. In addition, his time abroad has inspired a variety of flavors in his writing. His published work includes a crime series set in South America, an international espionage series, and now the Colleen Hayes Mystery Series, set in 1970s San Francisco. Vanishing in the Haight is the first novel in the series, followed by Tie Die.