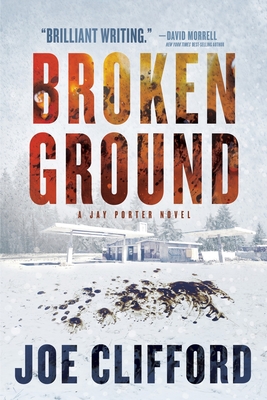 Broken Ground (The Jay Porter Series ) (Paperback)
Oceanview Publishing, 9781608093489, 256pp.
Publication Date: May 14, 2019
Other Editions of This Title:
Hardcover (6/5/2018)
* Individual store prices may vary.
Description
• Fourth in Joe Clifford's Jay Porter Series

• Jay Porter is a flawed handyman struggling to keep his life together while standing up to forces he perceives as evil

• The author is a former homeless heroin addict—now the father of two boys, and an MFA graduate; his authenticity is unquestionable

• Author has been compared to Dennis Lehane, Don Winslow and Paula Hawkins

• Will appeal to readers who appreciate deeply flawed characters fighting to walk the righteous path

• Very atmospheric setting in rural New Hampshire

• Timely topic within the political scene and dissatisfaction with the state of American politics

• The plot line borrows from the real-life criminal case involving former Trump campaign manager Paul Manafort

• As with all Jay Porter books, themes of addiction, recovery, and the elusive search for the American dream are prevalent

• The novel is a topical examination of the failure of the War on Drugs

• Lamentation, the first book in the Jay Porter series, was nominated for an Anthony Award for Best Novel

• The Jay Porter novels have had favorable reviews from Publishers Weekly (starred), Library Journal, Mystery Scene Magazine, San Francisco Chronicle, Midwest Book Review, and many others

• The Jay Porter novels have blurbs from many best-selling authors. Among them James Grady, Robert Dugoni, Sheldon Siegel, David Corbett, James Hall, Allan Leverone, Sara Henry, Reed Farrel Coleman, Eileen Cook, and others

• Author is a frequent speaker at conferences, libraries, and book events

• Author has a large following in the San Francisco Bay area and Connecticut

• Author's personal story of addiction, living on the streets, and recovery is poignant and a popular platform for widespread publicity

• Give Up The Dead book trailer: https://www.youtube.com/watch?v=D05pkeVYoHU

About the Author
A former homeless junkie, Joe Clifford has dedicated his life to education and the craft of writing and helping other ex-junkies find a voice and a platform for their creative energies. He is a graduate of Central Connecticut State University and holds an MFA degree from Florida International University. He is the acquisitions editor for Gutter Books and the producer of Lip Service West, a gritty reading series in Oakland, California. Clifford is the author of several acclaimed books—two of which were Anthony Award nominees: Lamentation, his first novel in the Jay Porter series, and his anthology (editor) Trouble in the Heartland. Broken Ground is the fourth novel in his Jay Porter series. In all his Jay Porter novels, Clifford uses the backdrop of drug abuse to shine a light on the misunderstood and marginalized, while weaving personal tragedies into narratives that compel and transcend as well as entertain. Clifford lives with his wife, Justine, and two sons in the San Francisco Bay Area.


Praise For Broken Ground (The Jay Porter Series )…
Praise for Broken Ground :
"An estate recycler picks up the fragments of his life by helping others to pick up theirs. What a brilliant noir concept. And Broken Ground, the newest addition to the terrific Jay Porter series, has brilliant writing to match. 'Freezing rain pelted the glass, like bb pellets fired from a bully's tree fort.' Wow. The depth of the characters. The vividness of the New Hampshire winter setting. The importance of the novel's theme. Joe Clifford's a crime writer to pay attention to." —David Morrell, New York Times best-selling author
"Joe Clifford's latest in the Jay Porter series is a tense, emotional tour de force ferried along on a mystery that's both timely and chilling. Don't miss this!" —Jamie Mason, author of Three Graves Full
"Clifford's edgy prose and masterful pacing, combined with flawed and profoundly human Jay Porter at the helm, make Broken Ground irresistible." —Wendy Walker, author of Emma in the Night
"Joe Clifford writes with empathy, wisdom, and wicked wit about characters at the edge of society, sobriety, and their own tenuous sanity. Broken Ground is a feast, and Jay Porter is a unique noir hero who shines brightly in a dark world." —Nick Petrie, author of Light It Up
"Joe Clifford writes with authority and authenticity. Broken Ground, along with the other books in the Jay Porter series are frighteningly real." —Killer Nashville
"The writing of the author is top drawer."—BookLoons
"Another deftly crafted novel by Joe Clifford, Broken Ground is a simply riveting read from beginning to end and will prove to be an immediate and enduringly popular addition to community library Mystery/Suspense collections."—Midwest Book Review
Praise for the Jay Porter series:
"Joe Clifford is an underground star. Give Up The Dead should finally expose his star to the light. Jay Porter is a hard-bitten and hard-boiled loner who manages to make you root for him and all the world's underdogs." ?Reed Farrel Coleman, New York Times best-selling author
"Noir fiction has fresh blood in Joe Clifford. The three dimensional characters in Give Up the Dead take readers by the hand and throat and don't let go until the final shocking pages. Fans of gritty, twisty mysteries—add this book to your shelves." —Eileen Cook best-selling author of With Malice
"Joe Clifford writes the kind of books that I love to read, mysteries that not only make you think, but make you feel. He is a master at creating characters that bind to your DNA and stay with you long after the last page is turned. His protagonist, Jay Porter, is one of the most endearing (and hopefully enduring) of the genre. If you haven't yet discovered this gifted writer, maybe now's the time." —Allen Eskens, USA Today best-selling author
"Joe Clifford's December Boys is a riveting, muscular, powerfully written novel that reminds me of the early works of Russell Banks. Jay Porter is a richly detailed character whose tenacity, haunted past, dead end job, and difficult marriage give him a dimensionality and authenticity that is quite rare in contemporary crime fiction. Though the odds against Jay are overwhelming, with savvy, a burning drive and devoted friends, Jay confronts head-on some of the iciest bad guys you'll ever meet. Joe Clifford is the real deal." —James W. Hall, Edgar and Shamus Award-winning author
Some books live on in your mind long after you put them down, and Lamentation is one of them. The novel's perfectly constructed plot unfolds with the thoughtful precision and menace of a cat burglar. The pervasive atmosphere of psychological suspense ratchets up a notch with each page turned. Joe Clifford's talent is exceptional. —Hilary Davidson, author of Blood Always Tells
- -