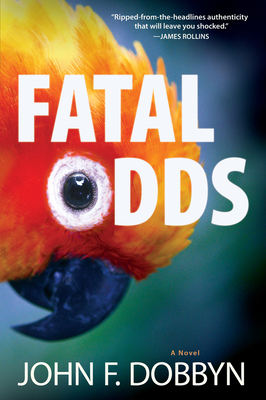 Fatal Odds
A Novel (Knight and Devlin Thriller #5)
Paperback

* Individual store prices may vary.
Other Editions of This Title:
Hardcover (8/2/2016)
Description
The fastest rising criminal activity on earth—the illicit trade in exotic and endangered species of wild animals

Danger escalates as Michael Knight and Lex Devlin enter into the defense of a Puerto Rican jockey charged with felony murder as a result of a fixed race at Boston's Suffolk Downs.

As their investigation exposes the jockey's role, they become embroiled in a conflict between two Puerto Rican crime gangs. One of these gangs is aligned for the first time with Boston's Italian Mafia in tapping into almost limitless profits from the illicit trade of exotic and endangered species of wild animals captured in the Amazon rainforest of Brazil and smuggled through the shoreline of the Florida Keys.

Working to free their client and to prevent the brutal abuse of these vulnerable animals, Michael and Lex find themselves squarely in the crossfire of rival organized crime gangs from the barrio of Jamaica Plain, Boston, to the gang-dominated streets of Mayaguez, Puerto Rico.

Perfect for fans of James Rollins

While all of the novels in the Knight and Devlin Thriller Series stand on their own and can be read in any order, the publication sequence is:

Neon Dragon
Frame-Up
Black Diamond
Deadly Diamonds
Fatal Odds
High Stakes
Praise For Fatal Odds: A Novel (Knight and Devlin Thriller #5)…
"John F. Dobbyn's thriller Fatal Odds does everything right: a nail-biting plot to keep you turning pages, characters that shine brighter with every twist and turn, and a ripped-from-the-headlines authenticity that will leave you shocked. Here is a novel that expertly mixes thrills and smarts and will have you clamoring for more from this author." —James Rollins, New York Times best-selling author

"Fatal Odds is a terrific read with a fast-paced plot and well-drawn characters that stay with you long after you close the book." —Lisa Scottoline, New York Times best-selling author

"Boston attorneys Michael Knight and Lex Devlin are back with a case that starts local and goes global. Once again, John F. Dobbyn has crafted a first-rate legal thriller that's both topical and timeless." —Linda Landrigan, Editor, Alfred Hitchcock's Mystery Magazine

"Series characters Michael Knight and Lex Devlin debuted in Ellery Queen Mystery Magazine. Among the broad array of fictional lawyer-sleuths, these two stand out for the passion they bring to their cases and for the warmth of the relationship between the younger attorney, Knight, and his mentor, Devlin. Add a gripping plot, and you've got the formula for a Dobbyn thriller." —Janet Hutchings, Editor-in-Chief, Ellery Queen's Mystery Magazine

Praise for the Knight and Devlin Thriller Series

"This rapid pace adventure [High Stakes] delivers equal quantities of action, history, secrets, and conspiracies. Definitely an entertaining romp." —Steve Berry, New York Times best-selling author

"[Frame-Up] is the best kind of legal crime fiction, where the real stories come not from legal minutiae in the courtroom, but from human beings caught in the legal system's fuzzy moral contours." —Alafair Burke, New York Times best-selling author

"Dobbyn manages to tie the two story lines together in a secure knot in this fiercely violent story that somehow also tugs at the heartstrings. This should appeal to fans of Tess Gerritsen, Jon Land, and Dennis Lehane." —Booklist

". . . Dobbyn's Deadly Diamonds is a Beantown beauty of a story, sometimes served with a Guinness and at other times with a Chianti, depending on which of the many warring, sleazebag mobsters Dobbyn's lead character is confronting" —Foreword Reviews

"The story gets the reader's attention in much the same way it gets Michael Knight's—with a grin, the tip of a knife between the ribs and nowhere to go but onward . . ." —The Free Lance Star"The latest Knight-Devlin legal thriller is an exciting tale . . . filled with plenty of action the two lawyers and their friends try to prevent the hostilities from turning Boston bloody." —The Midwest Book Review
Oceanview Publishing, 9781608093724, 344pp.
Publication Date: September 17, 2019
About the Author
Best-selling author John F. Dobbyn, a graduate of Harvard College, Boston College Law School, and Harvard Law School, is a former professor of law at Villanova Law School where he taught criminal, constitutional, and corporate law. Prior to his teaching career, Dobbyn practiced criminal and civil trial work. Fatal Odds is the fifth novel in the award-winning Michael Knight and Lex Devlin Thriller Series, following Neon Dragon, Frame-Up, Black Diamond, and Deadly Diamonds and followed by High Stakes. Dobbyn is a Boston native and now resides in Valley Forge, Pennsylvania, with his wife, Lois.
or
Not Currently Available for Direct Purchase