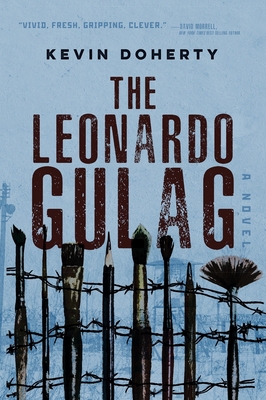 The Leonardo Gulag
Hardcover

* Individual store prices may vary.
Other Editions of This Title:
Paperback (3/16/2021)
Description
2020 Foreword INDIES GOLD Winner for Thriller & Suspense​

A journey into the sinister heart of Stalin's regime of terror, where paranoia reigns and no one is safe

Stalin's Russia, 1950. Brilliant young artist Pasha Kalmenov is arrested and sent without trial to a forced-labor camp in the Arctic gulag. This is a camp like no other. Although conditions are harsh and degrading, the prisoners are not to be worked to death in a coal mine or on a construction project. Their task is to forge the drawings of Leonardo da Vinci. There is a high price to be paid for failing to reach the required standard of perfection; particularly as the camp commandant has his own secret agenda. When the executions begin, Pasha realizes that only his artistic talent can protect him. But for how long? Worse horrors are to come—if he survives them, will life still be worth living?

The Leonardo Gulag journeys to the sinister heart of Stalin's regime of terror, where paranoia reigns and no one is safe, and in which the whims of one man determine the fate of millions. Ultimately, the novel presents a moving portrait of the indomitability of the human spirit.

Perfect for fans who love the artistry of Daniel Silva and the passion of Greg Iles
Praise For The Leonardo Gulag…
"[The Leonardo Gulag is] vivid, fresh, gripping, clever. This historical thriller set in a gulag in Stalin's Russia thoroughly propelled me. With appearances from Stalin himself and Soviet spy Anthony Blunt, it feels authentic on every page. I felt I was there." —David Morrell, New York Times best-selling author

"[The Leonardo Gulag is] an extraordinary novel with a fresh and unique premise—one that draws the reader into a world that's both clever and imaginative. Bravo. Bravo." —Steve Berry, New York Times best-selling author

"The Leonardo Gulag is a bold, bracing, and brilliant take on the human side and costs of [the Cold War]. Kevin Doherty's starkly original tale of prisoners forced to forge da Vinci masterpieces lives up to pop culture classics like Stalag 17 and The Great Escape, not to mention the best of Leon Uris and the Louis L'Amour classic Last of the Breed. This is a historical thriller of the highest order; smart, savvy, and sensational." —Jon Land, USA Today best-selling author

"This relentless tale of cruelty and survival provides a sobering look at Stalin's Russia. Fans of Kafkaesque historical fiction will be satisfied." —Publishers Weekly

"[The Leonardo Gulag is] a cracking read with authentic characters, excellent descriptive prose, and an absorbing storyline. It also provides a fascinating and dramatic insight into the era of Joseph Stalin's vile forced-labor camps." —J.P. Carter, author of At Your Door

"An inherently fascinating read, The Leonardo Gulag showcases author Kevin Doherty's genuine and impressive flair for originality and the kind of narrative storytelling style that completely engages the reader's total attention from beginning to end." —Midwest Book Review
Oceanview Publishing, 9781608093816, 320pp.
Publication Date: March 3, 2020
About the Author
Kevin Doherty grew up in Northern Ireland, graduated from Queen's University Belfast, and lives in England, near Windsor Castle, with his wife, Roz. His professional background is advertising and marketing. He has worked for a number of U.K. and international companies and has advised business and government agencies in Britain and Europe. He now writes full time and The Leonardo Gulag is his fourth novel.