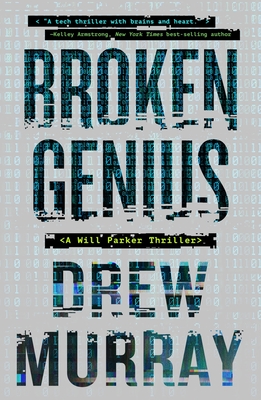 Broken Genius
Hardcover

* Individual store prices may vary.
Other Editions of This Title:
Paperback (6/15/2021)
Description
For Will Parker, it's about personal redemption after a disastrous mistake

In 2011, Will Parker, the young prodigy CEO of a big tech company makes a coding mistake that costs a college student her life. To assuage his guilt, Will pursues a career in the FBI Cyber Division.

Now, Special Agent Will Parker is called to investigate a murder scene at a Comic Con event in the Midwest, where the victim has ties to a radioactive quantum computer that Will was working on before he left his gig as CEO.

Working with smart local homicide detective Dana Lopez and FBI stuffed-shirt Thomas Decker, Will discovers the victim was holding an auction for the computer on the Dark Web—and the bidding is still live.

With bidders including a legendary Chinese hacker, Russian criminals sent by the Kremlin, and a corporate executive desperate to escape a scandal, Will once again finds a life in his hands when the victim's daughter is taken hostage. A trail of blood and high-tech breadcrumbs leads Will deeper into mystery, danger, and a race against time to keep unlimited power out of the wrong hands.

Perfect for fans of Harlan Coben and James Patterson
Praise For Broken Genius …
"Will Parker, a genius with considerable baggage and even more wealth, works for the FBI. There's a lot of excitement in this debut novel, and you'll be running along with Will the whole way." —Charlaine Harris, New York Times best-selling author

"A tech thriller with brains and heart. Memorable characters and sharply written action scenes make this excellent debut a standout." —Kelley Armstrong, New York Times best-selling author

"Fast, fun, factual. Murray's pacing propels the reader through Broken Genius at warp speed. His insider knowledge of Silicon Valley provides a compelling verisimilitude—you know you're in the hands of a master. Add in Comic Con as a backdrop and a parry or two of sword play and you have a strikingly unique page-turner. Also, you'll never look at unicorns the same way." —K. J. Howe, international best-selling author

"Drew Murray swings for the fences and hits a home run with his debut Broken Genius. Crisply plotted and highly entertaining, Murray delivers with believable characters and compelling dialogue that keep the story moving at a galloping pace." —Simon Gervais, international best-selling author

"Computer geeks will look forward to Will's further adventures." —Publishers Weekly

"This is a solid thriller with a plausible story and a flawed but determined hero. A good series launcher." —Booklist

"This classic good-versus-evil high-tech novel will intrigue computer geeks and a squad of Comic-Con fans, along with anyone who enjoys a well-crafted thriller." —Bookreporter
Oceanview Publishing, 9781608093885, 336pp.
Publication Date: June 2, 2020
About the Author
Drew Murray is a native of Ontario, Canada. After a corporate career in technology, he has transitioned into education and writing. He's an avid fan of Comic Cons, escape rooms, and board games, which positions him well as the author of Broken Genius, his debut novel. Drew lives with his family in London, Ontario.
or
Not Currently Available for Direct Purchase