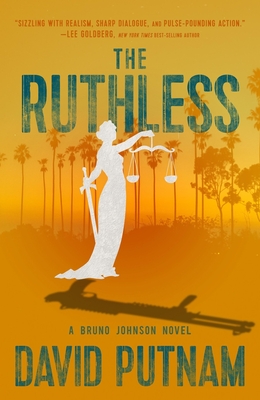 The Ruthless (A Bruno Johnson Thriller #8)
Hardcover

* Individual store prices may vary.
Other Editions of This Title:
Paperback (1/25/2022)
Description
Bruno Johnson, shaken to his core, but still a formidable force—an unrelenting focus on doing the right thing—unwilling to let anyone or anything stand in his way

Pushed to his emotional limit, Los Angeles County Sheriff Deputy Bruno Johnson struggles to hold his family together while immersed in his unrelenting career. His daughter, Olivia, is a teen mom to twin toddlers; her common-law husband, Derek Sams, is a thug; and one of their little boys has disappeared under his care.

The overwhelming intensity demanded of Bruno on this personal level is compounded by the brutal shotgun murder of a superior court judge and his wife, both friends of his. Bruno cannot ignore these violent crimes even though he's supposedly off the law enforcement grid—undercover—working an illegal gun sting.

Tragedy strikes Bruno's life on all fronts: family, friends, and professional—however, none of these colossal forces can match the unthinkable catastrophe that will forever dominate Bruno's life.

Perfect for fans of Robert Crais and Michael Connelly

While all of the novels in the Bruno Johnson Crime Series stand on their own and can be read in any order, the publication sequence is:

The Disposables
The Replacements
The Squandered
The Vanquished
The Innocents
The Reckless
The Heartless
The Ruthless
The Sinister (coming February 2022)
Praise For The Ruthless (A Bruno Johnson Thriller #8)…
Praise for the Bruno Johnson Crime Series
"Putnam is a master of the gritty realism of law and order at street level. I guarantee that
The Ruthless
will grab you by the throat, shove you against the wall, and won't release you until the final, satisfying page." —William Kent Krueger,
New York Times
best-selling author
"Putnam's fast-paced eighth novel [The Ruthless] keeps the pages turning. Readers will be curious to see what's next for Bruno." —Publishers Weekly
"I really loved The Disposables. It's raw, powerful, and eloquent. It's a gritty street poem recited by a voice unalterably committed to redemption and doing the right thing in a wrong world. I'll be first in line for the next one from David Putnam." —Michael Connelly, New York Times best-selling author
"[The Sinister] Riveting, scary, but with plenty of wit and humanity, author David Putnam brings ex-cop Bruno Johnson's world alive in a way that only another ex-cop could. In Putnam's capable hands, the characters jump off the page—even the dog." —Janet Evanovich, #1 New York Times best-selling author
"David Putnam's The Heartless is terrific—a smart, well-written, relentless account of a battle against evil, fought by a protagonist who has a real man's flaws, but also shows us the kind of heroism that's real." —Thomas Perry, New York Times best-selling author
"[The Ruthless is] a true thriller that is fast-paced, with twists and turns you will never see coming." —D. P. Lyle, Macavity and Benjamin Franklin Award-winning author
"This is a police procedural that dazzles with authenticity, sharply-drawn characters, crackling dialogue, and insider details that only a real cop could bring to the page. Putnam can stand shoulder-to-shoulder with Joseph Wambaugh and Michael Connelly." —Lee Goldberg,
New York Times
best-selling author
"Dark, disturbing, and all too believable, this is the tale of one man's quest for atonement in a world where innocence is a liability." —T. Jefferson Parker, New York Times best-selling author
"David Putnam provides an insider's knowledge of the Los Angeles Sheriff's Department. His characters and settings are rich and authentic, and his dialogue is spot on accurate." —Robert Dugoni,
New York Times
best-selling author
"David Putnam knows the mean streets and the characters who inhabit them better than anyone writing crime fiction. In
The Heartless
, Putnam is at the top of his game. Fans of Bruno Johnson will rejoice at this latest offering." —Alan Russell,
New York Times
best-selling author
"Putnam puts his years of law enforcement experience to good use in
The Squandered
, a shocking and intense tale of brotherly love and redemption realized in the midst of moral decay. It's a raw and gritty story I couldn't put down." —C. J. Box,
New York Times
best-selling author
"Reading a novel by David Putnam is almost as good as riding shotgun in a patrol car. He writes what he knows and what he knows is that justice on the mean streets isn't always black and white. Gritty and dark, The Reckless is a realistic and highly entertaining police procedural." —Robin Burcell, New York Times best-selling author
Oceanview Publishing, 9781608094066, 336pp.
Publication Date: February 2, 2021
About the Author
During his career in law enforcement, best-selling author David Putnam has done it all: worked in narcotics, violent crimes, criminal intelligence, hostage rescue, SWAT, and internal affairs, to name just a few. He is the recipient of many awards and commendations for heroism. The Ruthless is the eighth novel in the best-selling Bruno Johnson Crime Series, following The Disposables, The Replacements, The Squandered, The Vanquished, The Innocents, The Reckless, and The Heartless. Putnam lives in the Los Angeles area with his wife, Mary.