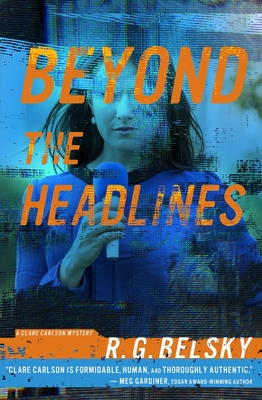 Beyond the Headlines (Clare Carlson Mystery #4)
Hardcover

* Individual store prices may vary.
Other Editions of This Title:
Paperback (8/30/2022)
Description
She was a mega-celebrity—he was a billionaire businessman—now he's dead—she's in jail

Laurie Bateman was living the American dream. Since her arrival as an infant in the U.S. after the fall of Saigon, the pretty Vietnamese girl had gone on to become a supermodel, a successful actress, and, finally, the wife of one of the country's top corporate dealmakers. That dream has now turned into a nightmare when she is arrested for the murder of her wealthy husband.

New York City TV journalist Clare Carlson does an emotional jailhouse interview in which Bateman proclaims her innocence—and becomes a cause celebre for women's rights groups around the country.

At first sympathetic, then increasingly suspicious of Laurie Bateman and her story, Clare delves into a baffling mystery which has roots extending back nearly fifty years to the height of the Vietnam War.

Soon, there are more murders, more victims, and more questions as Clare struggles against dire evil forces to break the biggest story of her life.

Beyond the Headlines is perfect for fans of Robert Crais and Harlan Coben

While all of the novels in the Clare Carlson Mystery Series stand on their own and can be read in any order, the publication sequence is:

Yesterday's News
Below the Fold
The Last Scoop
Beyond the Headlines
It's News to Me
Broadcast Blues (coming 2024)
Praise For Beyond the Headlines (Clare Carlson Mystery #4)…
"Belsky, a New York journalist, casts a searing light on a television newsroom and the never-ending pressure to capture headlines and ratings. Readers will hope capable, hard-driven Clare returns soon." —Publishers Weekly

"[Beyond the Headlines] has an excellent plot featuring fantastic characters that will hold your attention all the way through." —Manhattan Book Review

"Belsky's not just funny; he has a pitch-perfect ear for dialogue, including writing snappy New York repartee not seen since Susan Isaacson." —BookTrib

"A complex and deftly written mystery replete with unexpected plot twists and darkly memorable characters, Beyond The Headlines by novelist R. G. Belsky is a mystery lovers delight from cover to cover." —Midwest Book Review

Praise for The Clare Carlson Mystery Series

"Below the Fold takes readers on a whiplash ride through a New York murder case. The television news investigation provides a fascinating lens for the story. Heroine Clare Carlson is formidable, human, and thoroughly authentic. R. G. Belsky knows his stuff." —Meg Gardiner, Edgar Award-winning author

"In today's world of fake news and alternate facts, R. G. Belsky reminds us why we need reporters like Clare Carlson more than ever before. She is what we want all our journalists to be—honest, objective, and relentless in her pursuit of the truth." —Lee Goldberg, New York Times best-selling author

"Belsky's Yesterday's News elicits all parents' deepest fear—the disappearance of a child. But this intelligent, gripping novel is about so much more: ambition, secrets, and, most shocking of all, truth. Read it." —Reed Farrel Coleman, New York Times best-selling author

"What a terrific book! A complex and compelling nonstop cat-and-mouse chase—and you're never quite sure which one's the mouse. Even the savviest of readers will be gasping in awe at Belsky's impressive story-telling skills." —Hank Phillippi Ryan, Agatha, Anthony and Mary Higgins Clark Award-winning author

"Belsky's behind-the-headlines thriller Yesterday's News is about truth, lies—and how much of each we're willing to live with." —Lori Rader-Day, Mary Higgins Clark Award-winning author

"Below the Fold is a terrific mystery, written with a veteran journalist's eye. The pacing and plotting are everything you want, but it's R. G. Belsky's insider knowledge that adds a wonderful layer to this story of media and murder."—Michael Koryta, New York Times best-selling author

"The Last Scoop is another surefire success for author R. G. Belsky as well as for Oceanview Publishing which has been putting out one top-notch page-turner after another." —New York Journal of Books

"Belsky's experience as a journalist provides fascinating insights and a sense of authenticity. Readers will look forward to seeing more of doggedly determined Clare." —Publishers Weekly
Oceanview Publishing, 9781608094097, 336pp.
Publication Date: May 4, 2021
About the Author
R. G. Belsky is an author of crime fiction and a journalist in New York City. He has been a top editor at the New York Post, NY Daily News, Star Magazine, and NBC News. Beyond the Headlines is the fourth novel in his award-winning Clare Carlson Mystery Series, following Yesterday's News, Below the Fold, and The Last Scoop. Belsky resides in New York City.
or
Not Currently Available for Direct Purchase