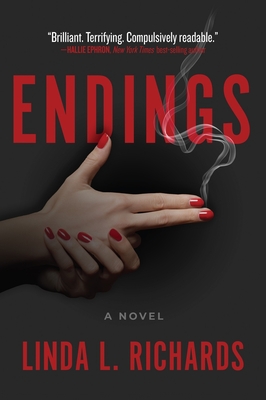 Endings
Hardcover

* Individual store prices may vary.
Description
How far can a profound personal loss drive someone toward darkness?

What would it take for you to kill someone for money? And if you did, who—or what—would you have become? These are the question one woman faces when she loses everyone she loves and everything she has. When the opportunity arrives to reinvent herself as a killer for hire, she takes it. She's good at it—and if she doesn't do it, someone else will.

Then everything changes when she learns about a serial killer so horrible she vows to find him and kill him until—overcome by self-doubt—she seeks redemption rather than vengeance.

Fans of The Girl with the Dragon Tattoo and Dexter will love Endings
Praise For Endings…
Praise for Linda L. Richards

"For unforgettable characters and sheer suspense, remember Linda L. Richards' name." –Gayle Lynds, New York Times best-selling author
"Sharp, vibrant and crackling. One chapter in to Linda L. Richards' sparkling 1930s Los Angeles mystery, Death Was the Other Woman, and we'd follow her smart, resourceful, spirited heroine, Kitty Pangborn, down any dark alley, any mean street." —Megan Abbott, USA Today best-selling author
"Death was the Other Woman propelled me straight into depression-era Los Angeles, a really stunning and exciting achievement. And the murder kept me guessing right to the page turning end. On top of that, the lively characters have walked off the page and now pursue me long after I've closed the book. A really stellar crime caper, a delight." —Louise Penny, New York Times best-selling author
"Mad Money does what many have tried and few have managed—to turn stock swindles and corporate crime into a fun, roller-coaster read. The key is Richards' strong, witty, and likeable heroine, recovering stock broker Madeline Carter." — Alafair Burke, New York Times best-selling author
"Linda L. Richards' The Next Ex is as smart and sophisticated as its heroine, Madeline Carter. And, like Madeline, it wears its knowledge lightly, guiding the reader through a wonderfully twisty story. But if the plot is engaging, the characters are even more so. This is a Hollywood crime novel for people who love that particular subgenre—and even for those who think they don't. A bracingly intelligent whodunit." —Laura Lippman, New York Times best-selling author
"Linda L. Richards' Endings grabs you by the throat on page one and doesn't let go until The End. The writing is crisp and the story has plenty of whiplashing twists and turns. Endings is the confident return of a writer at the height of her powers." — Matt Coyle, Anthony, Shamus, and Lefty Award-winning author
"An unusually haunting thriller with a complex, seriously badass heroine. Endings brings you into a strange and dark world from page one, and then shows you the light. I highly recommend this book." — Sheena Kamal, Macavity Award-winning author 
"Brilliant. Terrifying. Compulsively readable." —Hallie Ephron, New York Times best-selling author
"Endings by Linda L. Richards sweeps the reader from leafy suburbia into the strangely seductive underworld of a woman who teaches herself to kill for a living. The prose is often lyrical, the descriptions of the human heart achingly accurate. It will surely stand with the year's best suspense thrillers." —Gayle Lynds, New York Times best-selling author
Oceanview Publishing, 9781608094202, 336pp.
Publication Date: April 6, 2021
About the Author
Linda L. Richards is a journalist, photographer, and the award-winning author of fifteen novels. She is known for her strong female protagonists in the thriller genre. Her short story Terminal City won the Arthur Ellis Award for Best Short Story in 2019. She is the founding editor of January Magazine and one of the founders of the blog The Rap Sheet. She divides her time between Vancouver, BC, Phoenix, AZ, and Paso Robles, CA.