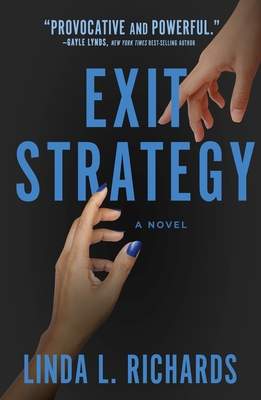 Exit Strategy (The Endings Series #2)
Hardcover

* Individual store prices may vary.
Description
A shattered life. A killer for hire. Can she stop? Does she want to?

Her assignments were always to kill someone. That's what a hitman—or hitwoman—is paid to do, and that is what she does. Then comes a surprise assignment—keep someone alive.

She is hired to protect Virginia Martin, the stunning and brilliant chief technology officer of a hot startup with an environmentally important innovation that will change the world. This new gig catches her at a time in her life when she's hanging on by a thread. Despair and hopelessness—now more intense than she'd felt after the tragic loss of her family—led her to abruptly launch this career. But over time, living as a hired killer is decimating her spirit and she keeps thinking of ending her life.

She's confused about the "why" of her new commission, but she addresses it with her usual skill and stealth, determined to keep the young CTO alive against the ever-increasing odds.

Some people have to die as she discharges her responsibility to protect this superstar woman amid the crumbling worlds of high finance and future technical wonders.

The spirit of an assassin—and her nameless dog—permeates this struggle to help a young woman as powerful forces mount against her.

Fans of The Girl with the Dragon Tattoo and Dexter will love Exit Strategy

The publication sequence for the book in this series is:

Endings
Exit Strategy
Dead West (coming 2023)
Praise For Exit Strategy (The Endings Series #2)…
* "[In Endings], Richards combines a damaged protagonist readers will root for with a twisted, whiplash-fast plot filled with layers of moral ambiguity. This harrowing tale of love, loss, and the value of life is not to be missed." —Publishers Weekly (Starred Review)

"I wasn't sure how [Richards] could continue the story of her second career hit woman, but Exit Strategy unfolded a complete story on its own, while leaving the door open to a third. What grabbed me right away with both books is the voice – wounded, laconic, and utterly irresistible . . . cannot recommend it highly enough." —Clea Simon, author of Hold Me Down

"[In Exit Strategy,] two individuals seem to battle within one well-dressed but confused person. Like the unnamed narrator, the story has no end. Planting the seed of an Academy Award-winning film?" —Bookreporter

"[Exit Strategy is] a daring book to write and a daring book to read, about a person with nothing to lose daring to live and let live." —New York Journal of Books

"Brilliant. Terrifying. Compulsively readable." —Hallie Ephron, New York Times best-selling author

"A skillfully written and carefully crafted novel showcasing serial killer psychology that which makes for an inherently absorbing read from cover to cover, Endings is the kind of fully engaging thriller that makes for memorable movies." —Midwest Book Review
Oceanview Publishing, 9781608094226, 320pp.
Publication Date: May 17, 2022
About the Author
Linda L. Richards is a journalist, photographer, and the award-winning author of sixteen books. She is known for her strong female protagonists in the thriller genre. Her short story "Terminal City" won the Arthur Ellis Award for Best Short Story in 2019. She is the founding editor of January Magazine and one of the founders of the blog The Rap Sheet. Richards is from Vancouver, Canada, and currently makes her home in Phoenix, Arizona. Exit Strategy follows Endings in this series.