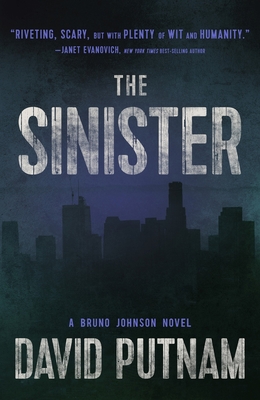 The Sinister (A Bruno Johnson Thriller #9)
Hardcover

* Individual store prices may vary.
Other Editions of This Title:
Paperback (1/31/2023)
Description
Publishers Weekly Starred Review

Bruno Johnson, shaken to his core, but still a formidable force—unrelenting when it comes to saving a child

Ex-cop, ex-con Bruno Johnson and his wife Marie hide in plain sight from the law in an upscale L.A. hotel as Bruno heals from a run-in with a brutal outlaw motorcycle gang—and the loss of his son—a son he didn't know he had until it was too late.

Marie, now pregnant with her first child, fears Bruno may never fully recover. She knows that soon they must return to Costa Rica to rejoin their large family of rescued children—kids who owe their lives to Bruno and Marie's intervention.

But when Bruno's friend, FBI Deputy Director, Dan Chulack, pleads with Bruno to help rescue his kidnapped granddaughter, escape plans are put on hold. After exhausting all legitimate investigative avenues, Chulack seeks Bruno's brand of justice. With Marie's reluctant consent and her own special expertise, they plunge into the evil world of those who prey on children.

Meanwhile, Bruno's mother, a woman he has never known, appears asking for forgiveness—and Bruno's assistance—while bringing her own set of complications. Bruno finds his professional and his personal lives colliding in a pursuit that is excruciating and brutal.

The Sinister is perfect for fans of Michael Connelly and James Lee Burke

While all of the novels in the Bruno Johnson Crime Series stand on their own and can be read in any order, the publication sequence is:

The Disposables
The Replacements
The Squandered
The Vanquished
The Innocents
The Reckless
The Heartless
The Ruthless
The Sinister
The Scorned (coming 2023)
The Diabolical (coming 2024)
Praise For The Sinister (A Bruno Johnson Thriller #9)…
Praise for the Bruno Johnson Crime Series

*"The twists come fast, and Putnam's brisk prose maintains the momentum. Fans of Marcia Clark's Samantha Brinkman series will be gripped." —Publishers Weekly (Starred Review)

"Riveting, scary, but with plenty of wit and humanity, author David Putnam brings ex-cop Bruno Johnson's world alive in a way that only another ex-cop could. In Putnam's capable hands, the characters jump off the page—even the dog." —Janet Evanovich, #1 New York Times best-selling author

"Putnam is a master of the gritty realism of law and order at street level. I guarantee that The Ruthless will grab you by the throat, shove you against the wall, and won't release you until the final, satisfying page." —William Kent Krueger, New York Times best-selling author

"I really loved The Disposables. It's raw, powerful, and eloquent. It's a gritty street poem recited by a voice unalterably committed to redemption and doing the right thing in a wrong world. I'll be first in line for the next one from David Putnam." —Michael Connelly, New York Times best-selling author

"The exploits of Bruno Johnson rival those of Harry Bosch and Jack Reacher, and will certainly quench the thirst of action-thriller enthusiasts." —Mystery and Suspense Magazine

"David Putnam's The Heartless is terrific—a smart, well-written, relentless account of a battle against evil, fought by a protagonist who has a real man's flaws, but also shows us the kind of heroism that's real." —Thomas Perry, New York Times best-selling author

"This is a police procedural that dazzles with authenticity, sharply-drawn characters, crackling dialogue, and insider details that only a real cop could bring to the page. Putnam can stand shoulder-to-shoulder with Joseph Wambaugh and Michael Connelly." —Lee Goldberg, New York Times best-selling author

"Dark, disturbing, and all too believable, this is the tale of one man's quest for atonement in a world where innocence is a liability." —T. Jefferson Parker, New York Times best-selling author

"Reading a novel by David Putnam is almost as good as riding shotgun in a patrol car. He writes what he knows and what he knows is that justice on the mean streets isn't always black and white. Gritty and dark, The Reckless is a realistic and highly entertaining police procedural." —Robin Burcell, New York Times best-selling author

"David Putnam provides an insider's knowledge of the Los Angeles Sheriff's Department. His characters and settings are rich and authentic, and his dialogue is spot on accurate." —Robert Dugoni, New York Times best-selling author

"David Putnam knows the mean streets and the characters who inhabit them better than anyone writing crime fiction. In The Heartless, Putnam is at the top of his game. Fans of Bruno Johnson will rejoice at this latest offering." —Alan Russell, New York Times best-selling author

"Putnam puts his years of law enforcement experience to good use in The Squandered, a shocking and intense tale of brotherly love and redemption realized in the midst of moral decay. It's a raw and gritty story I couldn't put down." —C. J. Box, New York Times best-selling author
Oceanview Publishing, 9781608094264, 320pp.
Publication Date: February 22, 2022
About the Author
During his career in law enforcement, best-selling author David Putnam has done it all: worked in narcotics, violent crimes, criminal intelligence, hostage rescue, SWAT, and internal affairs, to name just a few. He is the recipient of many awards and commendations for heroism. The Sinister is the ninth novel in the best-selling Bruno Johnson Crime Series, following The Disposables, The Replacements, The Squandered, The Vanquished, The Innocents, The Reckless, The Heartless, and The Ruthless. Putnam lives in the Los Angeles area with his wife, Mary.