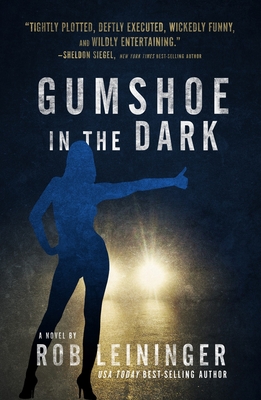 Gumshoe in the Dark (The Mortimer Angel Series #5)
Hardcover

* Individual store prices may vary.
Other Editions of This Title:
Paperback (8/9/2022)
Description
USA Today Best-Selling Author

Blackmail, murder, and a pretty girl on the run

Nevada's attorney general is missing. At dusk on a deserted Nevada highway in a thunderstorm, ex-IRS agent and PI-in-training Mortimer Angel comes across a pretty, scantily-clad girl—Harper Leland. She's cold and alone, thirty miles from the nearest town.

When Mort offers her a ride, she orders him out of his truck at gunpoint. She tries to take off, but he cuts the valve stem on the rear tire. Realizing she's in trouble, he wants to help—but with no spare tire, he devises a creative way to get them out of the hills—slowly, precariously balanced on three tires. On their way down, a rough-looking man stops and asks Mort if he has "seen anyone up in the hills." Mort realizes the guy is after Harper, who is hiding in the truck.

Thus begins a cat-and-mouse chase in northeast Nevada that continues even after Mort finds the attorney general—Harper's mother—dead in the trunk of a car. In time, Mort's wife, Lucy, is also pulled into the case, which becomes the deadliest of Mort's career.

The perfect mix of John Sanford, Randy Wayne White, and Carl Hiaasen

While all of the novels in the Mortimer Angel Gumshoe Series stand on their own and can be read in any order, the publication sequence is:

Gumshoe
Gumshoe for Two
Gumshoe on the Loose
Gumshoe Rock
Gumshoe in the Dark
Praise For Gumshoe in the Dark (The Mortimer Angel Series #5)…
"Sharp dialogue, outrageous events, and a delightful mix of characters help make this outing a winner. Move over Stephanie Plum, Leininger's gumshoe has joined the ranks of the diabolically entertaining." —Publishers Weekly (Starred Review)

"Gumshoe in the Dark is the best Gumshoe yet. Classic brilliant private eye magic from one of the mystery world's top practitioners." —John Lescroart, New York Times best-selling author

"Outstanding! From its opening line to its satisfying denouement, Rob Leininger's Gumshoe in the Dark is a tightly plotted, deftly executed, wickedly funny, and wildly entertaining story. Mortimer Angel is a protagonist worth rooting for, and Gumshoe in the Dark will keep you up late. Highly recommended." —Sheldon Siegel, New York Times best-selling author

"Leininger's Gumshoe series is a magnificent PI mystery smorgasbord seasoned with elements of Carl Hiaasen, Tim Dorsey, and Janet Evanovich's Stephanie Plum." —Bookreporter

"Simply outstanding . . . Gumshoe in the Dark is a carefully crafted and riveting read from cover to cover." —Midwest Book Review

Praise for the Mortimer Angel Gumshoe Series

"The Mort Angel books are instant PI classics–smart, slick, charming, and highly recommended." —Lee Child, New York Times best-selling author

* "Gumshoe, the first in the series, was a Shamus nominee, and the author continues to develop Mort's character and his snappy repartee. Readers who loved Robert B. Parker's Spenser or Matt Goldman's Nils Shapiro will appreciate the humor and investigative work in this outstanding example of the PI novel." —Library Journal (Starred Review)

"Once this novel is picked up, the reader will be reluctant to put it down . . . bring on the next adventure, Mr. Leininger. We'll be waiting!" —New York Journal of Books

"So delightful are [Mort and Lucy's] scenes together that we're sorry the two have to get to work. A high-speed, easy-reading narrative." —Booklist

"A high-spirited pipe dream of nonstop wisecracks, female pulchritude, and physical combat." —Kirkus Reviews
Oceanview Publishing, 9781608094332, 336pp.
Publication Date: June 1, 2021
About the Author
Gumshoe in the Dark is the fifth novel in USA Today best-selling author Rob Leininger's Gumshoe series, featuring PI Mortimer Angel. Gumshoe, the first in the series, was nominated for the Shamus Award for Best PI Novel and was a finalist for the Foreword Book of the Year Award. Gumshoe for Two, Gumshoe on the Loose, and Gumshoe Rock followed in the series. Leininger lives with his wife in northwest Montana.