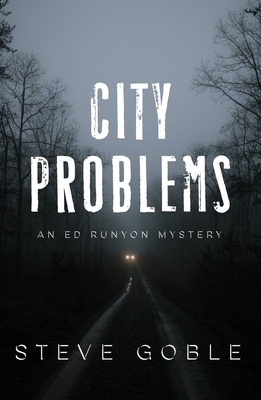 City Problems (An Ed Runyon Mystery)
Hardcover

* Individual store prices may vary.
Description
A moment of violence—a snap judgement—a life changed to the core

Ed Runyon bolted from the NYPD after a runaway teen case fell through the cracks and turned into a nightmarish murder. Now, he's learned to bury the rage that consumed him, cope with depression, and enjoy life as a Mifflin County sheriff's detective in rural Ohio.

Ed is trying to relax on his day off when Columbus PD Detective Shelly Beckworth comes to Mifflin County in search of a girl who vanished after a pop-up party. The clues are scarce—a few license plates, a phone shattered on the roadside—but the trail leads to Ed's neck of the woods.

He tries to shove everything else aside to keep this case from ending in another tragedy, but a cop can't pick and choose which calls to duty he'll answer. Frustrated, Ed watches a happy ending slip beyond sight—this one he cannot run away from.

Charging forward, Ed breaks rules and takes risks leading to a bloody confrontation where everything he believes as a cop and every ghost in his head clash—a moment of avenging violence that will ultimately change his life to the core.

Perfect for fans of Robert Crais and John Sanford

While the novels in the Ed Runyon Mystery Series stand on their own and can be read in any order, the publication sequence is:

City Problems
Wayward Son
Go Find Daddy (coming 2023)
Praise For City Problems (An Ed Runyon Mystery)…
"In this debut outing of a new series, Steve Goble delivers an authentic, compelling story of a rural cop with a haunted past. City Problems is both a dynamic procedural and an incisive portrait of a man at war with himself. Although the stunning, profane prose should be savored, I'm betting this is a book you will gobble up in a single sitting." —William Kent Krueger, New York Times best-selling author

"City Problems is a crime thriller of rare emotional depth, pathos, and angst. Steve Goble masterfully introduces us to a new hero in Detective Ed Runyon . . . in a bold and bracing fashion reminiscent of Michael Connelly and Robert Crais. And, if Dashiell Hammett or Raymond Chandler had ever chosen a rural setting for their crime novels, this is what it would look like." —Jon Land, USA Today best-selling author

"A terrific new series. Ed Runyon is a relentless cop, and Goble puts a fresh spin on the cop with a haunted past." —Terry Shames, Lefty and Macavity Award-winning author of the Samuel Craddock series

* "[In City Problems,] Goble matches a well-crafted plot with a deeply troubled lead who's unfailingly on the side of the victim if not always on the right side of the law. Fans of gritty, realistic crime fiction will look forward to seeing a lot more of Runyon." —Publishers Weekly (Starred Review)

Praise for Steve Goble

"We're psyched for the third in the Spider John mystery series, featuring an eighteenth-century pirate with a knack for exposing the ne'er-do-wells behind mysterious and bloody incidents." —Crime Reads

"An outstanding locked-room mystery combining whodunit and action into a marvelous adventure mystery." —Mystery Scene
Oceanview Publishing, 9781608094431, 336pp.
Publication Date: July 6, 2021
About the Author
Steve Goble is a lifelong Ohio resident and a former journalist. He now works for a digital investigations firm as he reinvents himself as a mystery novel writer. His Spider John historical mysteries are known for darkly humorous characters and salty dialogue. City Problems is the first in the Ed Runyon Mystery Series. Steve lives in rural Ohio with his family and their two dogs.
or
Not Currently Available for Direct Purchase