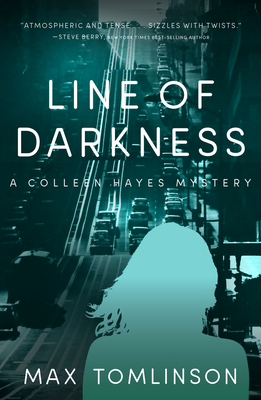 Line of Darkness (A Colleen Hayes Mystery #4)
Hardcover

* Individual store prices may vary.
Description
Post-war darkness may be the darkest of them all—Nazi-hunters reach deep into 1979 San Francisco

When a German businesswoman in 1979 San Francisco hires ex-con PI Colleen Hayes to find a missing relative, supposedly in town to visit, she thinks it's a simple job. But she soon discovers that the "nephew" is linked to an international vigilante group hunting down ex-Nazis. Then the body of a mysterious woman turns up on San Francisco's Municipal Railway, mirroring a murder committed the week before in Buenos Aires where the "nephew" had just been.

Colleen's search uncovers a World War II banknote and the 1942 SS ID of a German officer long thought dead. When Colleen fails to heed warnings to stop her investigation, her pregnant daughter is attacked.

The so-called nephew is nowhere to be found. The German businesswoman has fled town. Colleen's search leads her to Italy where the infamous Vatican Ratlines helped escaped ex-Nazis forge new identities around the globe. Deep in the Italian Alps, she uncovers a secret project hatched in a concentration camp. Colleen has no choice but to push ahead if the killing is to stop and justice prevail.

Perfect for fans of Steve Berry and Harlan Coben

While all of the novels in the Colleen Hayes Mystery Series stand on their own and can be read in any order, the publication sequence is:

Vanishing in the Haight
Tie Die
Bad Scene
Line of Darkness
Praise For Line of Darkness (A Colleen Hayes Mystery #4)…
Praise for the Colleen Hayes Mystery Series

"Fans of feisty, flawed leads will want to see more of Hayes." —Publishers Weekly

"[Line of Darkness is a] tightly crafted crime thriller with writing that hums and vibrates on the page . . . Buy your ticket and get in line, you'll want to be first on this wild ride. —Carlene O'Connor, USA Today best-selling author

"Atmospheric and tense, this one sizzles with twists that entertain and magnetize, whetting the appetite for more." —Steve Berry, New York Times best-selling author

"As beautifully written as it is expertly crafted, [the series] features characters drawn with the touch of a master artist and a story that sizzles even as it scintillates." —Jon Land, USA Today best-selling author

* "[In Tie Die, Tomlinson] deepens the character of his multi-layered lead, Colleen Hayes, an unlicensed PI and ex-con who's still on parole. Readers will want to learn more about this surprising and pragmatic woman." —Publishers Weekly (Starred Review)

"Tomlinson's evocation of San Francisco at that time is spot on, and Colleen is an appealing kick-ass detective." —Booklist

"Bad Scene is an enjoyable read that captures the imagination of mystery and thriller readers—and those who harbor hope that anyone in depths of despair can climb out of the abyss." —Bookreporter

"Max Tomlinson serves up the perfect mystery in this edgy new detective series set in '70s San Francisco. Colleen Hayes, an ex-con in search of her missing teenage daughter, finally lands her first big case. There's just one problem: she must find a killer who's been lurking since the Summer of Love. Not to be missed." —James N. Frey, author of How to Write a Damn Good Thriller

"Max Tomlinson delivers a gritty, gripping story set in a fascinating time. Colleen Hayes is a deeply sympathetic sleuth, all too human. I can't wait for her next adventure." —Evan Marshall, author of City in Shadow

"I've just three words to say about [Vanishing in the Haight] by Max Tomlinson—Wow. Just. Wow. Tomlinson's taut, spare, evocative writing style is an absolute beauty. You couldn't ask for a better guide through the dark, shadowy flashback haze of '70s San Francisco." —Tracy Clark, author of Broken Places

"Line of Darkness is an engrossing noir novel that grows darker and more complex under the lingering pall of Nazism." —Foreword Reviews
Oceanview Publishing, 9781608094523, 336pp.
Publication Date: August 16, 2022
About the Author
Born in San Francisco, with its rich literary history and a public transport system teeming with characters suitable for crime novels, the stage was set for Max Tomlinson to become a mystery writer. In addition, his time abroad has inspired a variety of flavors in his writing. His published work includes a crime series set in South America, an international espionage series, and now the USA Today best-selling Colleen Hayes Mystery Series, set in 1970s San Francisco. Line of Darkness is the fourth novel in the series, following Bad Scene, Tie Die, and Vanishing in the Haight.