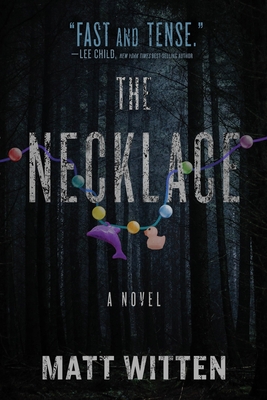 The Necklace
Hardcover

* Individual store prices may vary.
Other Editions of This Title:
Paperback (6/21/2022)
Description
The clock ticks down in a heart-pounding crusade for justice

Susan Lentigo's daughter was murdered twenty years ago—and now, at long last, this small-town waitress sets out on a road trip all the way from Upstate New York to North Dakota to witness the killer's execution.

On her journey she discovers shocking new evidence that leads her to suspect the condemned man is innocent—and the real killer is still free. Even worse, her prime suspect has a young daughter who's at terrible risk. With no money and no time to spare, Susan sets out to uncover the truth before an innocent man gets executed and another little girl is killed.

But the FBI refuses to reopen the case. They—and Susan's own mother—believe she's just having an emotional breakdown. Reaching deep, Susan finds an inner strength she never knew she had. With the help of two unlikely allies—a cynical, defiant teenage girl and the retired cop who made the original arrest—Susan battles the FBI to put the real killer behind bars. Will she win justice for the condemned man—and her daughter—at last?

Perfect for fans of Karin Slaughter and Harlan Coben

Optioned for film—with Leonardo DiCaprio attached as producer
Praise For The Necklace…
"[The Necklace] is as fast and tense as a great thriller should be, but it's full of warmth and humanity too—one small-town woman's quest for the most poignant kind of justice you could imagine. Buy it today and read it tonight!" —Lee Child, New York Times best-selling author

"Thelma and Louise meets The Green Mile in this unique and powerful thriller following one mother's cross-country journey to find the truth." —Lisa Gardner, New York Times best-selling author

"The Necklace's brave, truly unforgettable heroine grabbed my heart . . . This compelling, powerful read will stay with you long after you've turned the final page." —Lee Goldberg, #1 New York Times best-selling author

"A fast-paced, riveting read! Really enjoyed this road trip with a difference. Some very dark themes—prepare to feel ALL the emotions. I held my breath during the finale—and my poor heart felt as though it'd had a direct shot of caffeine. For me, this story wasn't about the twists—it was about the characters and their journeys—and I found the ending to be satisfying." —Alice Hunter, author of The Serial Killer's Wife

"The Necklace is an addictively readable story of a mother's quest for justice. Surprising, propulsive, and poignant. I inhaled this novel." —Meg Gardiner, Edgar Award-winning author

"A high stakes drama that introduces us to a heroine with an honorable streak that runs bone deep. The subject matter is gut-wrenching and thought provoking, the entire tale laced with a haunting eeriness. Matt Witten is a pro, and this gem of a thriller is proof positive of that." —Steve Berry, New York Times best-selling author

"Emmy nominee Matt Witten twists multiple story threads into The Necklace, a breathless thriller that dives headlong into a horrific cold case." ⁠—Foreword Reviews

"I devoured The Necklace in a single evening, drawn in by Matt Witten's fantastically drawn characters and intricate mystery . . . A must-read." —Hollie Overton, international best-selling author

"A pulse-pounder with heart, a heartbreaker full of thrills, a thriller with a true sense of place—with The Necklace, Matt Witten knocks one out of the park." —S. J. Rozan, Edgar Award-winning author

"Great characters, fast-paced, and a twisty plot. The Necklace is what a thriller should be." —D. P. Lyle, Macavity and Benjamin Franklin Award-winning author

"In [The Necklace], Witten keeps the reader guessing and the tension high. Fans of amateur investigators with a personal stake in the outcome will be rewarded." —Publishers Weekly
Oceanview Publishing, 9781608094585, 304pp.
Publication Date: September 7, 2021
About the Author
Matt Witten, a graduate of Amherst and Brandeis Universities, is a TV writer, novelist, playwright and screenwriter. His television writing includes such shows as House, Pretty Little Liars, and Law & Order. His TV scripts have been nominated for an Emmy and two Edgars, and he has written four mystery novels, winning a Malice Domestic award for best debut novel. He has also written stage plays and for national magazines.

The Necklace has been optioned for film by Appian Way and Cartel Pictures, with Leonardo DiCaprio attached as producer.